By Alex Rogers
5 Jul, 2023
88% of younger millennials in the 25-34 age range are more likely to dine out at a restaurant offering rewards, our latest research shows.
Perhaps that news should come as little surprise - as Brits, we love to dine out. A lot of that love comes from getting to experience all of the wonderful culinary delights that the UK has to offer. After all, even amidst the current cost of living crisis, over half of us (55%) currently dine out in the evening either once or twice a month.
However, another reason for that love of dining out is that it's becoming more common to be rewarded for it. From retail to your weekly grocery shop, loyalty programmes are very much the norm for businesses these days, with 4 in 5 UK consumers now using a loyalty programme.
We love a good loyalty programme ourselves, having launched Dish Cult Rewards to help restaurants increase repeat business while also rewarding diners and incentivising repeat visits as a result. Our latest research has revealed plenty of insights into their benefits for restaurants – especially when it comes to leveraging them to appeal to your Gen Z and millennial audiences.
Why's that you ask? Well, our research shows that the younger your audience, the more likely they are to dine at a restaurant with a reward scheme, which is great news for those restaurants currently leveraging one, and all the more reason for those that don't utilise them. Here's why...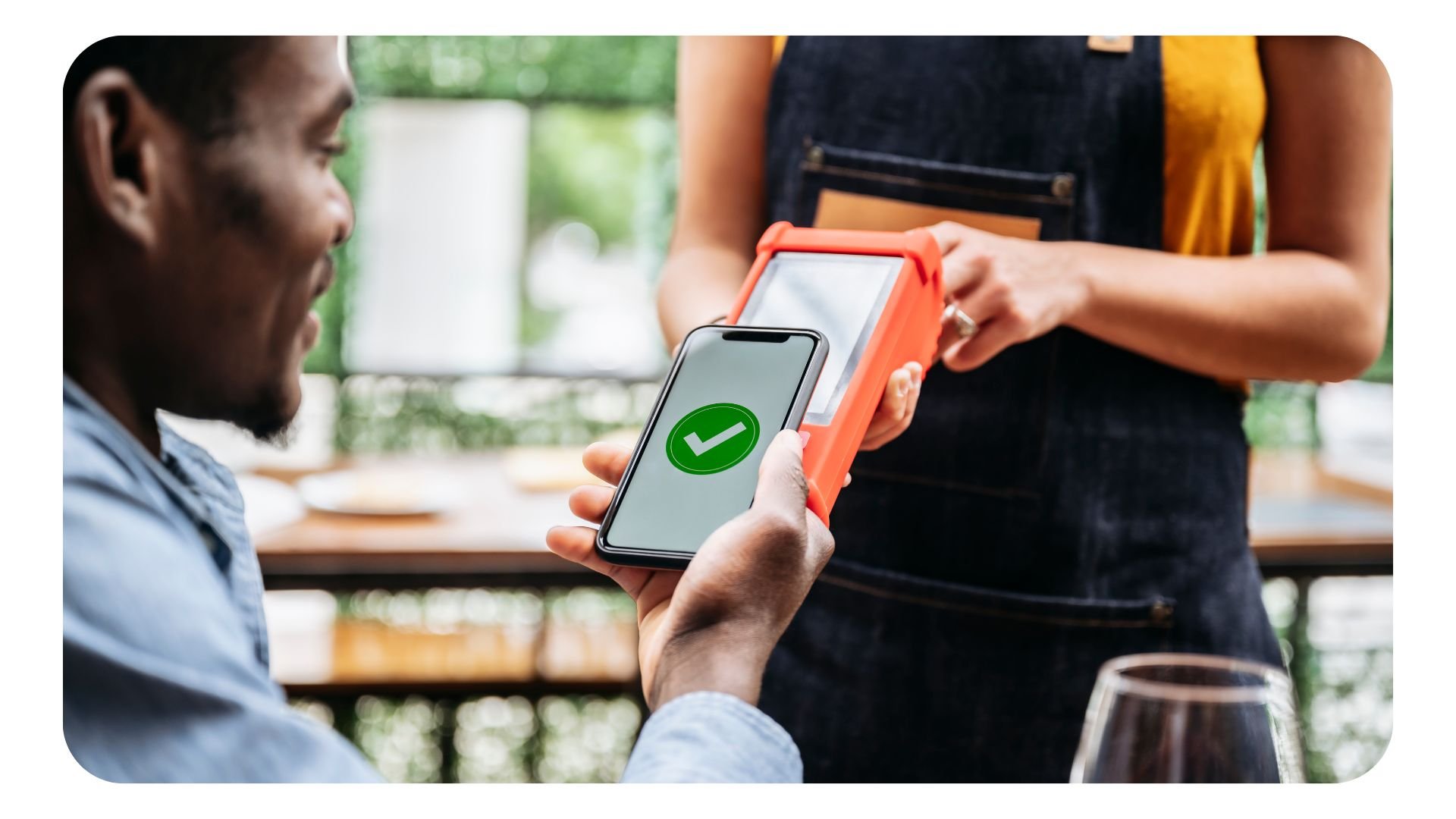 A love of rewards
According to recent research we conducted, 68% of Brits are more likely to visit a restaurant that offers redeemable loyalty points. However, this percentage varies when broken down by age range.
Even when we look towards the end of this age range, 55% of those aged 55+ are more likely to dine at a restaurant offering a reward scheme - and this number only climbs as we look at the younger age ranges.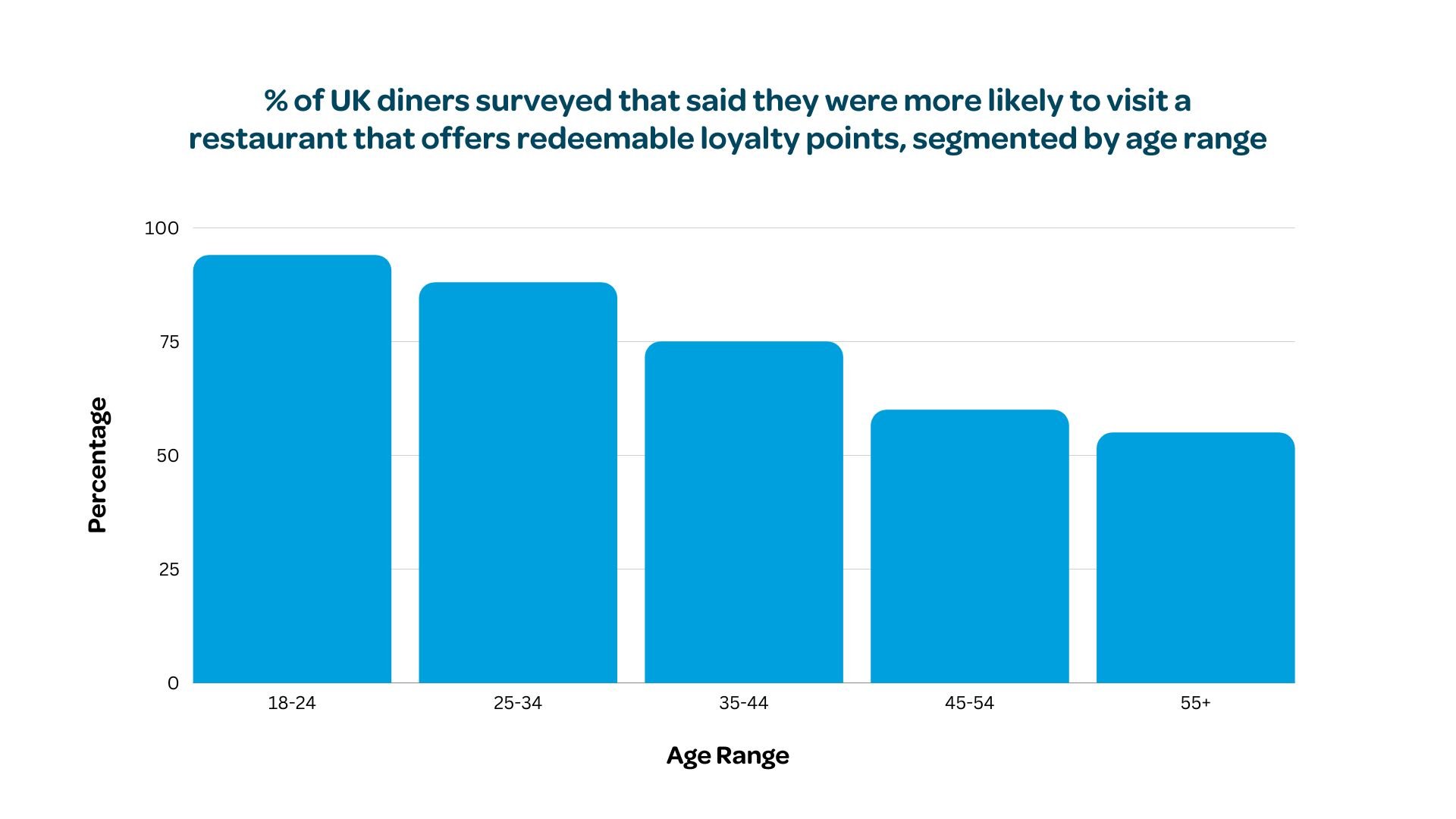 As the graph above shows, millennials (those currently aged between 25-44) are even more likely to dine at a restaurant with a loyalty scheme. 75% of these older millennials are more likely to dine at a restaurant offering rewards, with this climbing to 88% with younger millennials in the 25-34 age range.
When we then look at the youngest audience, the 18–24-year-olds belonging to the Gen Z generation, we see this number climb even higher, with a massive 94% more inclined to dine at a restaurant if it offers redeemable loyalty points.
The benefits for restaurants
Why does this matter for restaurants, we hear you ask? For starters, it's important to understand just how much Gen Z and millennials make up the UK restaurant market. Gen Z account for almost 13 million UK residents, with millennials accounting for even more, at a massive 17 million.
With a UK population of 67.3 million, that's 44% of the entire population made up of a majority of individuals with an appetite to earn loyalty points when dining out.
These loyalty points are an enticing reason for diners to visit your restaurant again and again, with this being especially true for the Gen Z generation who dine out far more than their older counterparts - 60% saying they dine out at least three times a month.
This is all great news for restaurants, yet our research shows that the type of restaurant and its location can also impact those looking to dine out to earn rewards.
For independent sit-down restaurants, 86% of those we surveyed said they would be more likely to visit if it offered redeemable loyalty points. Those that operate in major city centres can also reap the benefits, with 85% of those surveyed saying the same.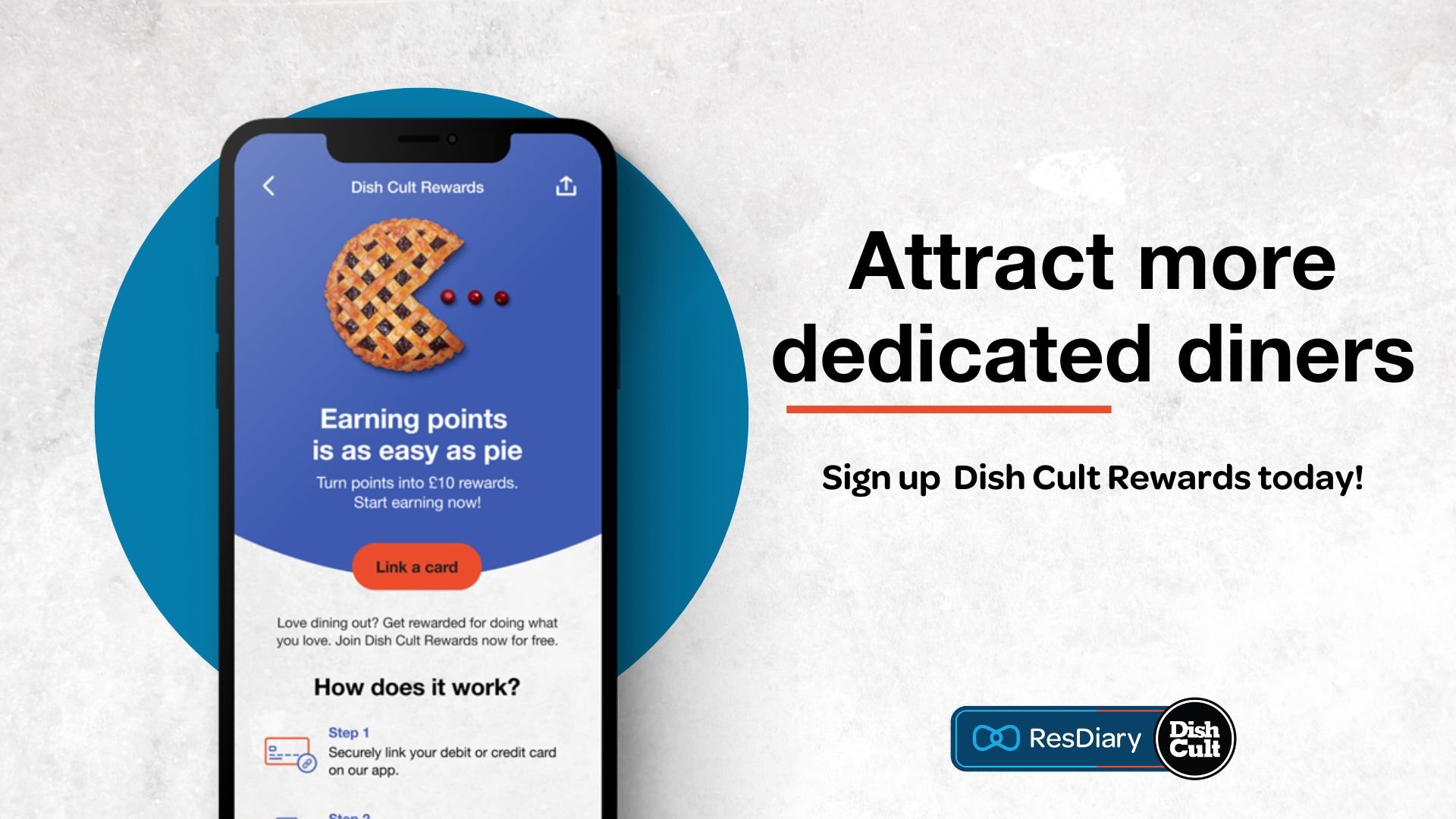 Now's the time to get ahead of your competitors on rewards
Yet despite the benefits loyalty schemes can bring to our restaurants, our research found that only 20% of restaurants we surveyed said they were operating a loyalty programme. This means 8 out of 10 are missing out on the repeat business it can bring, especially from Gen Z and millennial audiences, highlighting a huge opportunity for those yet to implement a loyalty programme of their own.
Of the 20% that do offer a rewards scheme, 64% said they have experienced an increase in repeat bookings since implementing one.
Introducing a loyalty scheme for your restaurant might seem difficult – but it doesn't have to be.
With Dish Cult Rewards, rewarding your customers with points that are redeemable for discounts at your restaurant couldn't be easier.
Find out more about Dish Cult Rewards, or for more of our research into the state of hospitality in 2023, check out our Beyond the Booking guide.