We're very excited to announce the launch of Dish Cult Rewards, the UK's newest restaurant loyalty programme. Initially launching to restaurants in London, The Dish Cult Rewards programme will reward diners for repeat booking behaviour, and support restaurants by delivering more diners, more often. We caught up with Jordan Foord, CEO of Dish Cult, to find out more.
"Dish Cult's journey started in 2019 when we identified an opportunity to build a platform for a community of diners who were focused on great food, and authentic, memorable dining experiences. More specifically, through our research and interviews, we identified three types of users who predominantly use booking apps and wanted to cater to them:
'The Foodie' is a diner who seeks out the latest buzziest venues, hidden gems, and classic favourites, all in the hope of finding a great food experience they can return to again and again. These restaurants can be anything from those with Michelin stars to back-alley noodle joints where chefs go after their kitchens close. They discover great restaurants through content, ratings, and reviews, as well as by listening to recommendations from friends. They book thoughtfully and well in advance, and they rarely cancel.
---
'The Social Butterfly', on the other hand, is a diner who nominates themselves as the 'organiser' within their group of friends. They'll often find a few options, make a booking at each, and then decide amongst the group which venue they want to attend, often at the cost of a large-group no-show at the remaining venues.
---
'The Value Seeker' is, as the name suggests, a diner who will base their dining decision on whichever venue offers the greatest discount, regardless of cuisine, reviews or reputation. We found that these diners were the most likely to purchase voucher books or make bookings through offers platforms. They were very unlikely to return to venues unless a similar or better offer was available to them.
---
After completing our research, it became apparent that the best community of diners a restaurant would want to attract is 'The Foodies'. This group is also, potentially, the most under-served. Combined with the fact that there are over 6,000 venues in the UK that use ResDiary, and knowing that these restaurants are of a very high calibre, it made sense for us to build a platform that would attract and serve this group. The result?
Dish Cult, home for 'The Foodies', now has something new to drive even more of the behaviours we want to see from diners - our rewards programme.
Earlier this year, a survey of Dish Cult members in the UK found that a rewards programme for the very best restaurants was in high demand. When asked what would be most appealing in a restaurant rewards programme, more than 73% of respondents said they were looking to be rewarded for dining out regularly, while 61% wanted to be recognised as loyal customers of a specific restaurant. And finally, more than 77% of Dish Cult members wanted to be rewarded in vouchers or coupons to spend at their favourite eateries.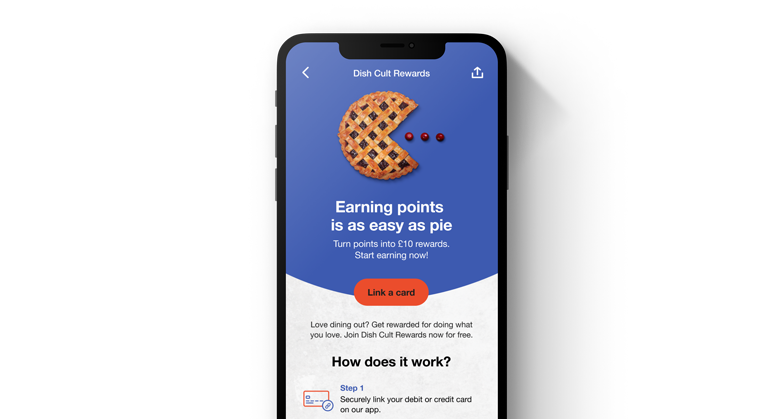 This intel means we've designed Dish Cult Rewards to be exactly what our 2.8m members are looking for. The programme will deliver high value customers to our participating restaurants, along with an unprecedented amount of insights which will help create an even better experience for your most loyal diners.
Here's what you need to know about how Dish Cult Rewards works:
It's free for diners to join, and offers a card-linked earn experience. Members simply need to use their linked Visa, Mastercard or American Express card at a participating venue, and points are added to their balance whenever they pay.
For participating venues, it's free to join and they'll only pay the programme contribution fee when a member spends at their venue using their linked card.
When payment is made, the venue will be able to see how often the Dish Cult Reward member has visited their venue, what their average and total spend is, and other helpful details to understand more about their dining preferences.
When a diner earns enough points, they'll be automatically awarded a £10 reward that can be attached to a future booking - this will be attached to the booking in ResDiary, and is payable to the restaurant by Dish Cult.
Participating venues will see an improved listing on Dish Cult, higher placement in search, and increased inclusion in our promotional activities across Dish Cult editorial, email, and marketing channels.


Become a part of Dish Cult Rewards
We're really pumped to bring Dish Cult Rewards to the UK, starting with London and then quickly rolling out across other major cities and the rest of the UK."
If you're interested in becoming a participant in Dish Cult Rewards or have any questions about the programme click the button below.