By Alex Rogers
14 Aug, 2023
The festive season has long been a hotly anticipated period in the hospitality calendar...
From the third week of November, the sector enters a seven-week festive sprint, which can be the most important period for bringing more revenue than any other time in the year.
Despite the economic backdrop of recent years, there is still cause for hospitality venues to be optimistic during the festive season. People still want to celebrate with their families, friends, and work colleagues, and they tend to spend more too at this time of year.
While 8 in 10 restaurants agree that the festive season is a busier time compared to a normal trading period, a similar proportion (79%) state they still want to be busier, reinforcing their belief in the period's potential for high revenue generation.
A third (34%) of restaurants state that they are never fully booked for the festive period, but those who plan and prepare early find themselves in a better position. For those confirming their plans before August, only 18% state they are never fully booked for the festive period.
Evidently, our analysis also shows that those who feel most optimistic about this time of year are leading the way in their strategic planning and preparation. This proves that many of the ingredients to success are within their control and it is up to venue operators along with their various support providers to grasp the opportunity.
Beyond a venue giving itself ample time to put its festive plans in place, the plan itself is of course paramount to the outcomes it will achieve.
From the implementation of deposit systems and taking of pre-orders, to operational tweaks with staff and stock control, our report highlights how restaurants can make the festive season more manageable, efficient, and, most importantly, more profitable.
As we continue to support ResDiary users, we hope that the insights from this report will guide and strengthen your strategy for the festive season, and we wish you all the prosperity you can possibly achieve once it arrives.
Jump to section:
You can also download the full report right here
Before we dive into the full report, let's look at a snapshot of the festive season in numbers
Here are the key statistics you need to know about the festive season in hospitality:
80% of restaurants agree that the festive season is a busier time of year than normal
79% of restaurant operators wish they were busier during this time
82% of venues planning before August take significantly more during the festive period
87% of restaurants currently use a restaurant booking system
46% of restaurant operators agree that table planning becomes more challenging at this time
75% of restaurants require deposits during the festive season to avoid costly no-shows
24% of restaurants are fully booked before September
34% of restaurant operators admitted they are never fully booked for the festive season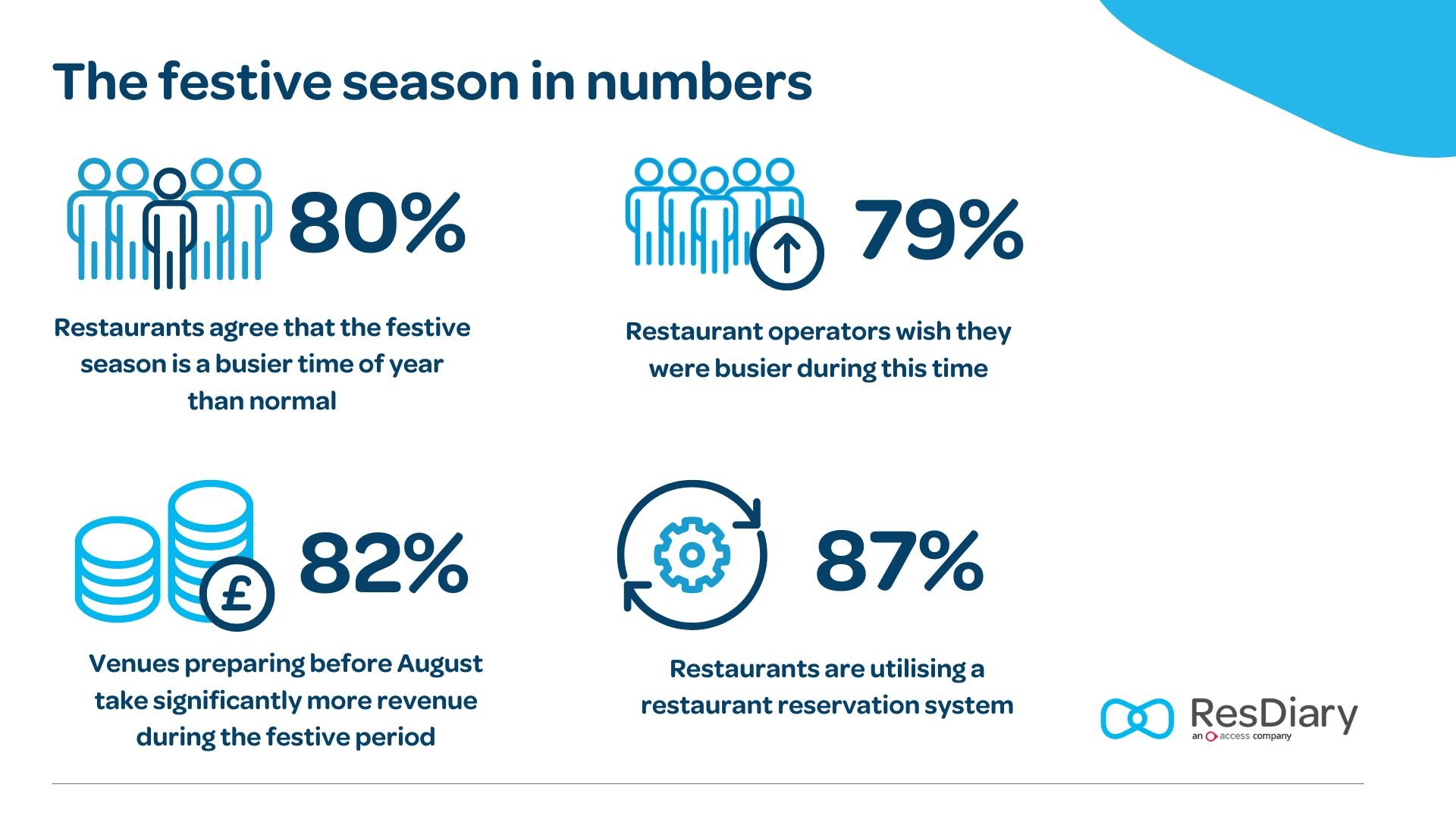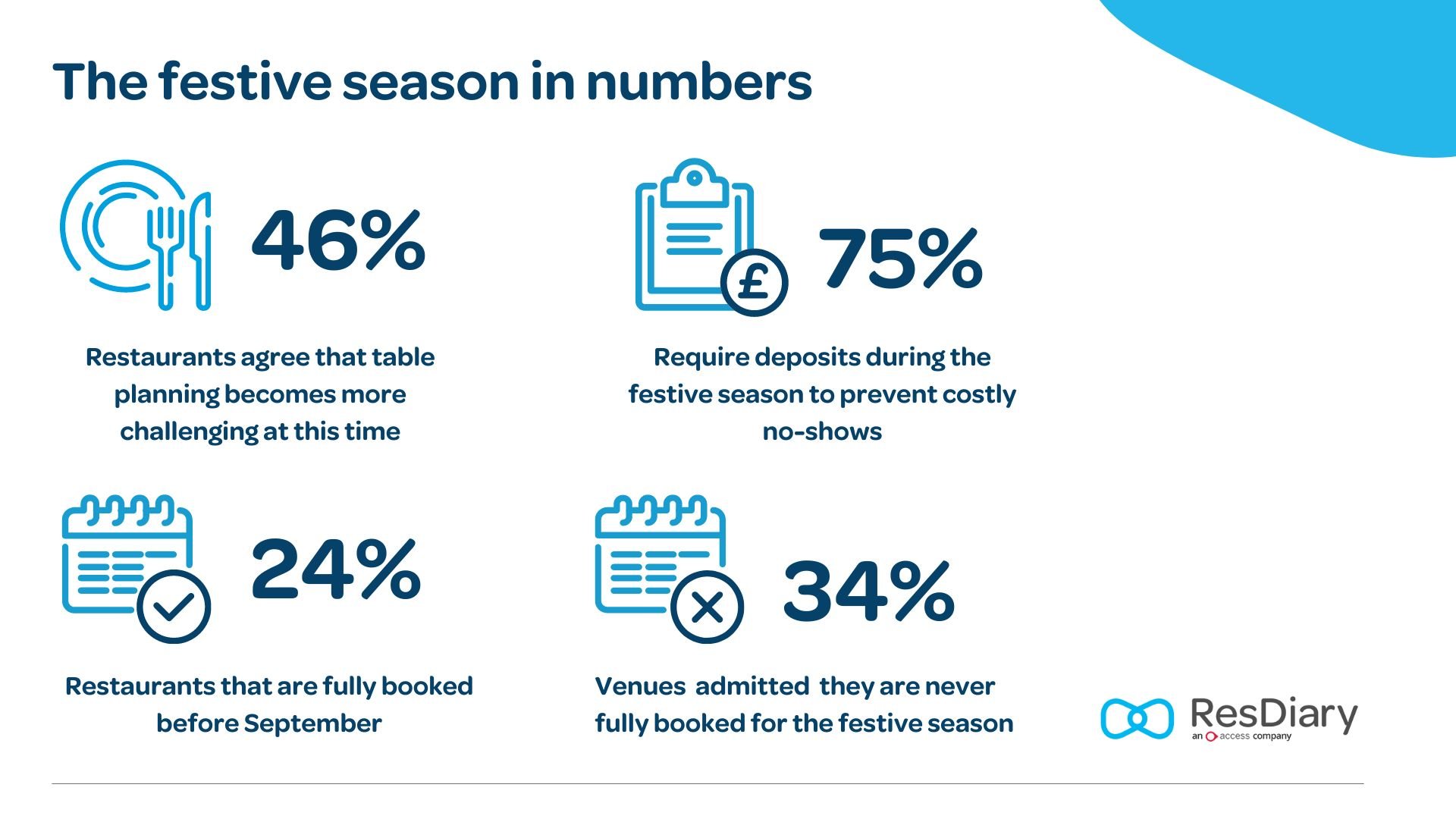 Prepare early to reap the rewards later
The festive season is a busier time for restaurants compared to standard trading periods, bringing with it a wealth of opportunity. While 8 in 10 restaurants would agree with this, almost the exact same proportion (79%) still wish to be busier during this time.
Despite it being recognised as a busier period, a third of venues (34%) still admitted that they are never fully booked for the festive season. However, that is almost halved to 18% when venues begin festive planning before August. Restaurants should therefore consider preparing for the festive season earlier in the year to increase their chances of being fully booked during this period.
The majority of venues (59%) start taking festive bookings before September. Again, those who planned before August had more festive reservations at this stage of the year, with almost a quarter of restaurants (24%) already fully booked by September. Similarly, a third of venues (33%) that spend more than £1,000 advertising festive promotions are also fully booked by September.
Our festive findings demonstrate that those who prepare earlier come out on top, as well as those investing in their festive promotions.

It's the season for for spending
With an evident increase in bookings, we're not surprised to see more than two-thirds (69%) of restaurants taking in significantly more revenue during the festive season. This ramps up to 82% for those planning for the festive season before August, which puts a real monetary value on forward-thinking for those businesses.
When it comes to investing in promoting your festive offering, typically the more you invest the more you get out. Restaurants that spend more than £1,000 on festive advertising are more likely to be rewarded with positive ROI. Almost 9 in 10 (89%) generate significantly more revenue as a result. This compares to just 42% for restaurants spending £0 on festive advertising, 55% for those spending £1-99, and 72% for those spending £100-999.
Beyond increased booking numbers, seasonal consumer habits are also a big contributor to increased revenue during this time. Almost two-thirds (64%) of venues agree that customers tend to spend more during the festive season. That being said, maximising your bookings can certainly help to increase your revenue exponentially.
Customers' tendency to splash out doesn't stop there either, as 82% of restaurants also sell more vouchers during the festive season.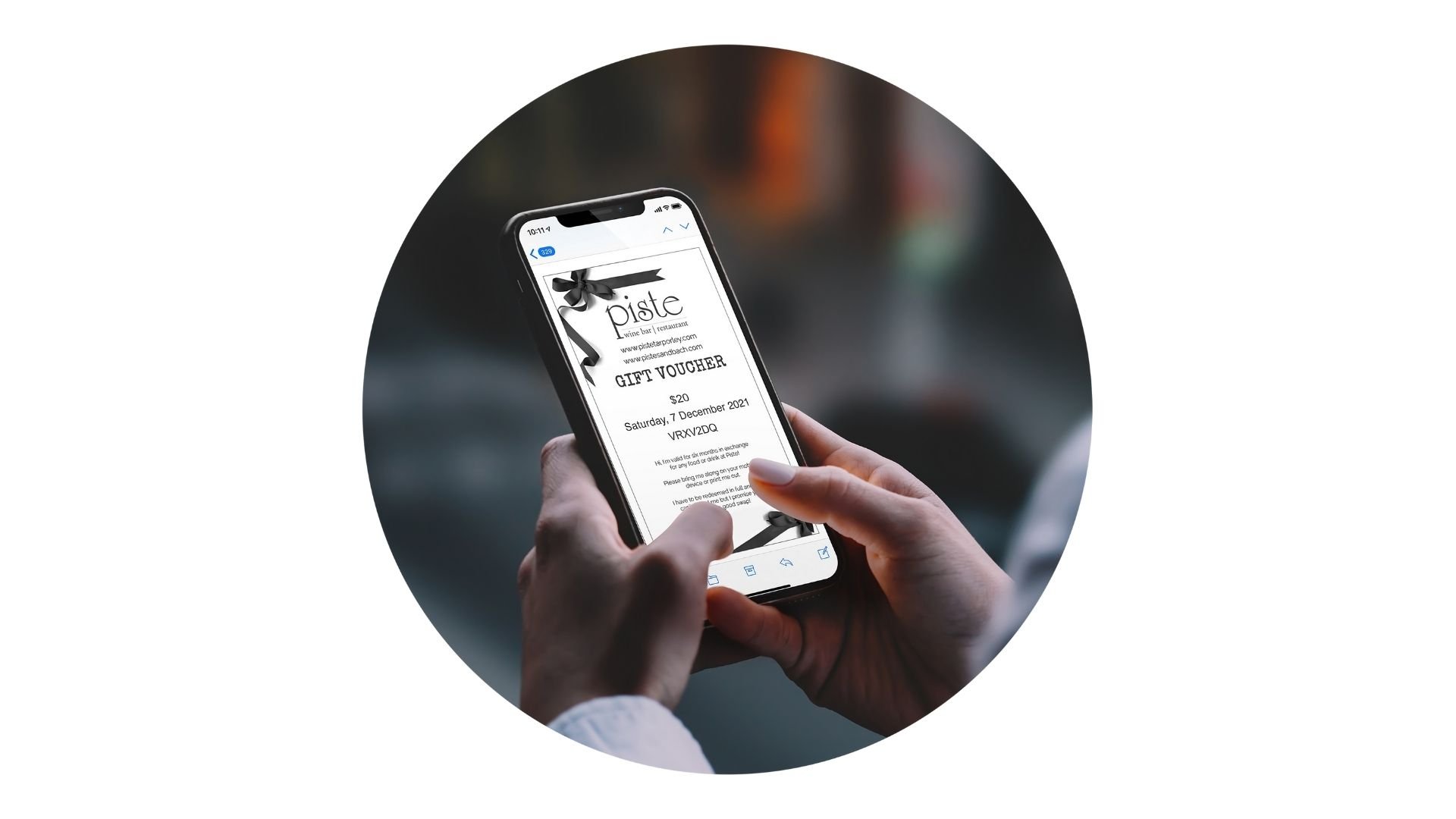 Are you making the most of vouchers?
Now is the time to shine a spotlight on your gift voucher offering and squeeze even more value from your festive customers. ResDiary makes it easy for you to create, manage and sell vouchers seamlessly. Find out more.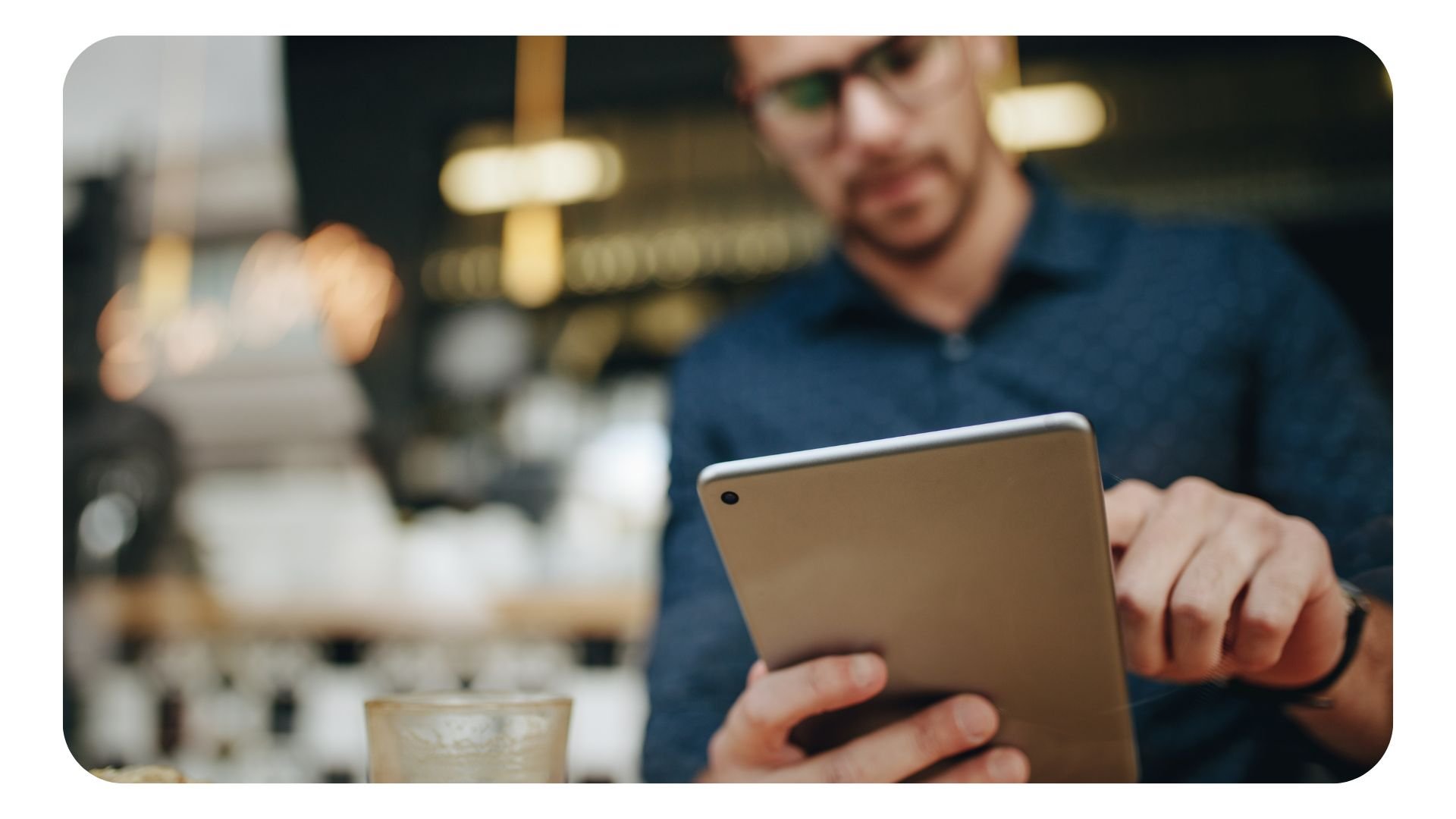 Back to top
Why deposits can be vital
We see a similar trend regarding no-shows for restaurants during the busier and potentially more lucrative festive season.
The proportion of restaurants struggling with no-shows (26%) during the festive period more than halved for those who plan pre-August (10%).
Three-quarters of restaurants (75%) require deposits during the festive season in a battle against these costly no-shows. For restaurants stating that they make significantly more money during the festive season, this figure increases to 95%, which suggests deposits are a driving force behind increased revenue generation.
Some inside tips for reducing no-shows with ResDiary
Here are five simple steps from ResDiary's very own Senior Relationship Manager, Laura Barnes, who works closely with our clients to help ensure their success.
Create standard email and SMS notifications in your restaurant booking system with the ability to edit or cancel their booking.


Send more than one reminder. It's a good idea to send them a confirmation when they book, then send reminders before they're due to arrive.


Confirmation and reminder emails should always have no-show policy/terms and conditions outlined to ensure that there are no disputes during cancellation fees being implemented.


Make sure your messages are friendly and approachable. Well crafted, positive messaging could even help build loyalty to your business.


Don't be afraid to take a deposit for bookings. Data shows this is a growing trend among restaurants and most diners are actually happy to do so (especially for the festive season).
Looking for more advice on reducing no-shows in your business? Check out this handy guide.
The importance of planning ahead
As you may have noticed, there is a distinct correlation between restaurants who plan for the festive season before August being more successful, than those that don't. Taking some of the season's major challenges into account, let's look at the most important data you need to know about the value of early festive season planning.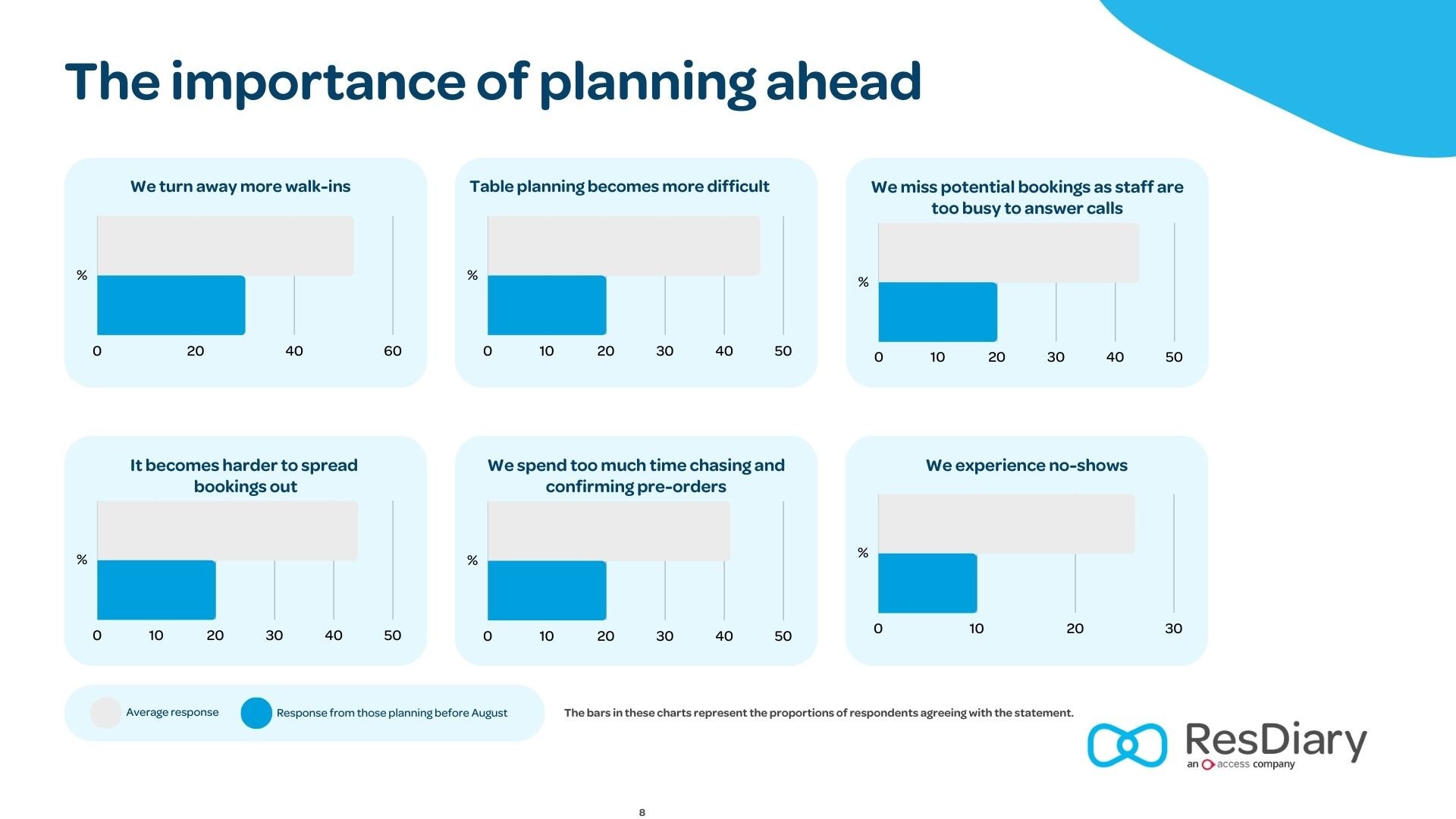 The average venue turns away more walk-ins (52%) compared to those who plan before August (30%).
46% of restaurant operators said that table planning and management becomes more difficult during the festive season, compared to 20% of those of plan pre-August.
44% of restaurants operators admitted they miss opportunities to capture bookings because staff are too busy to answer the phone, compared to compared to 20% of those who plan pre-August.
Equally, 44% of restaurants find it harder to spread out bookings during the festive season compared to 20% of those who plan pre-August.
41% of restaurant operators feel that they spend too much time chasing pre-orders for festive bookings, while that percentage drops by half to 20% for those who plan pre-August.
26% of restaurants experience no-shows during the festive season, this drops to 10% among those who plan pre-august.
How prepared are you for the festive season? Find out now with our FREE quiz!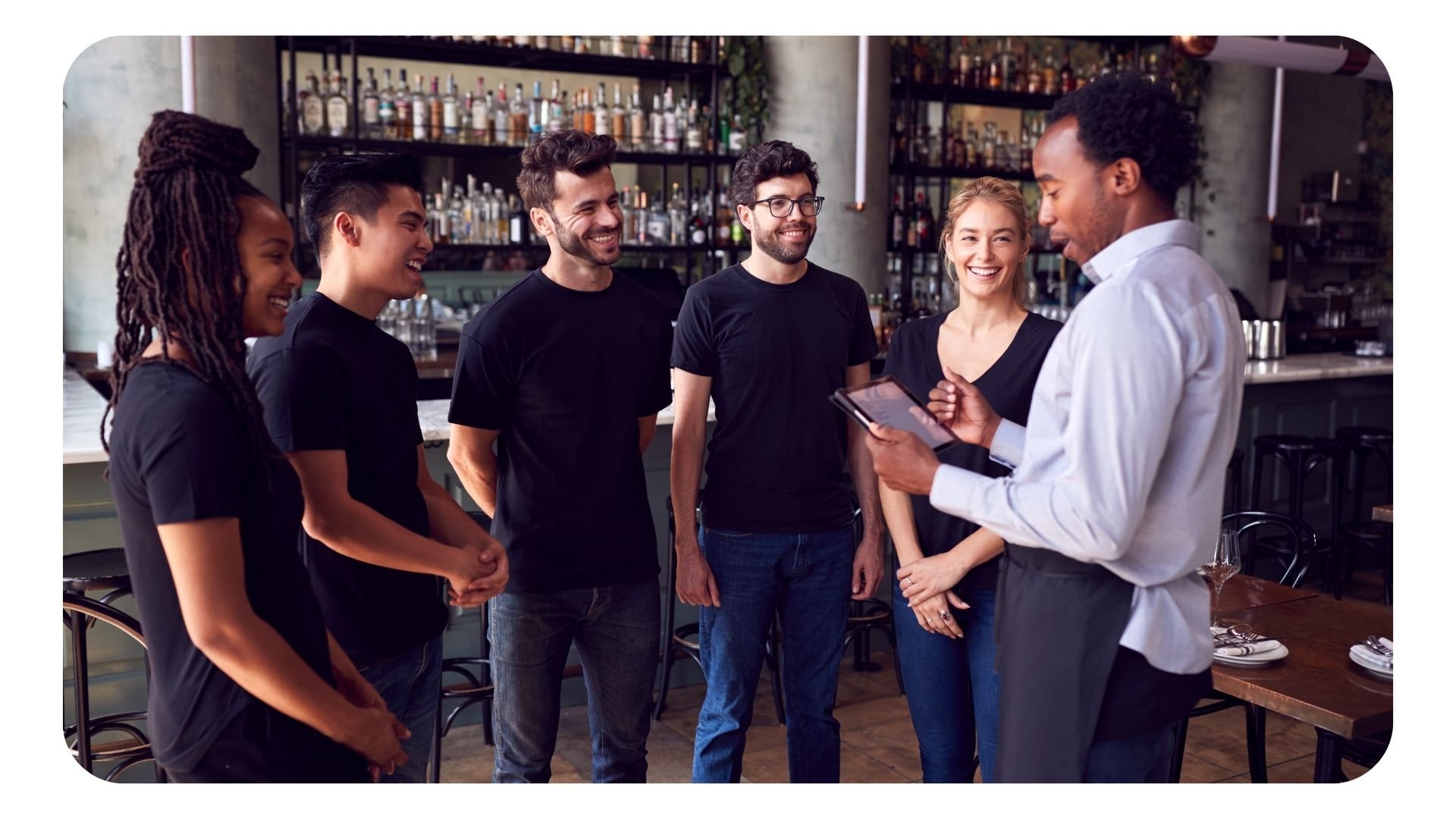 Emotions may run high
Despite the opportunities the festive season brings, it's not without its challenges. Capturing more bookings and the increased revenue that comes with this is no small task, and once secured we're then left with the next matter; how do we manage this?
Some common challenges are heightened considerably at this time of year, especially for those who described themselves as stressed.
No matter how much busier you are, you'll probably feel like you're keeping many more plates spinning during the festive season. But we see a clear correlation between those who plan early being less affected by added pressure or stress and those who don't feel the greater burden.
Table planning can be a big headache when you're juggling more bookings and providing a great dining experience. For almost half (46%), table planning becomes more difficult during the festive period, with higher demand leading to an increased number of tables to turn over.
This more than halves to 20% for those that have planned ahead and allowed themselves the time to put the right solutions in place.

(Back to top)
Essential advice to thrive during the festive season
Over a third (34%) of restaurant workers may feel more stressed, rising to almost half (46%) for those at the busiest venues, but there is clearly a lighter path when you combine forward planning with the right solutions.
The good news is there are many ready-made tools and solutions you might not yet be fully utilising, that could help to release a lot of the burden. In this section, we'll share the latest insights and advice on the key considerations and actions hospitality venues should take when planning their festive season strategy.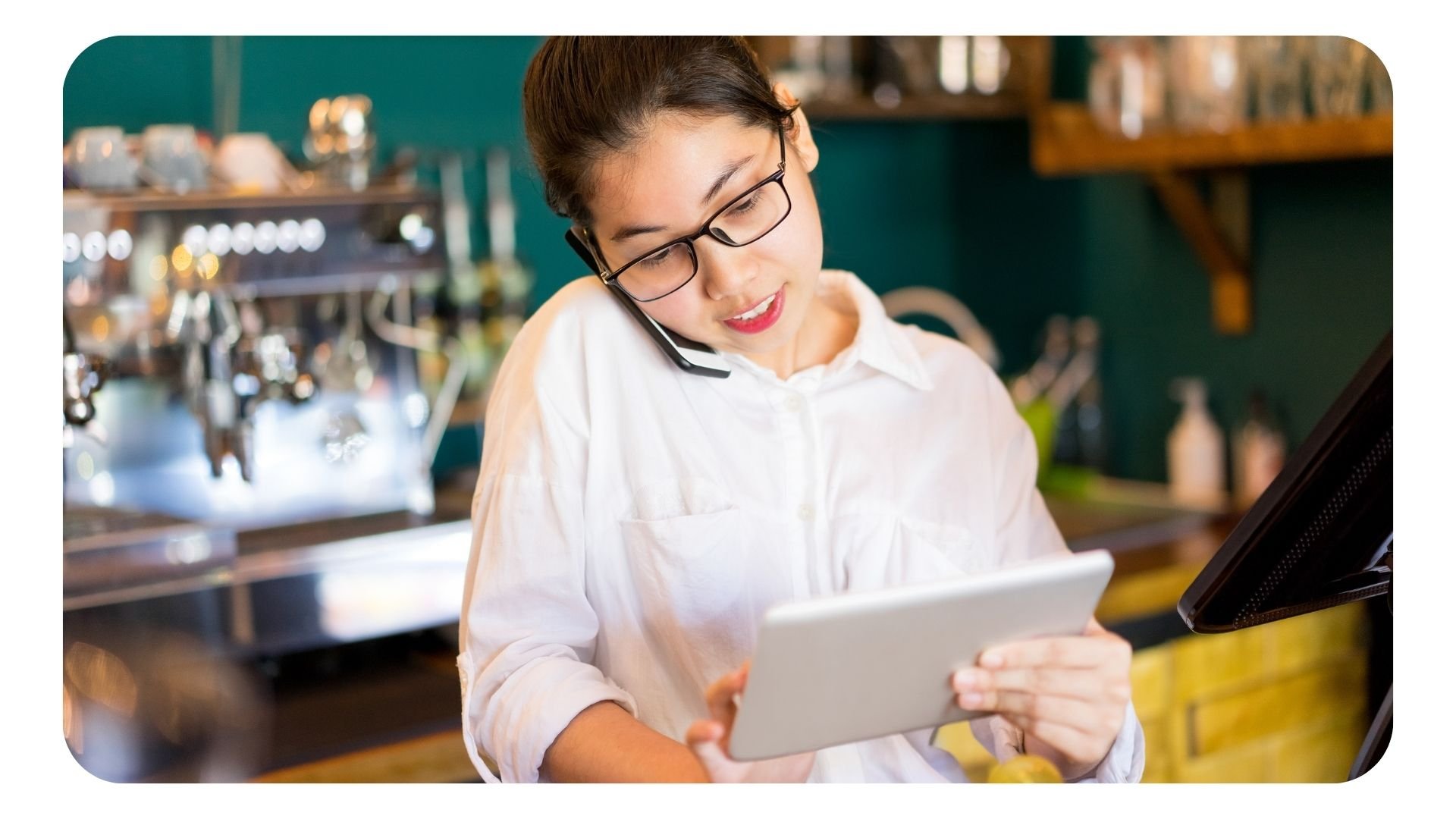 High-tech = Low stress /
Low-tech = High stress
A large proportion of venues are using technologies to overcome the challenges the festive season presents, such as reservation systems (87%) and EPOS systems (80%).
However, less than half (38%) are utilising table management systems to alleviate the highlighted pain points around managing their bookings and taking the headache out of table planning. This decreases to just 3 in 10 (30%) for restaurant operators who described themselves as "stressed".
A table management system is essential to any venue that wants to maximise its available space during the festive season.The right system can help to create not just a seamless and fully automated booking process, and also take care of walk-ins, no-shows, yield management, and more to unlock your restaurant's full potential.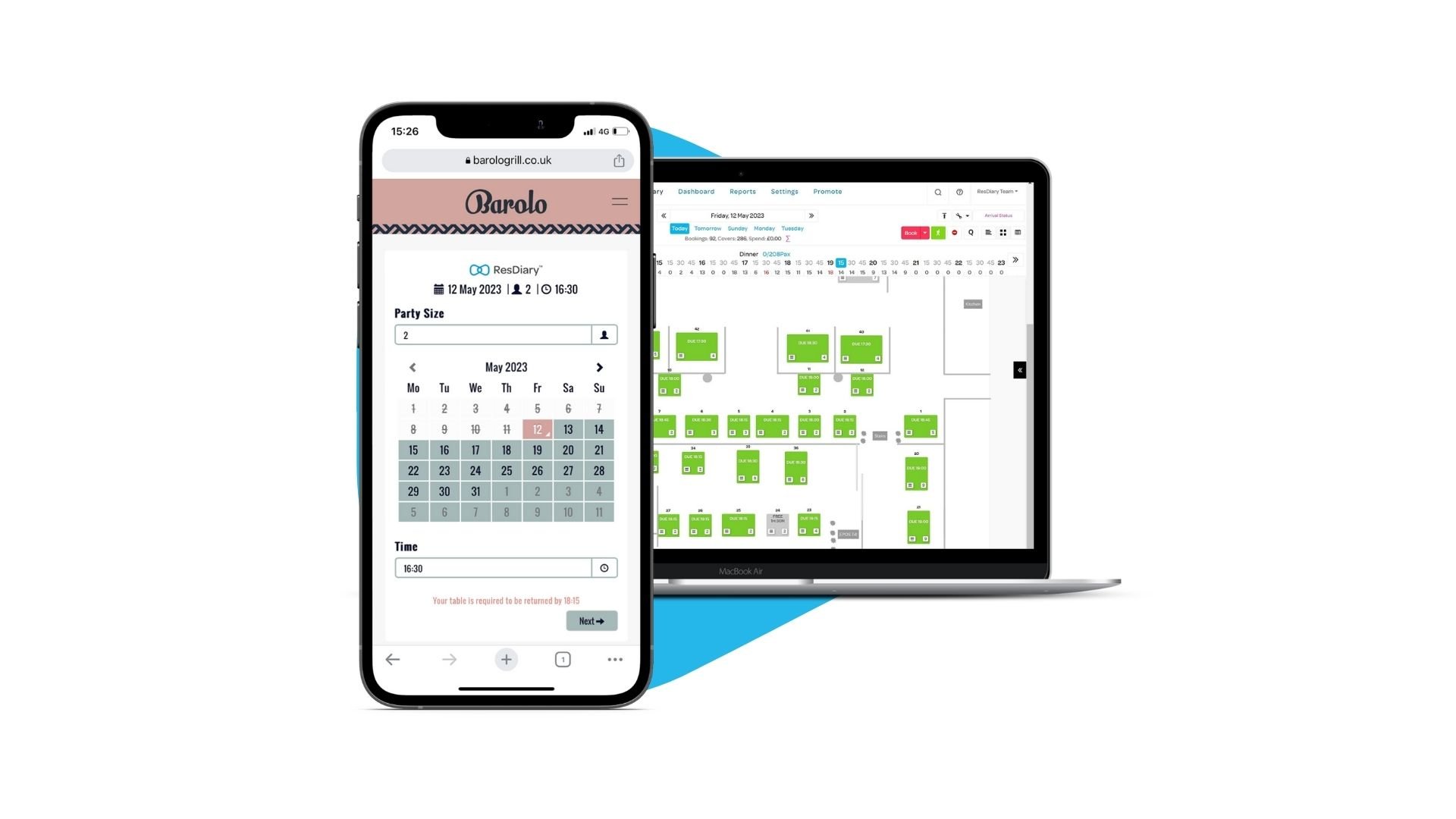 Get even more with ResDiary
ResDiary combines all of the above with other functions, including taking card details or payments for booking deposits, and sending automated booking reminders to your customers.
You'll be able to reduce stress on your staff, minimise booking mistakes, and eliminate no-shows all in one simple system. Find out more.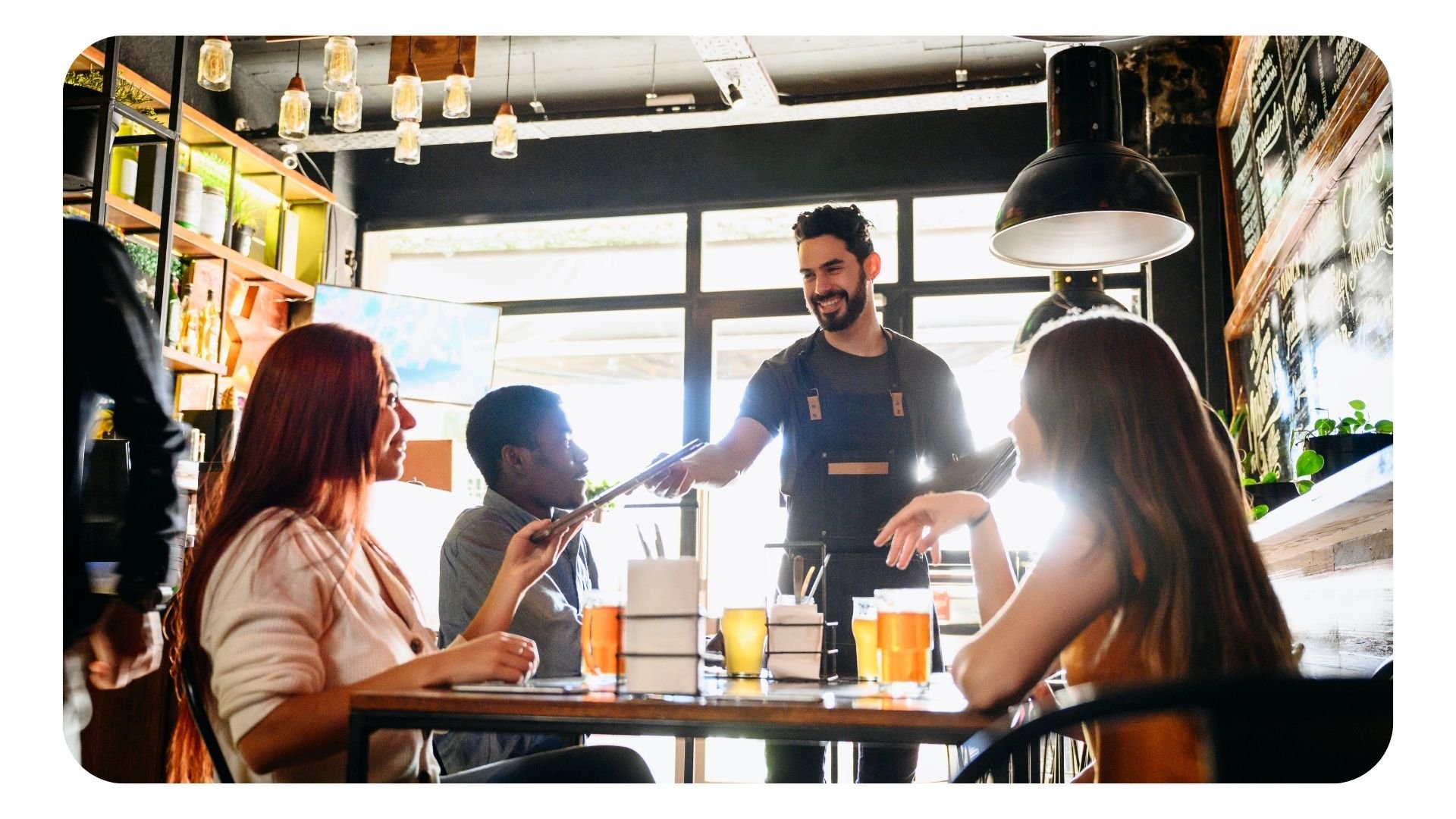 Review your operations
Think 'staff, stock, and seating'
When preparing for success this festive season, agile operations will prove essential in your ability to respond to new levels of demand. Our findings show that this really applies to three key considerations; staff, stock, and seating.
Staff
More than half of restaurants (57%) increase staff numbers during service in the festive period. This increases to 70% for those that promote their festive offering before August, and subsequently get more bookings. This reinforces the advantage of venues planning well in advance, giving them adequate time to provide for their staffing needs much sooner, particularly amidst the industry's well-documented recruitment challenge.
The added advantage those venues have in taking more bookings earlier on, is that they have more time to prepare and provide for their own staffing needs much sooner. Let's face it, the market for hospitality staff is already fiercely competitive, and this will only intensify as venues become more desperate closer to the busy festive period.

Stock
More than half (54%) of restaurants similarly increase their stock levels during the festive season to balance their supply requirements with increased demand. Pre-orders and special fixed menus are both great tools to tackle increased demand and help you stay in control of your stock, both in your kitchen and your bar.
Embracing the festive spirit, over a third of restaurants (38%) operate a set seasonal menu during this period, which is a great way to both maintain control of your stock levels and spending, while also creating an alluring experience to attract diners.

Seating
The festive season is an opportunity for restaurants to cater for larger parties, which may see venues reconfiguring their seating plans to make it easier to turn tables more efficiently - almost 3 in 10 (29%) also reconfigure their table plans. Those that aren't reconfiguring their seating plans could be missing out on maximising the use of their space for accommodating more bookings and larger parties.
Those putting their plans in place early appear even more invested in repurposing their venue for the festive season, with about two-thirds (66%) of pre-August planners reconfiguring their table plans to accommodate for the anticipated short-term spikes.
ResDiary's segments tool allows you to create a festive set up once, and apply it to the relevant days - so you could do this in January and take festive bookings 12 months in advance.

Why restaurants offer pre-order menus
While a pre-order menu can help you keep your kitchen stocked efficiently, it can also help your restaurant staff during the festive season by giving them greater visibility and time to prepare. Pre-orders can also help your team get ahead of the game and stay on track during service.
In a bid to streamline service and make table turnarounds more efficient, almost 6 in 10 restaurants (59%) offer pre-ordering, while 54% introduce set menus for the festive season. Over a third of restaurants (38%) only offer a festive menu during this period.
Of these festive menus, most restaurants (28%) plan these in September, followed by a quarter (26%) who plan in August.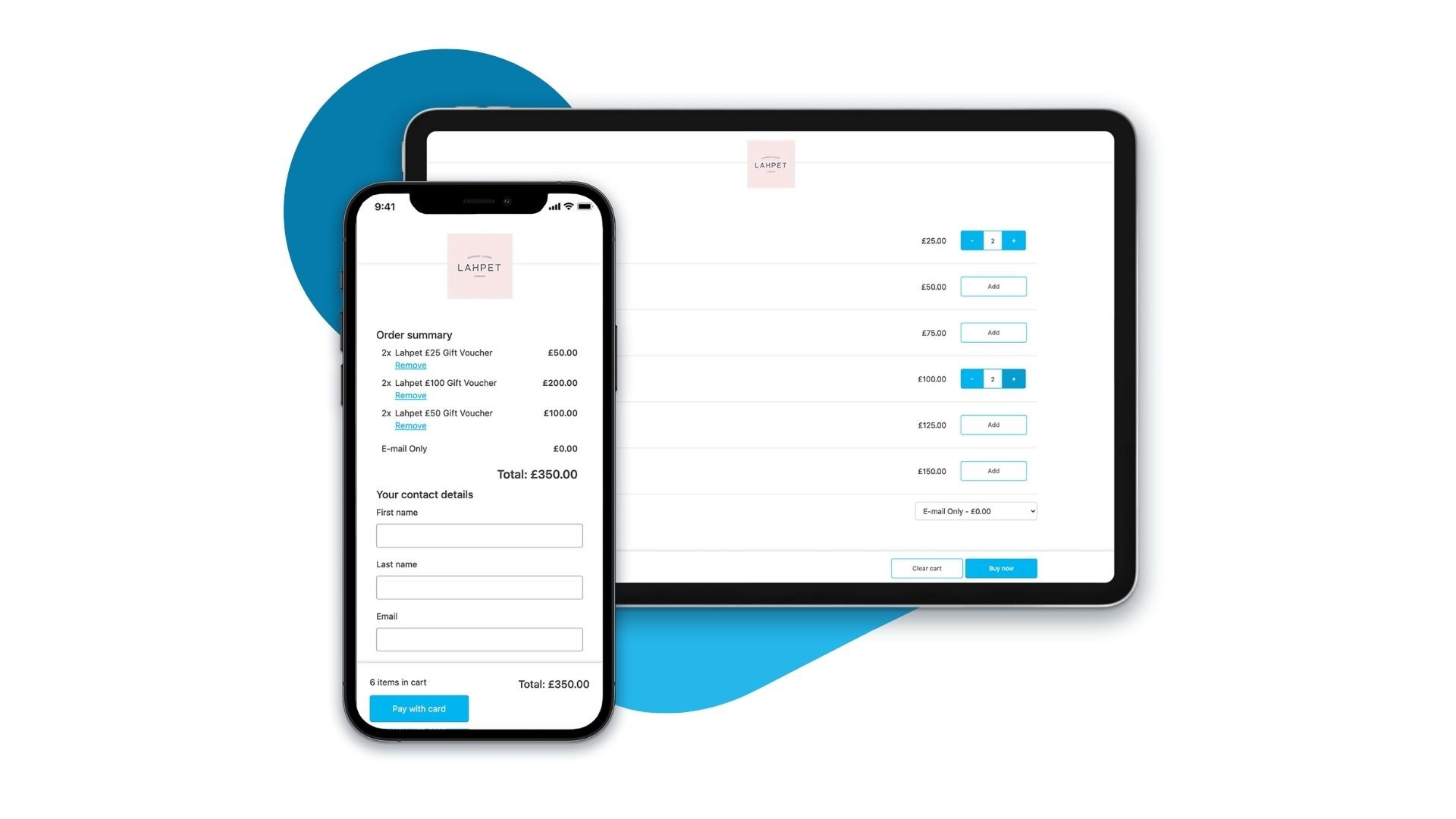 Get greater operational efficiency with pre-orders
41% of restaurant staff admitted wasting precious time chasing and confirming pre-orders last year.
Pre-orders is the ideal planning tool for managing large party bookings. It's automated features streamline the process of gathering orders, ensuring a seamless ordering experience for your guests. Learn more.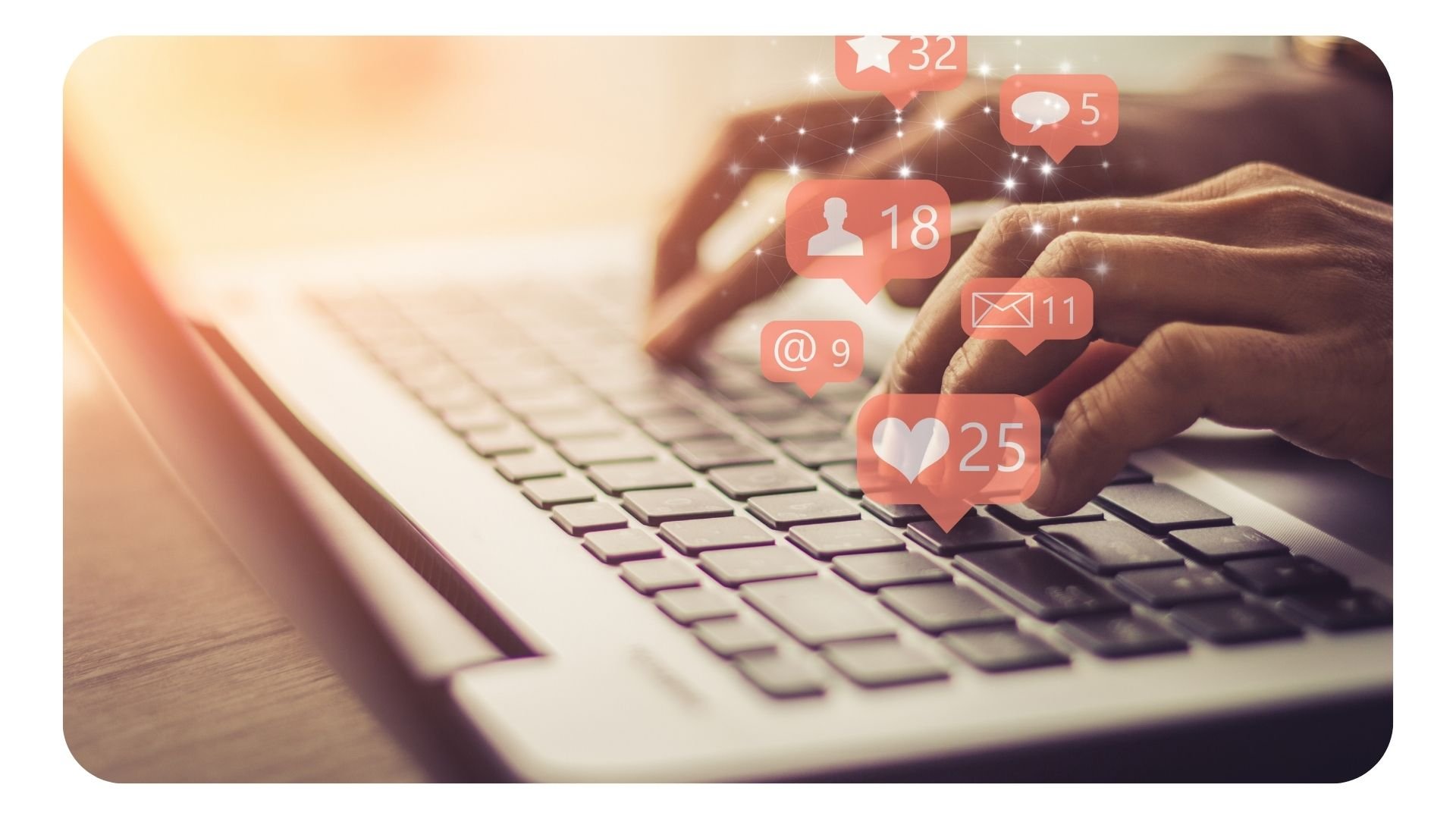 Start selling before September
How and when to market for more early festive bookings
We've mentioned how creating a special offer and a pre-order menu can create added allure for your festive customers. Now, let's take a closer look at how best to market your festive offering and get more early bookings so you can be better prepared.
Our findings show a clear correlation between marketing investment and a restaurant's success during the festive season. This is especially the case for paid advertising. Almost 9 in 10 (89%) restaurants spending £1,000+ on advertising are fully booked during the festive season, compared to just 50% of restaurants that don't invest.
As expected, the more successful the season, the happier restaurants are with the performance of their marketing, with 65% satisfied with the impact of their festive marketing in the last festive period. But what are the key trends for the most popular ways in which other restaurants are marketing to their festive customers and how can you attract more bookings early on?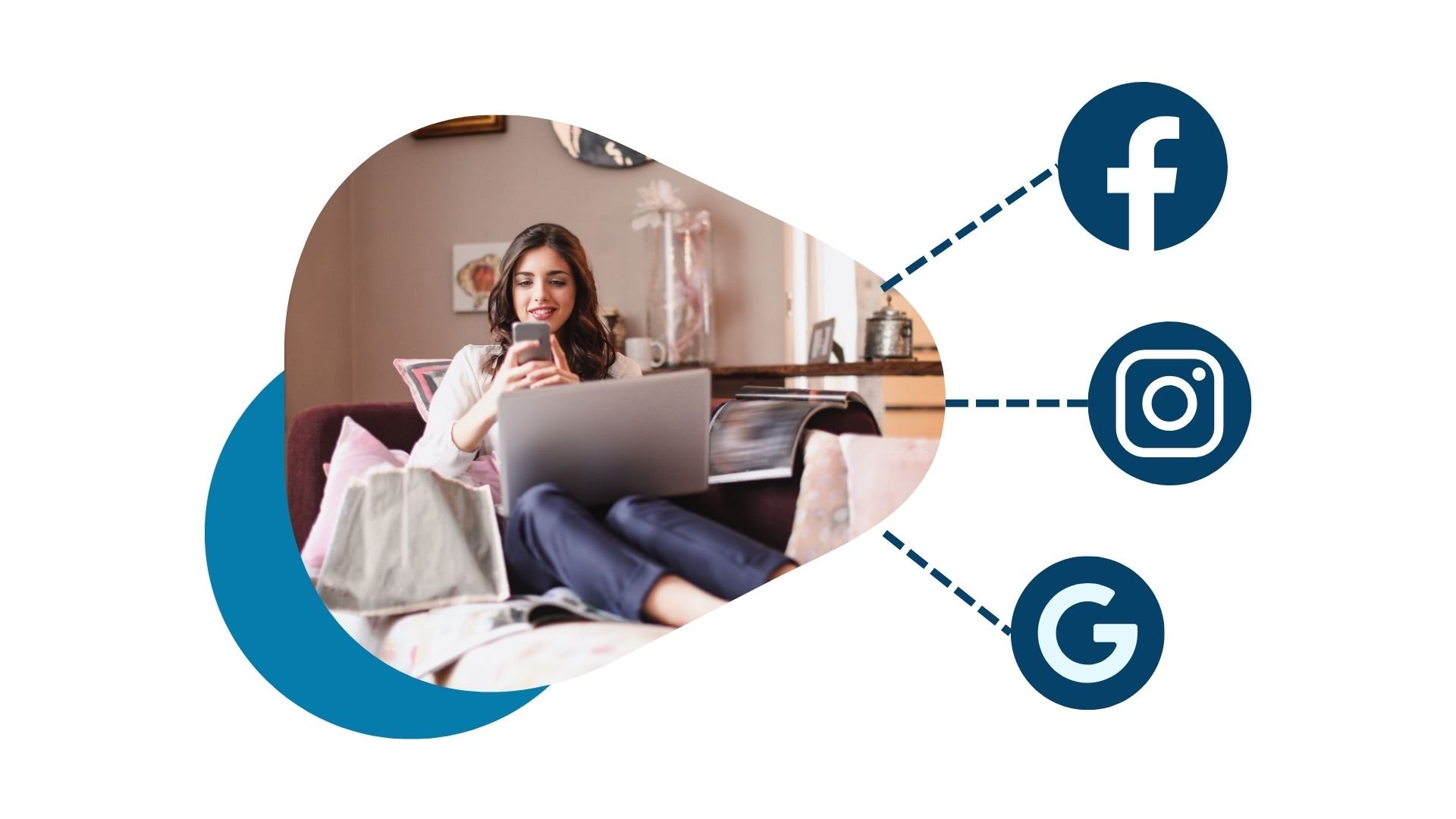 Take online bookings directly via Facebook and Instagram
ResDiary is designed to make it even easier for your customers to book wherever they find you online. With our simple integrations you can take bookings directly through your social media channels and Reserve with Google. Find out more today.

Social, website, and email are the three pillars to success in festive marketing
Posting on social media pages (91%) and displaying information on the website of the restaurant (79%) were found to be the most commonly used marketing channels - perhaps unsurprisingly.
This was followed by 61% of restaurants sending promotional emails to their database - a promotional method used by 90% of venues that advertise before August.
While these are the most common, it is the adoption of paid social (89%) and discovery platforms (87%) that lead the way when it comes to restaurants' satisfaction with their marketing performance.
Unsurprisingly these methods both increased to 100% satisfaction for venues that got their festive plans in place before August, allowing more time for strategic marketing to work its magic and to subsequently secure more bookings.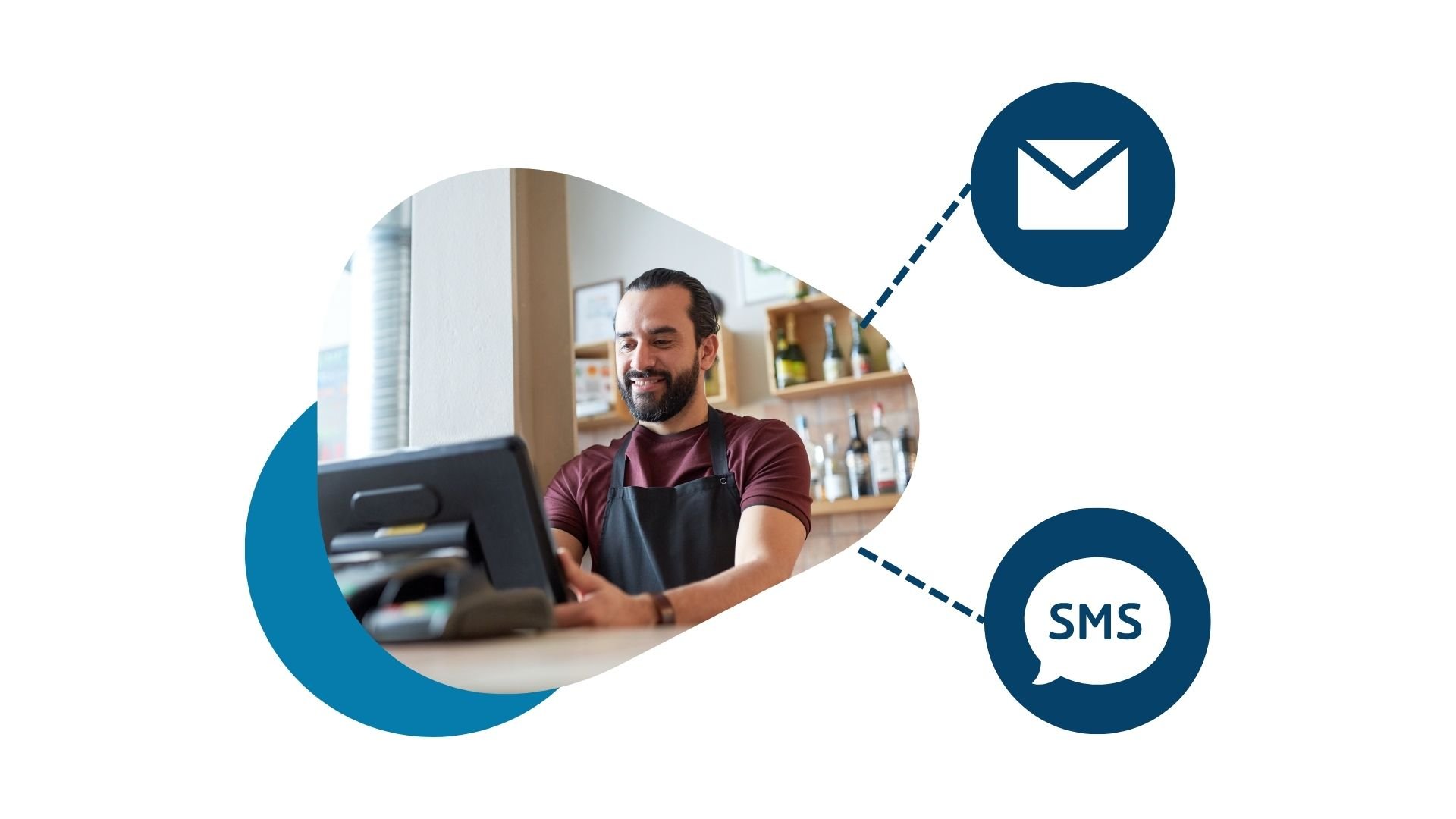 How to make the most of your marketing database with ResDiary
Your most engaged audience is likely to be your previous customers, and with ResDiary your marketing database can quickly grow with every booking as customers opt-in to receive news and offers from your venue.
In the build-up to the festive season, restaurants can create and distribute festive offers all from ResDiary, tapping into its captured audience to increase exposure of its festive offering and convert cost-effective bookings.
ResDiary offers a free, built-in, email marketing solution, meaning you can manage your customer database, send emails and SMS* messages, and track the results in one place.
All marketing messages can be fully customised to fit your brand style, giving your customers a synergised experienced across all your communications. Learn more about custom marketing emails with ResDiary today.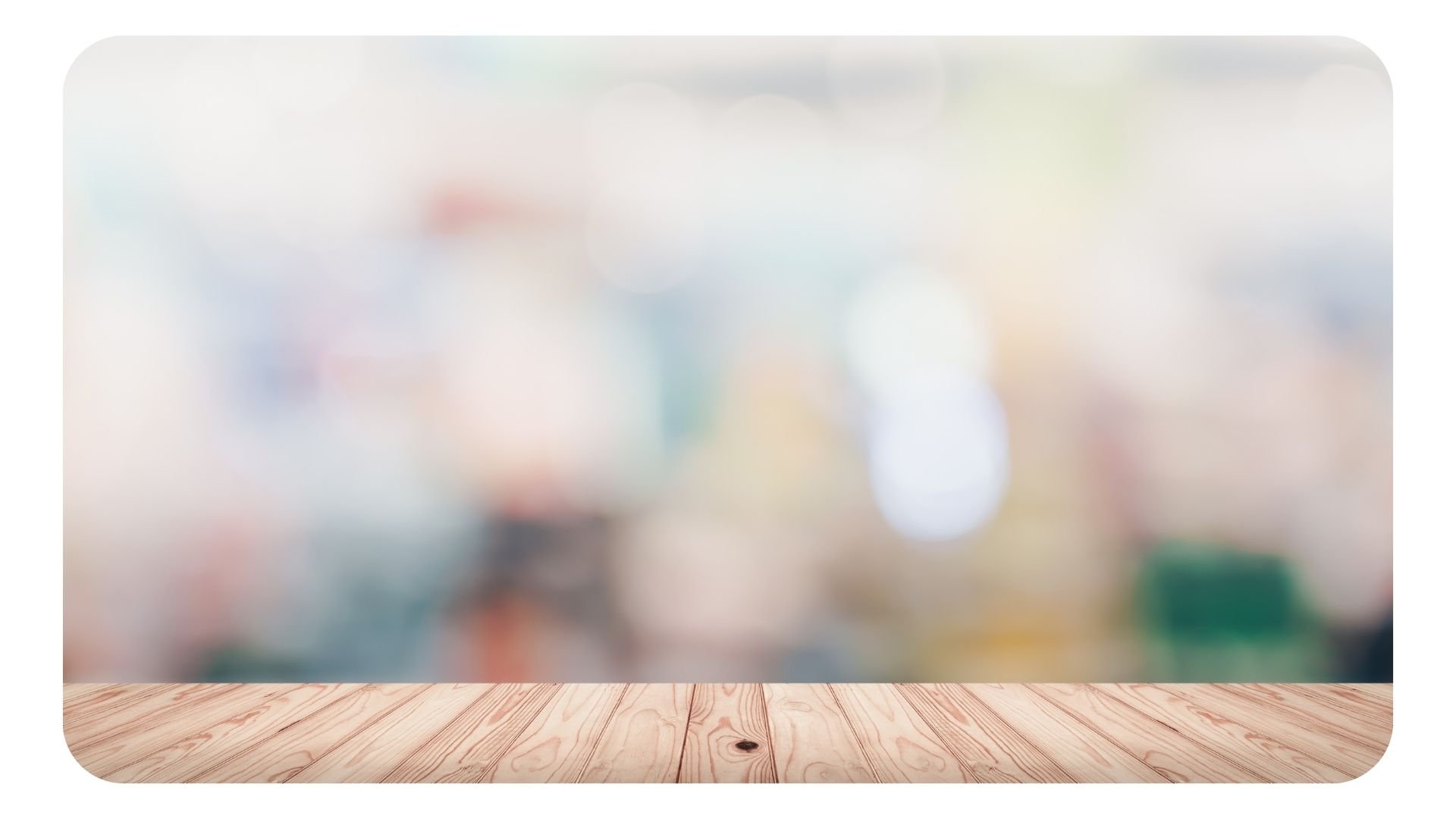 Curing the January blues
Despite the festive season being a busier trading period for 8 in 10 restaurants (80%), almost two-thirds (61%) agree that their venue is less busy than normal in January.
As diet-led New Year's resolutions come into effect, and customers hold less disposable income following a season of gifting, it is perhaps expected that the nation will be eating out less at the start of the year.
With this being said, it is a surprise to see that almost half of restaurants (41%) do not offer special promotions, to incentivise January bookings. 87% of those taking significantly more revenue during the festive season, are also running special offers in January, suggesting they have worked out an effective formula for getting more people into their venues, and encouraging them to spend more while they're there.

For those planning ahead this is less of a concern, with 7 in 10 restaurants (71%) putting their plans in place before August offering exclusive offers to their festive diners, effectively encouraging return visits and easing the January lull.
Similarly, for those spending between £1-99 advertising their festive season promotions, almost three quarters (73%) agree that their restaurant is less busy than normal in January. This drops to a third (33%) of restaurants for those spending over £1,000 in comparison, demonstrating the effectiveness of paid promotion to overcome drops in demand.
It's worth bearing in mind, that those who were successful during the festive season could now be in a better position to reinvest in boosting bookings in the quieter months.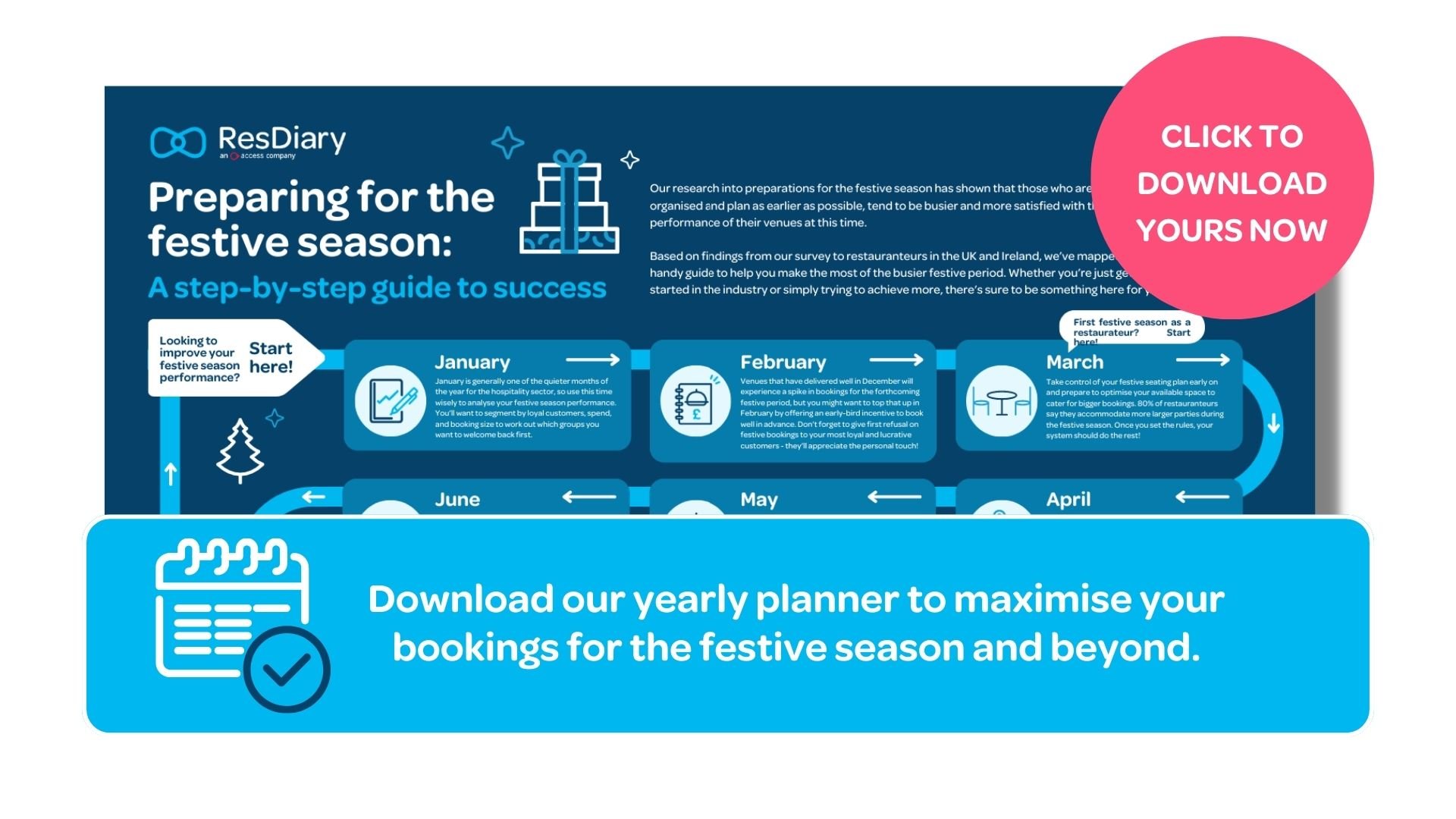 Summary
Prepare early and promote wisely to maximise your revenue during the next festive season
Within the research conducted we can see clear correlations between ways in which restaurants manage the festive season and their success during this period. Those who prepare early, before August, are much more likely to be fully booked before the festive season even starts. There is also a higher chance of them generating more revenue and being less burdened by the added pressures of being busier.
While each restaurant will have varying degrees of flexibility in what you can and can't do, by planning ahead and taking into consideration some of this essential advice you should be in a stronger position to succeed during the next festive season.
Remember our five steps for festive season success:
#1 - Begin the planning process before August to allow yourself adequate time to create a solid festive strategy for success
#2 - Implement a deposit system to reduce no-shows
#3 - Utilise a table management system to maximise reservations and streamline operations
Account for staff increases to meet higher demand

Account for stock increases to meet higher demand

Display festive information on your website to inform prospective bookers earlier in the year
#4 - Consider investing in advertising, no matter how small, to reach a wider audience
#5 - Consider vouchers to generate revenue and incentivise January visits
(Back to top)
Download the full report
We hope this research has given some useful insight and guidance to help your business navigate the year ahead. Our expert team is always on hand should you have any further questions about your needs or you are seeking guidance. You can also save your copy of the full report right here.
Download Beyond The Booking: Festive Season Success Unwrapped