Inside a 1930s heritage building on the waterfront in Auckland, Wynyard Pavilion is pumping as a destination venue.
The light-filled bar and restaurant includes a variety of dining, bar and alfresco spaces and can host a capacity of over 500 people. The all-day menu features fresh seafood, burgers, pizza, breakfast options, a selection of small and large plates and a set menu with canapés for big events. There's also 11 beers on tap, signature gins, a large wine and non-alcoholic beverage list and sophisticated cocktails.
A surprise and a delight
Damien McDowell discovered ResDiary via recommendation from another bar owner. He says the online reservation system easily manages walk-ins and huge group bookings, and was perfectly set up for their large site and busy venue.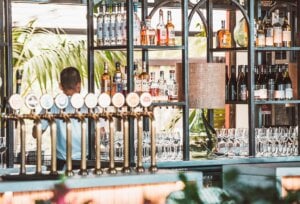 "The ResDiary booking system is one of the first points of contact with our restaurant for our guests. We love that it gives a great first impression for our venue. It's easy to use and looks beautiful," McDowell says.
"For our team on the ground it has made life simpler and more systematic – ensuring nothing gets missed, so we are free to do what we do best which is wowing our guests with great hospitality. In particular, the ease with which we can receive and respond to large event enquiries has seen a huge increase in revenue [compared to] when we didn't have ResDiary."
Over time, McDowell has taken advantage of the promotional features that ResDiary offers. The venue considers guest feedback in making improvements, sells online vouchers to make the most of their venue capacity and its integration with Connect allows for more targeted marketing and communication with their guests.
He says these features have become game changers for the venue.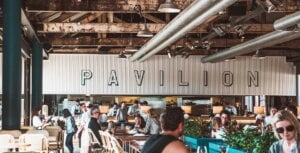 "During lockdown, vouchers became really important. We have sold about 300 [of them] at a value of $50 each. In terms of capturing guest feedback, we have placed an emphasis on tracking what's doing well, what we can do better and little tweaks [we can make]. The feedback has been really helpful, and keeps us focused on our customers and guests," he says.
"Connect helps to categorise our customers: for example, if they came to the venue to watch sport, attend a specific event or for dinner. This means we can reach out to them with offers, vouchers and so on with [information that they] want to hear from us."
"[As a result] we can reach out to new guests with personality – helping to convert them into lifelong fans of our restaurant."
"We're excited to dive into how we can use ResDiary's promotions and CRM tools within our marketing strategy"
McDowell says booking widgets on their social media pages and website have driven bookings that might have been lost as users navigated different sites. With widgets, he says booking is front of mind, and allows customers to book straight away.
He adds that the support team are on call whenever they are needed to share best practice and ensure they get the most out of ResDiary.
"As somebody who runs a large venue, I would 100 per cent recommend ResDiary," he says.
"There's the efficiency that it brings as a booking system, and the marketing and promotional tools that we are getting out of it is the cherry on top."
Find out how you can use ResDiary to help you grow and create exceptional dining experiences.

Disclaimer: This guide is general in nature and does not take into account your individual circumstances. Before acting on any information, you should consider whether this is right for your business.