Do you know exactly how many covers you are doing each day in your restaurant? Are you recording your customer preferences to ensure you can deliver them a tailored future dining experience? Is it an easy process?
If not, it might be time to think about integrating your restaurant booking system with your point of sale (EPOS) system.
That's exactly what Keiran Inglis did, the co-owner of The Apple Shed Kitchen & Bar at Māpua Wharf in New Zealand's South Island.
For the last five years, Keiran has used ResDiary's plug and play integration with Idealpos, his EPOS system, to great effect. Recently, he began using the integration between the two systems at The Jellyfish too, a nearby venue he acquired with his wife Gemma and another business partner in 2022.
Easy to use, quick and intuitive
"It was important to me to find a POS system that was simple to use and intuitive, but I also saw that we had to take the business in a digital direction, which is why we went with ResDiary and Idealpos."
"Up until that point we were still using a paper diary and when I think back to doing that now we couldn't achieve half of what we achieve now by using paper diaries."
When integrated, ResDiary and Idealpos mirror each other in real time, so by closing a table in Idealpos you are also closing it in ResDiary and vice versa. This means you are actually creating an accurate snapshot of how many covers you are doing, as well as quickly freeing up tables.
Keiran loves the way that the ResDiary and Idealpos integration allows him to quickly and easily take reservations, document customer preferences and record covers.
"I often do quite a bit of work at home in the evenings when the kids are asleep," said the busy father of two.
"Just being able to easily tap into that system makes all the difference. I can add reservations that come through Facebook, I can add things that people message me, and I can keep an eye on the business from anywhere."
Useful reports to boost your business
Using ResDiary and Idealpos together also allows management and staff to access useful reports.
"Being able to report on numbers at a glance is very powerful - everything from what we did on Christmas Eve last year to how many glasses of champagne we sold."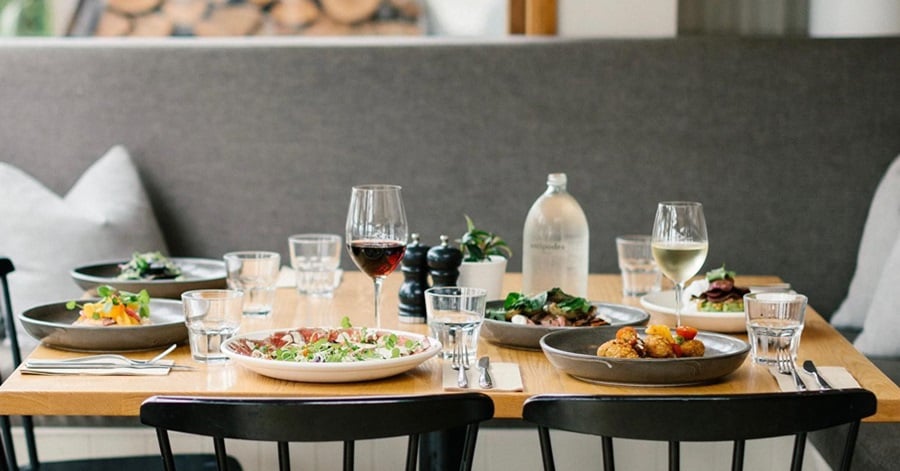 The Apple Shed offers a simple and seasonally driven menu, complimented by a carefully selected range of wine, beer & cider.
Customer data enables better customer service
Another major benefit of the integration is how much data is generated. Customer orders can be stored in ResDiary which means you can arm your staff with information to help them upsell to diners.
By knowing their customers' preferences, your staff can easily "remember" the diner and provide a tailored dining experience, something that is a priority for Keiran and his team.
"We like to exceed expectations in our restaurants and we like to provide a great guest experience."
"ResDiary allows us to record things like when people are coming, or if they prefer sparkling water or have preferences for specific wines. We can provide better customer service when we know these things. The integration also reports back to us in terms of spend, so we can see what people are spending, which is useful too."
The targeted marketing opportunities offered by the data that the integration can report on is something that Keiran also values.
"With ResDiary we've actually got a lot of marketing tools at our disposal…we are currently exploring these opportunities with ResDiary's customer support who have been really helpful."
---