By Canyon Brewing
6 Sep, 2022
Overlooking Shotover River just outside Queenstown, New Zealand, Canyon Brewing is growing their customer base, and their business.
The restaurant and beer-garden specialises in modern, Kiwi cuisine, while their micro brewery has a core range of six beers – plus a range of seasonal beverages – which are sold throughout restaurants, bars and supermarkets in New Zealand's South Island. Co-Owner Jimmy Nicholson says the venue sources its produce locally and sustainably, and is now launching its beer product across North Island.
Nicholson brought ResDiary to Canyon Brewing last year after using it at a different venue. He says it's a user-friendly and intuitive system that enables the venue – which can host up to 150 seated, or 250 standing patrons – to take and manage online bookings.
"We tend to use ResDiary in the restaurant for our day-to-day shift and booking management. The program integrates walk-ins, takes reservations through Google and our website, and [links] bookings straight into the diary. [Often] customers will visit the brewery, check the website and book online for a return visit," he says.
"It was a no-brainer to put it in really. It's helped to grow the brewery and the presence of the restaurant"
Canyon Brewing's patronage is typically divided by a 50/50 split between walk-ins and bookings. But, as the venue has started to make a name for itself, they've seen an uptake in reservations through ResDiary.
They typically use ResDiary's table grid, which allows the team to view which tables are available or taken, and move bookings around accordingly. Nicholson says the colour-code function – which reflects a range of actions including (but not limited to) who has booked, how they've booked and the progression of a meal – help the team see and identify subtle things that are happening in a big space.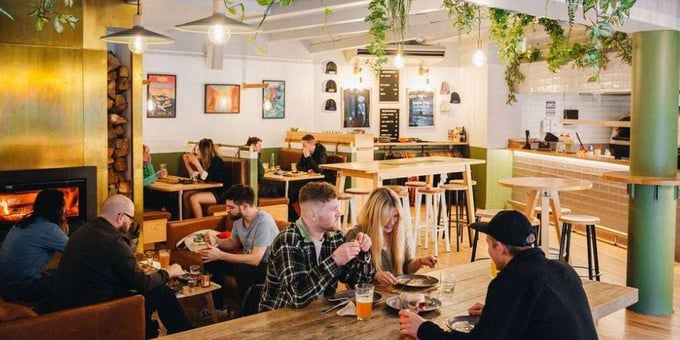 "We love that the program detects walk-ins in the system, and when we take a booking, we try to incorporate as many booking notes as possible [such as dietary requirements or celebrations] in order to personalise service. We can use the information that we get from ResDiary, and send it to our [subscribers]," he says.
"It's increased our database 10-fold which is awesome, and has … helped to grow the brewery, the presence of the restaurant and let [clients] know what we're doing."
He adds that they inform customers who are stored in their database of upcoming events, including live music and open mic nights and collaborations with organisations such as the Movember charity. They also use their database to customise the dining experience for returning customers.
"For repeat customers who booked under the same profile, we can see what their preferences are. For example, we might know that they enjoy their meal sequence in a certain way, or enjoy a rosé with their meal," Nicholson says.
"Seeing how they like their service allows us to go to the table and say, 'can I get you guys a rosé.' It can make the customer feel valued, and add to that experience.
It makes service so much easier:
With Canyon Brewing running large events and function packages – with opportunities for partial or full venue hire – the venue regularly uses close-outs, with banners notifying staff that a private event is happening. They also use close-outs to stagger bookings so as to prevent a rush of customers coming in at the same time.
"Closing off areas or parts of the day helps to organise the flow of service, and can make shifts more efficient, as staff can see what's going on. We can merge tables and control [walk-ins if] the venue becomes busy. It's great software."
Nicholson adds they are open to using more ResDiary facilities, and are looking to utilise ResDiary as much as possible in the future.
"We use [ResDiary] for pretty much everything – events, close-outs, data, walk-ins; the whole works. If there are more ways of using the program, and making everything more efficient, we will look to [do that]," he says.
I don't think we'll be running bookings through a pen and paper any time soon."
Disclaimer: This guide is general in nature and does not take into account your individual circumstances. Before acting on any information, you should consider whether this is right for your business.
What to learn more about how ResDiary can assist your venue?