By The Boat Shed Cafe
13 Jul, 2022
Located on the picturesque Wakefield Quay waterfront in Nelson, New Zealand with spectacular sea-views, The Boat Shed Cafe is an institution filled with local history. The venue was converted to a restaurant and café about 35 years ago and has been operated by Dan Monopoli and partner Erin Palmisano from 2009.
Prior to ResDiary the restaurant bookings were handwritten and run through a manual table plan. That changed in 2018 when the Restaurant Manager introduced the Boat Shed Cafe to the restaurant management system. Dan and Erin's other two venues: Parts & Service and Urban Oyster Bar & Eatery – both also now use ResDiary.
"We have confidence in knowing who's coming in, and can plan accordingly."
The owners say ResDiary has been a game changer for the venue, and the transition to using the program has been user friendly and seamless.
The Boat Shed uses ResDiary 24/7 which means they can take bookings and streamline operations even when the venue is closed. They are able to promote specials, set menus and provide quick and easy bookings through customisable widgets on social media. They can also take credit card details to prevent no-shows through ResDiary's integration with Stripe.
The Boat Shed's seating capacity is relatively small, so it is necessary for the ongoing financial success of the business to maximise seating and use all possible space. This includes the private dining areas or the covered deck area which is normally reserved well in advance.
"Being able to regulate both staff and customers made us a more efficient business overall. From a staff point of view, we can split the restaurant into three sections, and allocate responsibility accordingly. Each manager can login independently before they arrive and adjust staff numbers or plan as required," they said.
We can notify guests that there might be a table available for a period of time, extend or shorten the booking and, if it's available, book it again for later on. ResDiary allows us to structure all facets of our bookings to ensure we run a well managed and profitable business."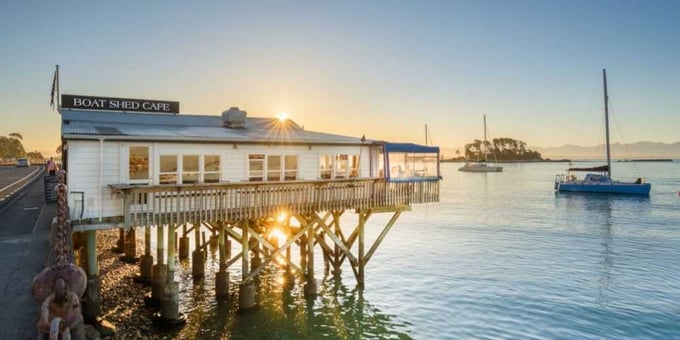 With its feet in the water, The Boat Shed Cafe is subject to variable weather conditions. So being able to close out spaces, if there is rain or the wind is moving in the wrong direction, and move bookings inside has been very useful.
"The customer list has provided an excellent database for the venue. The W8 list has [also] been beneficial in times of high foot traffic at multiple venues where people have not made a reservation. The system has a waitlist setup where a text can be sent when a table has come available," they said.
"ResDiary's user-friendly nature has been the main selling point for the Boat Shed Cafe."
The Boat Shed Cafe have been able to establish a reporting database which includes covers and average spend which can be accessed across from different devices. The database has provided relevant information to set key targets and identify where there might be room for growth.
"Knowing where everything is coming from has been really good for us. For example, we can see marketing campaign engagement across different outlets, see if bookings have been related to those campaigns, and can manage our booking channels. If customers have dined with us recently we can let them know what's been going on and keep our engagement going."
Bookings can also be marked with a VIP status alert if they have a particular request or dietary requirement. The customer can put in notes when they make their booking and it automatically becomes marked to alert the team.
"ResDiary's user-friendly nature has been the main selling point, but all the features it has to offer are great as well."
Disclaimer: This guide is general in nature and does not take into account your individual circumstances. Before acting on any information, you should consider whether this is right for your business.
What to learn more about how ResDiary can assist your venue?