A recent analysis of restaurant booking trends showed diners favouring convenience. From social media reservations to a website booking widget, customers expect to be able to make online reservations at any time.
A restaurant reservation system should go beyond convenience, it should add to the customer's experience with a brand. With a seamless reservation system, diners can have full accessibility, make their preferences known and expect real-time availability or waitlists.
Additionally, streamlining the reservation process is a substantial benefit for hospitality staff members. Online reservations can effortlessly integrate with table management, allowing for day-to-day operations to run smoothly and reduce the responsibility for staff. Freeing up time for staff members presents an opportunity to focus more time on customer service and enhancing the dining experience.
Considerations for choosing a restaurant reservation system
Investing in technology for a restaurant is a major decision that needs to align with a brand's goals and everyday procedures. Overall, a system should enhance regular tasks and reduce the stress on staff resources. Considerations should include:
Price - The costs involved should be measured against the profit forecast to ensure the investment will be covered.
Hidden fees and commission - Some reservation management systems include hidden fees or commission % per booking so always check the fine print.
Customer service - As with any system, it is inevitable that you will need some troubleshooting or additional customer service advice. Research their customer service hours and means of communication.
Integrations - Maximising your reach for reservations takes integration with many platforms, so ensure all of your marketing channels can be accommodated. Also, check your POS system and inventory platform can cooperate with the reservation system.
Personalisation - Marketing your brand message and tone of voice is important, especially during the reservation stage. Check the reservation system can handle personalisation and is easy to make changes.
User-friendly - Consider both your staff members and diners when reviewing the software capabilities.
Reviews - Read first-hand insights on customer experiences and how a company responds to customer feedback.
Check out our comparison library and guides to select the right restaurant reservation system.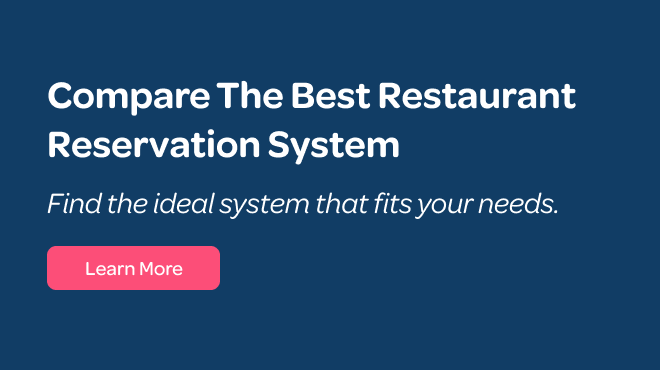 Best 10 leading restaurant reservation systems
Yelp
ResDiary
OpenTable
Toast
Eat App
Now Book It
SevenRooms
Quandoo
The Fork
Obee
1. Yelp
Yelp Guest Manager Suite enables restaurants to take direct reservations right from the Yelp business page or your restaurant website. With a wide dining audience, the Yelp reservation system gives business owners access to a broad marketing platform.
Features of Yelp Guest Manager Suite
Basic Plan:
Booking widgets on Yelp, Google and websites
Guest management tools
Table management system
Personalised text messages with customers
Data reports for diner insights
Waitlist management
Mobile App
Plus Package extras:
Guest management tools
POS Integration
Customisable floor plan
Reservation deposits to reduce no-shows
Add ons:
Marketing tools
Yelp reservation software Prices
Between $99 and $299 USD monthly subscription. No setup fees.
Commission
No commission on bookings. The basic plan has a maximum limit of 500 reservations a month. The plus package allows unlimited bookings.
Customer Support with Yelp reservation system
All packages have access to full set-up and support monthly. The team is based in the US and accessible worldwide via email or phone.
Cons of Yelp
The floor plan is only customisable in the plus package, making it difficult for restaurant owners on the basic plan to accurately assess their table management.
High costs involved to access all features and add-ons.

Customers have reported

that it is difficult to remove false reviews left on Yelp.
Limited to 500 reservations only on. the basic plan.


2. ResDiary
A restaurant reservation system designed to support growth in the hospitality sector. ResDiary focuses on empowering venues, from small cafes and bars to large multi-site restaurants. With regular data insights, eBooks and guides, ResDiary cares beyond just taking reservations.
Features
Integrated online booking widget for websites, Google, Meta Social media and more
Table management
W8list app
Yield management
ResPhone automated phone bookings
Group reservation system
Guest preferences
Event handling
Marketing tools including email, SMS and promotions
Accept contactless payments online
Pre-ordering
Takeaway and delivery functions
Sell gift cards
60+ tech integrations including POS systems and inventory management
Full customisation
Detailed reports and analysis
Prices
Core plan: $89 per month, 150 reservations
Growth plan: $139 per month, 500 reservations
Pro plan: $189 per month, >500 bookings
Multi-site custom plan available
Commission
0% commission on all bookings
Customer Support
24/7 live chat, personalised training and hospitality helpful blog.

Check out our comparison library and guides to select the right restaurant reservation system.
3. OpenTable
OpenTable is a restaurant reservation platform that empowers restaurants to streamline their reservation process, allowing customers to book tables directly through their restaurant's website and partner platforms. With a vast and diverse diner network, OpenTable provides restaurateurs with a robust marketing platform, expanding their reach to potential patrons.
Features of OpenTable
Restaurant reservations through OpenTable, Meta, Google, and websites
Digital marketing solutions
Online ordering for restaurants
Experiences: OpenTable offers a feature called "Experiences" that allows restaurants to offer unique dining experiences to their guests
Guest loyalty rewards
Availability alerts for customers
Direct messaging
Diners can invite guests to bookings
POS Integration
Inventory system
Waitlist management
Guest surveys
Customer management
OpenTable Prices
OpenTable prices start from $39 per month for the basic plan up to $449 per month for the pro plan. The monthly subscription is not an all-inclusive price, there are additional fees on top.
Commission taken by OpenTable
Basic Plan: Network fee: $1.50 per cover, Booking widget: $0.25 per cover or $49 flat fee, Takeout and experiences: 2% fee.
Core Plan: Network fee: $1 per cover, Takeout and experiences: 2% fee.
Pro Plan: Booking widget: $0.25 per cover or $49 flat fee, Takeout and experiences: 2% fee.
Customer Support
Restaurant owners can receive support 24/7 via a live chat.
Cons of OpenTable
Additional cover fees can quickly add up, making the monthly subscription expensive
No automated call system for phone reservations
Pro plan comes with a high cost plus commission fees
4. Toast Table
Toast Table is a high-tech platform for restaurants providing many services such as POS, table management and reservation handling.
Features of Toast Table
Booking widget through website or social media
Toast POS Integration (additional product)
Kitchen display (additional product)
Online ordering and delivery management
Marketing tools
Guest loyalty rewards
Gift Cards
Waitlist management
Customer management
Server Rosters, payroll staff management system
Toast Table Prices
Quick Start Bundle: $0/month.
Core: $69/month.
Growth: $165/month.
Build Your Own: Custom pricing.
Commission taken by Toast
No commissions or cover fees
Customer Support
Restaurant owners can receive support 24/7 via a live chat.
Cons of Toast Table
Cannot integrate with other POS systems, restaurants must sign up to Toast
Toast has expensive software add-ons
Many features not available for the quick start bundle
5. Eat App
Eat App is a cloud-based reservation management system designed to help restaurants manage their guests, bookings, payments, orders, and more on a unified portal.
Features of Eat App
Basic Plan
Table management
Online bookings through website, social media and Eat App partners
Waitlist Management
Reservation messaging
Daily reports
Features extra per month or available with Pro
Full-feature guest database
Personalised guest profiles
Customisable widgets and messages
No-show prevention tools with deposits and pre-payments
Email marketing suite
Marketing automation
Smart and personalised reports for data-driven decisions
Eat App Prices
Free basic account: 30 reservations per month.
Starter: $49 per month, 300 reservations a month.
Essential: $129 per month, unlimited reservations.
Pro premium plan: $229 per month, unlimited reservations.
Commission for Eat App
No commission fees.
Customer Support
In-app customer support 24/7.
Cons of Eat App
The majority of features are not included in the basic and standard plans.
Additional costs for features may not be cost-effective.
The free plan only allows 30 reservations.


6. Now Book It
Now Book It is a powerful restaurant reservation system serving over 6,000 restaurants in Australia and New Zealand.


Features of Now Book It
Full Plan

Direct booking widget
Google Integration
Table and capacity management
Data reports
Digital gift vouchers
POS integration
Waitlist
Deposits
SMS Confirmation messages
Event marketing
Upsells
Marketing functions
Now Book It Prices
Flat fee per month
Commission for Now Book It
No commission fees.
Customer Support
Phone customer support 9 am-5 pm.
Cons of Now Book It
No online chat or 24-hour support
No automated calls
No iPad app



7. SevenRooms
SevenRooms is a restaurant guest experience and retention platform that helps hospitality operators create exceptional experiences that boost profitability and repeat business.
Features of SevenRooms
Table management
Online reservations with integrated booking widgets on websites, Google, social media and more
Waitlist management
Guest profiles
Automated guest feedback
Marketing tools
Concierge services
POS Integration
Personalised guest tags
Mobile order and pay
Online ordering and delivery
Review analysis
SevenRooms Prices
Custom pricing tailored to every business
Commission for SevenRooms
No commission fees
Customer Support
SevenRooms offers customer support through its onboarding team and in-app customer support
Cons of SevenRooms
Limited marketing and promotion in some regions
Not transparent with costs
Custom pricing may be expensive for some restaurants



8. Quandoo
Quandoo is a global restaurant reservation management system that helps restaurants accept bookings and simplify their reservation processes.
Features of Quandoo
Online reservation management: Quandoo allows restaurants to efficiently manage their online reservations, reducing the chances of human error and improving the overall guest experience
Direct booking widget
Google Integration
Table and capacity management
Data reports
Special offers
Multi-role user management
Special requests
Real-time email notifications
Premium plan features
Waitlist
Interactive table plan
Guest database and personalised tags
Deposit and cancellation fees
Prices of Quandoo:
Pro: $39 per month, $99 set up fee.
Premium: $99 per month, $99 set up fee.
Commission for Quandoo:
$3.50 cover fee per reservation made in Quandoo.
Customer Support for Quandoo:
24/7 live chat
Cons of Quandoo:
High commission fee
Set up cost
No CRM for Pro plan



9. TheFork
TheFork is an online restaurant reservation platform that connects diners with restaurants in various countries.
Features of TheFork
Free Plan
Online reservation management
Booking widget in TheFork and Tripadvisor
Table management
Guest management including special requests
Loyalty program
Data Reports
Pro Additions:
Waitlist
Website and social media booking widget
Credit card deposit to reduce no-shows
Customised floor plan
POS system integration
Dedicated account manager
System onboarding
Pro+ Additions:
Email marketing
Prices of The Fork:
Free Lite Plan: $0
Pro Plan: Free for the first 3 months the $69 per month
Pro+: $169 per month, no commission
Commission for The Fork:
The free and pro plans both take commissions per reservation.
Customer Support for The Fork:
Available via email for the free plan. Dedicated account manager for the pro plans.
Cons of The Fork:
Not transparent with commissions
No 24/7 customer support



10. Obee App
Obee App is an easy-to-use restaurant reservation system with upgrades to customise for your brand.
Features
Standard plan
Online reservation management
Table management
Reservation deposit
Waitlist management
Live floorplan
Guestbook handling
Marketing integrations
Multiple roles and users
Data Reports
Branded plan additions
Branded booking widget
Branded vouchers
Branded event pages
Branded emails
Customisable fields
Plus package
PDF ticketing
Custom reports
Analytics dashboard
On-site training
API access
Prices
Standard plan: $99 per month
Branded plan: $199 per month
Plus: $599 per month
30-day free trial
Commission
0.8% fee on all transactions taken in the Obee app
Customer Support
Customer support is available 9 am-5 pm Australian time.
Cons
High costs for branded and plus plans
The fee per transaction could add up
Customer support is not hospitality-friendly for restaurants needing assistance after-hours



The Final Course on Restaurant Reservation Systems
In the world of convenience, a restaurant reservation system is an indispensable tool and paramount to maximising reach. When choosing software for table reservations, it's beneficial to choose a platform that enhances your dining experience and empowers your business to grow.
Whether it's access to marketing tools, customisable online ordering or fostering loyalty; a restaurant reservation system should save time for your staff members and work for your unique brand. Embracing these tools can be the key to a profitable business and satisfying dining journey.
Book a demo today and find out how ResDiary can empower your brand.