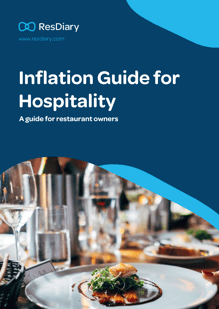 Inflation is having a major impact on Australian life. With rates rising to the highest levels seen in 3 decades, it's unsurprising that hospitality venues are feeling the effects of these difficult times.
This article and eBook guide for restaurant business owners will provide original statistical analysis and hospitality industry statistics to paint a picture of the impacts inflation is having on hospitality venues around Australia. It will also provide advice on how to maintain profit margins in spite of these challenging circumstances.
Download the full guide here:
Key Hospitality Industry Australia Statistics
The 2023 rise is impacting the internal economic circumstances of restaurants, cafés and other hospitality venues. The prices of food, rent and utilities have all been affected by inflation.
In addition, rising inflation and cost of living is having a profound impact on the spending habits of hospitality customers. Statistical analysis conducted on ResDiary booking system data from restaurants all over Australia has yielded some fascinating statistics:
Since January 2022, there has been a 28% decline in bookings at fine dining restaurants (defined as restaurants with an average of <$80 spent per customer)

Between May and October 2022, there was an 88% increase in customer cancellations in fine dining restaurants

Between February 2022 and February 2023, there has been an observable decrease in customer bookings among all restaurants with average spends of $40 or more per customer
This is an unsurprising truth: The economic hardship being experienced by consumers is being passed on to hospitality venues.
What is inflation?
Inflation refers to a gradual increase in the price of goods and services commonly bought by households. Inflation occurs virtually all the time. Speak to an older person, and they'll be quick to tell you how much cheaper staples like bread and petrol were in decades gone by.
Inflation usually occurs when the demand for goods and services across an economy exceeds their supply. This naturally causes prices to be driven up. Inflation is considered manageable when increases in average household incomes mean everyday staples remain affordable for most people.
It is the job of the Reserve Bank of Australia to keep the rate of inflation in check. The primary way the RBA controls inflation is by influencing banks to raise their interest rates. When interest rates rise, consumers spend more of their income paying off their debts, such as their mortgage. This necessitates a drop in prices, as consumers have less disposable income to spend.
According to the RBA, an inflation rate of 2-3% is considered to be an optimal target.
Why is Australia's inflation rate so high?
In December 2022, Australia's headline inflation rate reached 7.8%. In the previous 30 years, the highest level seen was 5% in September 2008.
Australia's rising inflation rate can be attributed primarily to factors emerging from the COVID-19 pandemic. The hospitality industry experienced plenty of pain during the throes of COVID, with 90% of hospitality businesses experiencing reduced customer numbers and sales. Now, inflation is the main enemy of the industry.
Economic programs enacted by the government, such as JobKeeper, were surprisingly effective in maintaining strong levels of income among consumers. This left customer demand relatively unchanged.
However, the supply of goods and services was dramatically impacted by COVID. Factories in countries like China were brought to a halt thanks to lockdowns, and large numbers of cargo ships were taken out of service. In addition, Russia's invasion of Ukraine has impacted global supply of oil, gas and particular food items.
Inflation occurs when demand for goods and services exceeds supply. A strong domestic COVID recovery kept consumer demand high, while international factors wreaked havoc on global supply chains. It's the perfect storm for record levels of inflation.
---
---
Why is inflation a concern for the hospitality industry?
The impacts of inflation on the hospitality industry are manyfold. It's important for hospitality business owners to have a strong understanding of the effects it has across all aspects of their venues.
Food inflation
Per the Australian Bureau of Statistics consumer price index analysis, the average price of food and non-alcoholic beverages rose by 9.2% from December 2021 to December 2022 in Australia's 8 capital cities. This is a dramatic increase that has had a major impact on the hospitality industry.
Wholesalers have charged venues more for food products and drinks, increasing the initial expenditure of businesses. In order to maintain their profit margin, businesses have been forced to hike up menu pricing. Consumers will then opt for cheaper menu items with smaller profit margins, or may stop dining at a venue at all.
Increased supplier costs
Food and drinks aren't the only products that hospitality venues look to suppliers to purchase. Catering equipment, cleaning supplies, packaging, kitchen appliances, furniture – hospitality venues need all of these products to survive, and increased supplier costs can cause serious pain.
Just as is the case with food inflation, higher prices for other hospitality expenses must be passed onto the consumer in the form of menu pricing to ensure businesses can survive. This has a serious impact on the spending habits of customers and can create a vicious cycle of reduced income.
Cost of living increase
Increases in the everyday cost of living go way beyond food costs. Customers are seeing prices rise all the time, from automotive fuel to energy bills to household equipment and more. Less money in customers' pockets means less money for hospitality businesses.
The higher prices experienced by consumers affect businesses, too. In particular, increases in the costs of rent and utilities can have a serious impact on a hospitality venue's bottom line. Utilities like energy and water can be a surprisingly large expenditure for hospitality businesses, so it's no help that electricity prices rose by 8.6% in the 12 months leading up to December 2022 (per the ABS).
Rent is also a major concern for hospitality businesses. Of the 11 expense categories included in the ABS' consumer price index analysis, rent prices rose the most between December 2021 and December 2022, at 10.7%. Even if hospitality businesses are able to weather rising rent prices, the need to pass the cost onto customers can be extremely damaging. Rent prices are a major reason why many venues have been forced to close their doors in recent years.
Spending habits of customers
The rising cost of living means recreational consumer spending can fall by the wayside. Research conducted by NAB found that 4 in 10 Australians have made conscious adjustments to non-essential spending to combat the rising cost of living, including reducing meals eaten out of the home.
As customers look to eat out less, hospitality businesses struggle to fill seats and maintain profit margins. Once again, a harmful cycle is at work, as inflation forces businesses to raise prices while customers are increasingly thoughtful when it comes to their spending.
ResDiary Insights: How the inflation rate has affected the Australian hospitality industry
ResDiary has conducted analysis of booking data from restaurants all over Australia over recent years. The findings offer insight into how inflation has impacted the hospitality industry, and how businesses can adapt to survive.
---
---
Price per head
In order to paint a complete picture of the hospitality industry, ResDiary's analysis has split venues into 5 categories, based on the average spend per customer. The categories are: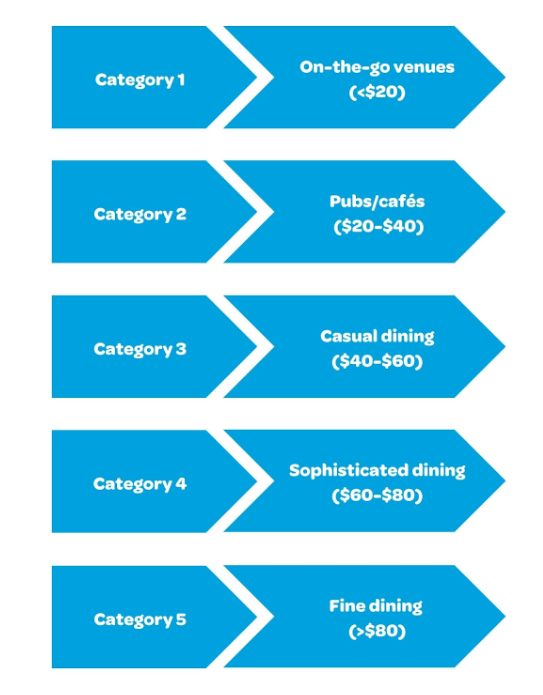 Cancellations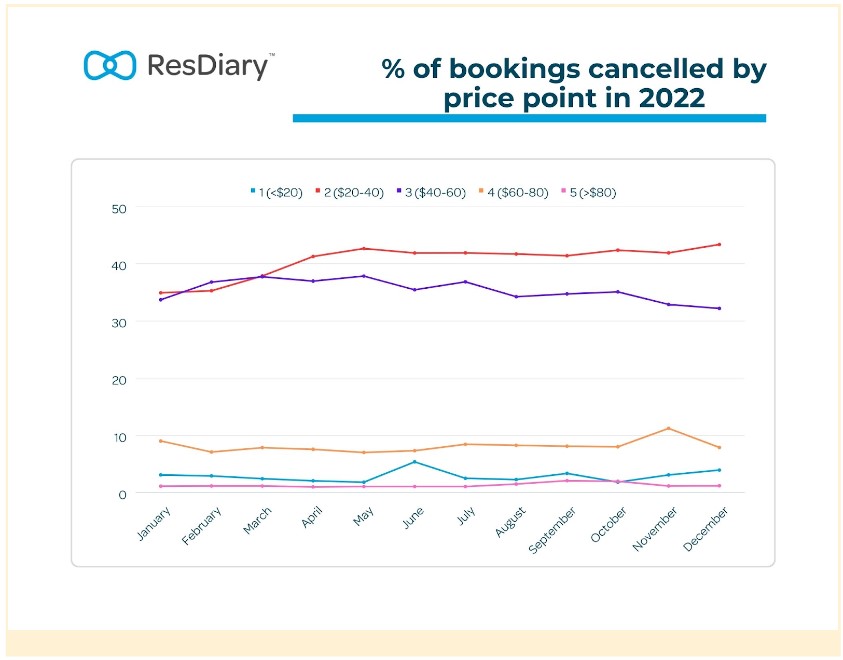 Booking cancellations are an excellent indicator of the economic activity of customers. In particular, the cancellation of a booking with a long lead time can show how changing economic circumstances impact a customer's desire to eat out.
ResDiary's key findings with regard to cancellations are:
Fine dining restaurants experienced an 88% increase in cancellations between May and October 2022.

Sophisticated dining restaurants experienced a 13% increase in cancellations in that same time period.

Both casual dining venues and pubs/cafés experienced a decrease in cancellations in that same time period.

On-the-go venues saw an increase in cancellations of over 400% during the period between May and October 2022.
This data offers insight into how customer spending has affected different kinds of hospitality venues. Unsurprisingly, the restaurants hit the hardest by the reluctance of customers to dine out are higher-end venues, while more affordable options like pubs and cafés saw a decrease in cancellations.
An increase in cancellations for very low-cost venues could potentially be explained by customers doing away with non-essential purchases. For example, booking in time to get a coffee with a co-worker might fall by the wayside if you're on a strict budget.
---
---
Economic Impact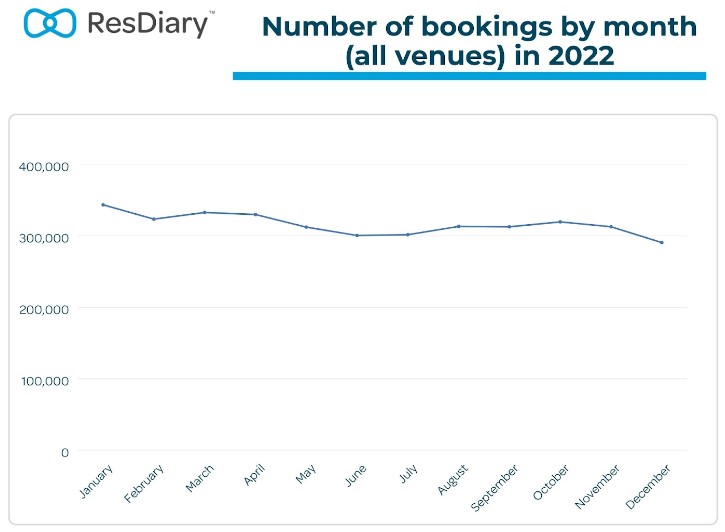 How do restaurant cancellations track against changing economic circumstances like interest rate rises? Answering this question can lend even more insight into how inflation is affecting restaurants.
Recent years have seen a decrease in the number of cancellations in hospitality venues. However, the first time the RBA raised interest rates in May 2022, there was a 0.3% rise in cancellations across all venues.

1 month later, in June, there was a 9% decrease in the number of bookings in fine dining, sophisticated dining and casual restaurants. Meanwhile, pubs and cafés were relatively unaffected.

By November 2022, the RBA had raised rates 7 consecutive times. Compared to May, there was a 1% increase in cancellations across all venues.

An overall decrease in bookings across almost all venue types can be observed when comparing data from February 2022 to February 2023. The exception is pubs and cafés.
This data paints a clear picture: Ever since the RBA began raising interest rates, consumers have been far more tentative when it comes to dining at higher-end venues. In contrast, consumers' spending habits in pubs and cafés have remained broadly similar.
Booking Lead Times
Booking lead times refers to how far in advance consumers make reservations at hospitality venues. From February 2022 to February 2023, there was an additional 2.2 days added to the average booking lead time. This indicates that customers are cutting down on spur-of-the-moment nights out, and are more likely to put their money towards longer-term plans such as special occasions.
Hospitality Industry Inflation Rate Statistics
A survey of over 300 restaurant owners conducted by YouGov found that, among respondents:
31% were no longer taking an income from their business

34% reported feeling financial risk

44% had hyper-localised their food and beverage supply chain

45% are offering promotions to attract customers

8% were growing their own produce

60% want wage subsidies introduced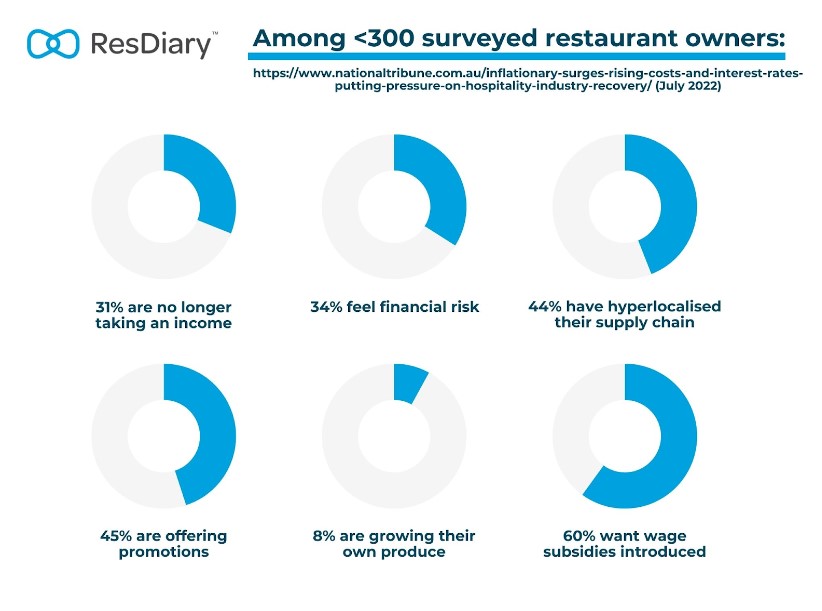 For more relevant data, check out ResDiary's breakdown of hospitality industry statistics in Australia for 2022.
---
---
Historic Australian Inflation Rates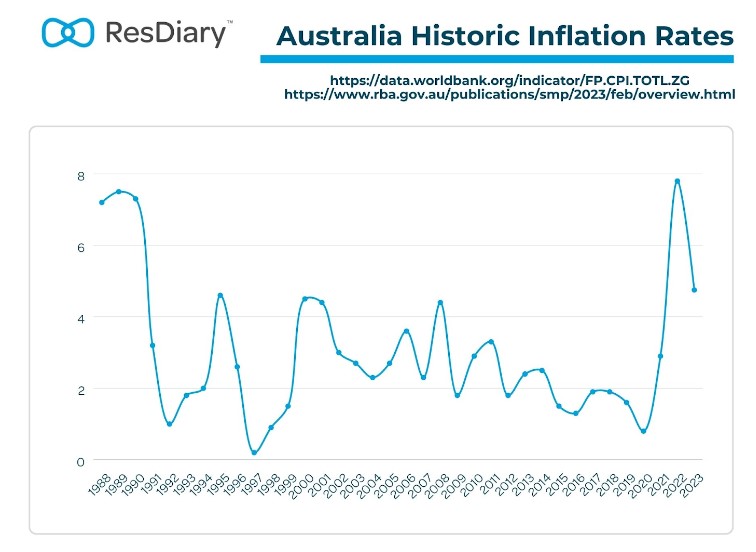 Australia's inflation rate since the onset of the COVID-19 pandemic has been a massive outlier in its history since the late 1980s. 2022's year-end inflation rate of 7.8% was the highest year-end figure seen since 1987's final figure of 8.5%.
Note that these figures represent the final inflation rate for each year. The figure of 4.75% for the 2023 inflation rate is based on the RBA's official projection.
Global inflation rates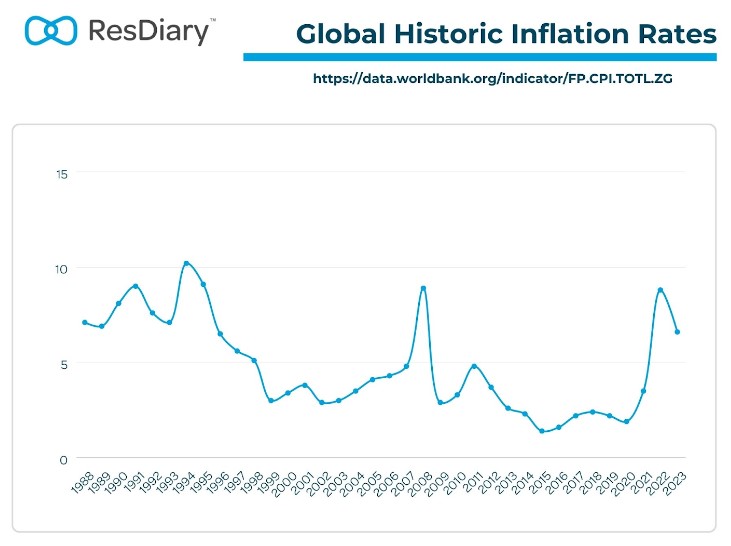 Australia's inflation rates have generally been below those of the global average, while also remaining more stable over time. The figure provided for the 2023 global inflation rate is taken from the official IMF projection.
Australia famously weathered the Global Financial Crisis of 2007-2008 better than the rest of the world, as seen in the respective graphs. Currently, Australia is faring slightly better than the global average in terms of inflation rates, with a 2022 figure of 7.8% compared to 8.8% for the rest of the world. This emphasises just how important global factors are in driving up Australia's inflation rate.
Steps a restaurant can take to protect their profit margin
It's clear that inflation is having a serious effect on the hospitality industry. Hospitality venue owners must take proactive steps to maintain the sustainability of their business. Read our full eBook Guide for steps you can take to survive the impact of inflation, market your restaurant in high competition and plan for long-term profitability.
1. Loyalty programs
Customers will be far more likely to continue to visit your business if they have a personal sense of loyalty towards it. Thankfully, there are ways to cultivate customer loyalty while also positively impacting your business' profit margin.
Some of the most popular loyalty programs for hospitality venues includes gift cards, loyalty points and discounts or free items for special events like birthdays. All of these are generally positive innovations for your business which can be especially useful in trying economic times.
2. Optimise your menu
Deep down, all hospitality business owners know that they could make their menus more cost-efficient. It's time to stop procrastinating and put some serious time into optimising your menu.
Cut those dishes that never sell. Substitute in lower cost and seasonal ingredients. Reconsider your approach to beverages. Above all, make sure your core menu items are affordable and consistently available from suppliers.
3. Manage food costs
Food is an area where inflation has hit the hardest, and many restaurants are feeling the pain. Therefore, reducing food costs can be a tremendously important step in mitigating the effects of inflation on your hospitality business. Lower food costs allow you to maintain a cap on your menu pricing, keeping your customers happy and willing to spend.
Key steps for managing food costs include:
Frequently checking your inventory

Closely tracking and reducing food wastage

Performing negotiations with suppliers – ask around to make sure you're getting the best price

Prioritising bulk purchases

Conducting staff training on topics such as portion control, First In First Out (FIFO) and waste management
4. Reduce overhead
Outside of supplier costs, the key expenses restaurants face are rent, utilities and labour. If you have an excellent relationship with your landlord, it's worth having a conversation about the price of your rent. However, most independent restaurants, cafés and pubs will probably have better luck cutting costs when it comes to utilities and labour.
There are many steps you can take to ensure your hospitality venue is as energy efficient as possible. These include:
Ensure idle appliances are always turned off

Invest in energy-efficient appliances – there is an upfront cost involved here, but in the long term it's a financially savvy move

Make use of natural lighting wherever possible

Have adequate ventilation

Create separate temperature zones for heating and cooling appliances
When it comes to reducing labour costs, an excellent scheduling process is key. Give your employees as much roster notice as possible to reduce the risk of last-minute no-shows. Ensure your staff are not overworked – this is great for your employees and their performance. Also, keep overtime and penalty rates to a minimum and make sure you always have the correct amount of staff on the floor and in the kitchen at all times.
5. Improve turnover
Having the highest possible turnover needs to constantly be at the forefront of any hospitality business owner's mind.
As a first step, check out our guide to maximising your restaurant's floor space. Simple changes like optimising walking zones and improving accessibility can have a major impact.
Staying competitive with other hospitality venues is very important to ensuring you're serving as many customers as you can. Conduct industry research, get active on social media and consider a makeover to ensure customers know your venue is the place to be.
Finally, always keep in mind the core principles of restaurant management. You should have a clear business plan which is flexible enough to be amended in light of changing economic circumstances. Make sure you and your staff are upholding a strong commitment to quality of product and great customer service.
How can a restaurant booking system help you manage inflation?
To survive in difficult times, your business needs to firing on all cylinders. A great reservation and table management platform can be critical to increasing your turnover and keeping your customers happy.
ResDiary offers a range of services pertaining to online bookings, automated phone bookings, event management, promotional campaigns and online payment acceptance. Streamlining these functions will help your business thrive in the short and long term.
Book a free demo today to see what ResDiary can do for you.