Breaking down a restaurant's physical space into a floor plan is an excellent opportunity to maximise your restaurant's efficiency, profitability and overall experience for your customers and employees.
For a successful guest experience, you will want a layout that is welcoming, provides ample space for dining comfort and has a smooth flow from bar to seating to bathrooms.
To keep your employees happy, you will need a restaurant floor plan that allows them to work efficiently with no traffic jams in the corridors, ample food preparation space and a great flow between the dining room seats so they can serve customers easily. After all, the happier your employees are, the happier their customer service will be.
To build a new restaurant or change your venue into a restaurant, you may need to submit your plans for approval within your business plan. Therefore, it's not only beneficial for your customers, it is also wise to do a restaurant floor plan before your construction.
To assist, this article contains detailed floor plan insights including key benefits, planning tools, design considerations and specific examples.
Want to see more floor plan ideas and layouts? Complete the form below and we will send you 20 of them!
Go to form
What Is A Restaurant Floor Plan
A restaurant floor plan (also called a restaurant blueprint) is a map of your space and the dedicated areas for your restaurant layout. This could include:
The entrance area
The bar
Dining room including indoor and outdoor seating
Kitchen including counter space
Dishwashing
Pantry
Cooler
Cooker
Server pick-up areas
Bathrooms
Storage spaces
Cellar
Staff rooms
The Benefits Of Optimising Your Restaurant's Floor Plan
Not only will a restaurant floor plan help you design a thought-out space before your grand opening, but employees will be able to refer to the restaurant floor plan at every shift. These are just some of the benefits to consider for a dream restaurant floor plan:
Restaurant Efficiency - Ensure there is an easy flow for the kitchen and waiting staff without any unnecessary obstructions, lengthy walkways or unworkable small spaces. You should aim for your restaurant floor plan to take some stress away from running a busy restaurant, not add to it.

Dining Experience - A restaurant floor plan directly impacts the restaurant experience and therefore attracts new and returning customers. Make sure diners have enough space, elbow room and efficient service.

Ambience - A restaurant floor plan can also give you an opportunity to plan out decor, light fixtures and textures. You can plan your restaurant type, feel and vibe before even testing out paint colours.

Maximise profitable space - You're paying for the space so you may as well make money where you can. A restaurant floor plan allows you to decide how to split between the bar areas and dining rooms so you can take in more customers and reduce waiting times.

The necessities - There is so much to do when opening a new restaurant and it can be easy to get carried away with the experience and not give the necessities much thought. Thinking about your floor plan for your bathroom layout, emergency exits, back office, trash area, dishwashing, storage and accessibility compliance will have a huge impact on your restaurant experience.
How To Create A Restaurant Floor Plan
Now that you know how beneficial a floor plan is for your restaurant, it is time to get started on creating one of your own. At the bare minimum, you could go old school and jot down your rough floor plan on paper by hand, but it wouldn't be the easiest or most efficient way. Of course, there is always the architect or designer route but you may want to be more involved in the process or do it yourself. After all, this is your restaurant idea.
Well, the good news is there are many online restaurant floor plan creators for you to get stuck into your design. It's also an excellent idea to combine your interior decor planning all in one so you can nail the vibe and ambience with your dream restaurant floor plan.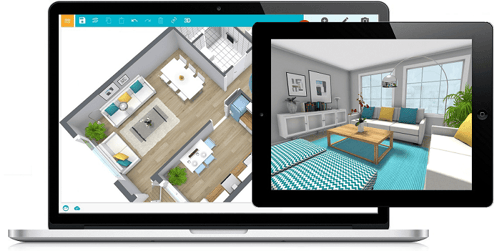 1. Room Sketcher
The Room Sketcher app is great because its basic version is free and easy to use for non-professionals. You can also upgrade to get 2D and 3D restaurant floor plans, real products to place in your restaurant layout and 360-degree views. If you are stuck, you can even give your measurements and requirements and one of their designers will create restaurant floor plan templates for you. A good restaurant floor plan creator for when you want to play with a few different ideas.
2. floorplanner.com
An easy-to-use, free online restaurant floor plan creator which enables you to specifically design hospitality areas like kitchen and dining room spaces, bar seating, bathroom layout and outdoor spaces. You can then design the interior including table and seating options and export to print.
3. Cad Pro
The most popular floor plan designer software out there, Cad Pro has over 2 million users including professionals. However, this software option is a lot more technical and harder to use for absolute beginners but it does have some great features. You can trace your measurements from photos, be precise with dimensions and add notes, pop-up images and sound.
4. SmartDraw
SmartDraw is not just a floor plan layout creator, you can also design flowcharts, mindmaps and graphs which would all help if you need to submit a business plan proposal. The software is free to use and has a user-friendly drag-and-drop feature so you can easily create your restaurant floor plan or an operations flowchart.
Things To Consider With Your Floor

Plan
Before you start creating your restaurant floor plan, it is best to make a full list of everything so you don't get to the end and find yourself squeezing in a forgotten item. Here is our full list of considerations for a good restaurant floor plan:
Square Meters - This may seem obvious but it pays to be absolutely accurate on your measurements. You don't want to make an estimate and then find yourself cutting out things you later can't fit in.

Building Codes - Check out the regulations on ventilation, maximum capacity, emergency exits, etc.

Electrical Outlets - Record all of these on your first floor plan before you start dividing the space as this will contribute to your decisions.

Front Entrance - This will be your customers first impression so you need to make sure it will not be in high traffic areas, i.e. a walkway between the kitchen and dining room. Think about making your customers feel welcome right from the beginning of your restaurant floor plan.

Accessibility - Check the regulations and ensure you have the accessibility requirements for wheelchairs. You can also consider how you will accommodate parents with prams or baby carriers.

Waiting Area - If you have space, how will you make your waiting guests comfortable so they don't leave? Avoid putting this section in a high traffic area so they don't feel 'in the way' and consider adding comfortable seating.

Bar Area - The bar will serve both restaurants and bar customers so consider the length, how much space for bartenders, fridges, dishwashing and storage for drinks and glassware.

Dining Room Floor - Since it is arguably one of the most important areas in the floor plan, we're sure you're not going to forget the dining room; after all, that's where your customers will be. Still, things to consider are how many dining areas you would like, whether it be private dining spaces or open plan, the tables you would like to fit into the space, from round tables to fixed or freestanding tables. Your restaurant type will help you make these decisions, if it is fine dining you may want more individual tables, but if it is modern you may want communal spaces.

Outdoor spaces - Don't forget the outdoor space, many people use this as a deciding factor in summer and if it is at the front of your restaurant, it will be a customer's first impression. Consider the space for outdoor seating and the flow between the outdoor and the dining room.

Kitchen layout - There is a lot to consider when it comes to the kitchen space and, if you are not going to be the one working there, it would be highly beneficial to get the advice of your head chef. A kitchen's efficiency relies on a flow between prep areas, fridges, ovens and service counters.

POS stations - If your customers do get up to pay, consider where the station is placed. You don't want customers and staff using a machine right in the middle of a high-traffic area.

Delivery Entrance - Consider how your products will be delivered. If it has to be through the front entrance, will they be able to get through without interrupting customers? Will they disturb chefs during peak hours if it is at the back?

Back office - If you have space for a back office/staff area, consider the distance between there and the restaurant floor for noise and privacy.

Ambience. -The fun part in our opinion. When you first had the idea of "I'm going to open up my own restaurant", we're sure you had in mind the vibe you wanted to go for. Not only do you get to design the decor, but you can think about this at every step of your planning. Yes, you do have to factor in safety and space but always keep in mind the end goal of the restaurant experience.
Restaurant Floor Plan Examples
Having a blank canvas for your restaurant layout can be both refreshing and overwhelming as there is a lot of pressure to get your business investment right. Don't be afraid to play around, create a few different drafts of your restaurant blueprint and get feedback. Also, not every design has to be completely original and you can use layouts from your own dining experiences. We have created some restaurant floor plan examples to give you inspiration.
Modern Restaurant Floor Plan

A modern restaurant is all about the dining experience. You will want your customers to be comfortable at every stage of the evening and feel the ambience throughout each space. Take a look at our examples for inspiration.
Restaurant Kitchen Floor Plan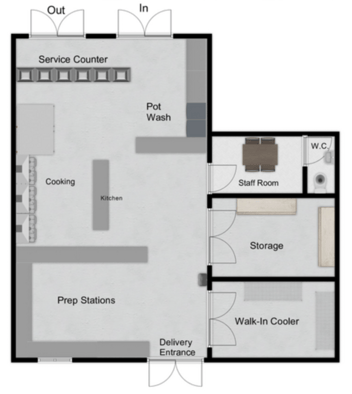 Arguably, one of the most critical aspects to get right is your kitchen restaurant floor plan. From food safety to speed of service, your commercial kitchens' layout will impact the quality of food you serve. Whether you have a large or small restaurant kitchen floor plan to work with, you can always ensure there is a proficient flow. Take a look at our relatively small kitchen layout example and notice how it flows from food preparation to cooking to the service counter.
Small Restaurant Floor Plan Layout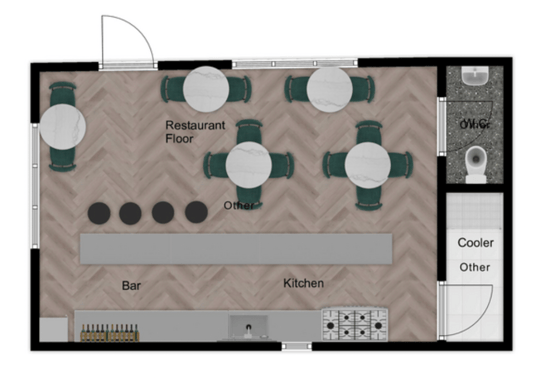 An open kitchen layout may be the most efficient plan for a small restaurant to create a flow for all staff members. The capacity should be a high consideration in small spaces to ensure high traffic areas are avoided.
Cafe Restaurant Floor Plan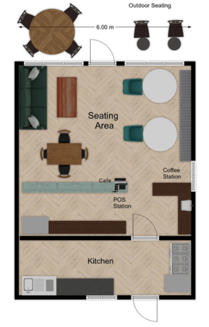 A cafe floor plan may include counter tops displaying baked goods for sale and a coffee counter. These sections should work with the kitchen service to ensure an easy workflow for staff.
Fast Food Restaurant Floor Plan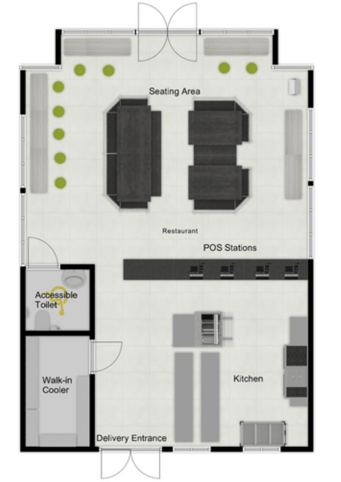 A fast food restaurant type needs space for more POS stations, self serve bins and condiments. There should be a fast flow between the kitchen and service counter to ensure the waiting time between order and serving is as short as possible.
Floor Plan For A Bar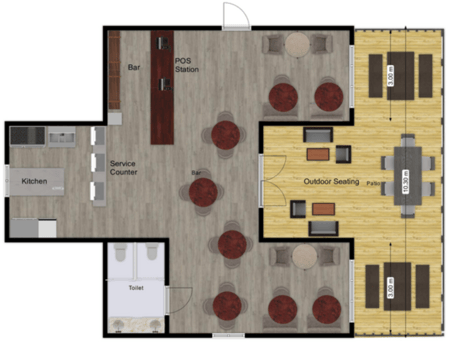 A bar's floor plan is a lot more casual than a restaurant. Consider whether you want to offer table service or provide service counters for customers to collect their meal.
How ResDiary Can Make Your Restaurant More Efficient
Nailing the restaurant floor plan directly impacts the maximum capacity you can take and the efficiency of your restaurant. The next important aspect to succeed in is your software to help you manage your floor plan, reservations, capacity and provide even more efficient customer service.
Restaurant reservation software can help you thrive in efficiency from a customer's first booking to the end of service. ResDiary are experts in restaurant software and serve over 9,000 venues globally. The reservation software is designed to be tailored to your restaurant and links into many online platforms so you can easily take bookings from Google, Facebook, Instagram, Dish Cult etc.
After spending so much time getting your restaurant floor plan to work for you, ease your stress and invest in a reservation software. Now you can focus on what you love and why you got into this business; giving diners the best food experience.

FAQs
How Can I Design My Own Restaurant Floor Plan?
You can design your own restaurant floor plan using a pencil, ruler and paper and scaling your measurements. However, the easiest and most efficient way is to use a floor plan online creator to help with accuracy, creativity and multiple drafts. Software like floorplanner.com, SmartDraw and RoomSketcher can help you start with a blank canvas and drag in walls, appliances and furniture to create a successful service flow.
What Small Changes Can I Make To My Restaurant's Floor Plan To Increase Efficiency?
If you already have an established restaurant, it is important to regularly analyse and improve your floor plan layout to manage changes and increase efficiency. Take a look at the following quick wins you could make:
POS Station

- If there is a bottleneck at every peak time, consider investing in technology to allow customers to pay at the table rather than the counter.

Kitchen

- You should look at your kitchen flow with every menu change to ensure it is working for your chefs. Invest in moveable counters so you can redesign the prep areas to work for you.

Dining Area -

Your customer reviews will be able to indicate if they were comfortable and had enough elbow room, after all this will impact if they come back to the restaurant again. Invest in free standing tables so you can be versatile with the layout.

Table Joins:

In the case of larger bookings,

tables can be joined together

with ResDiary's table management software for the ease of staff and customers alike. Selecting what tables to join can indicate existing availability and space capacity clearly.
What Are The Costs Associated With Changing My Restaurant's Floor Plan?
You can use free software to redesign your restaurant floor plan or upgrade to expert features like 3D and dragging in actual products, costs range from $80 - $250 for yearly subscriptions. The costs to make the physical changes is subject to the size of the change. To knock down a wall can vary between $350 to $10,000 depending on the load it's bearing and to build a new interior wall can range from $1,000-$8,000.