Standby Lists
It's a great feeling to be busy and in demand. However not always having the available dates and times can mean missing out on even more bookings. To solve this problem we have created the standby list.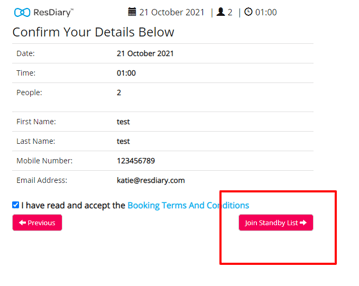 When your restaurant is completely booked for a particular date/time the diner will be able to add themselves to the standby list, via the booking widget.
In addition to simply being added to the standby list, the diner will also receive an automated email confirming their list status, and reminding them that if their chosen date/ time becomes available they will need to take further steps in order to confirm their reservation.
The standby capacity for every time slot will be 50% of the number of covers you have allocated as per your yield management settings (please note it is the main setting that is taken into account, not any of the variables you might set).