A SWOT analysis is an extremely popular way to create a business plan. SWOT stands for strengths, weaknesses, opportunities and threats. A comprehensive analysis of these factors will help any business to identify its place in its respective market, and how best to move forward.
Creating a SWOT analysis for your restaurant requires a specialised approach. This guide will provide the information restaurant owners need to conduct the perfect SWOT analysis and craft an insightful business plan.
What Is a SWOT Analysis?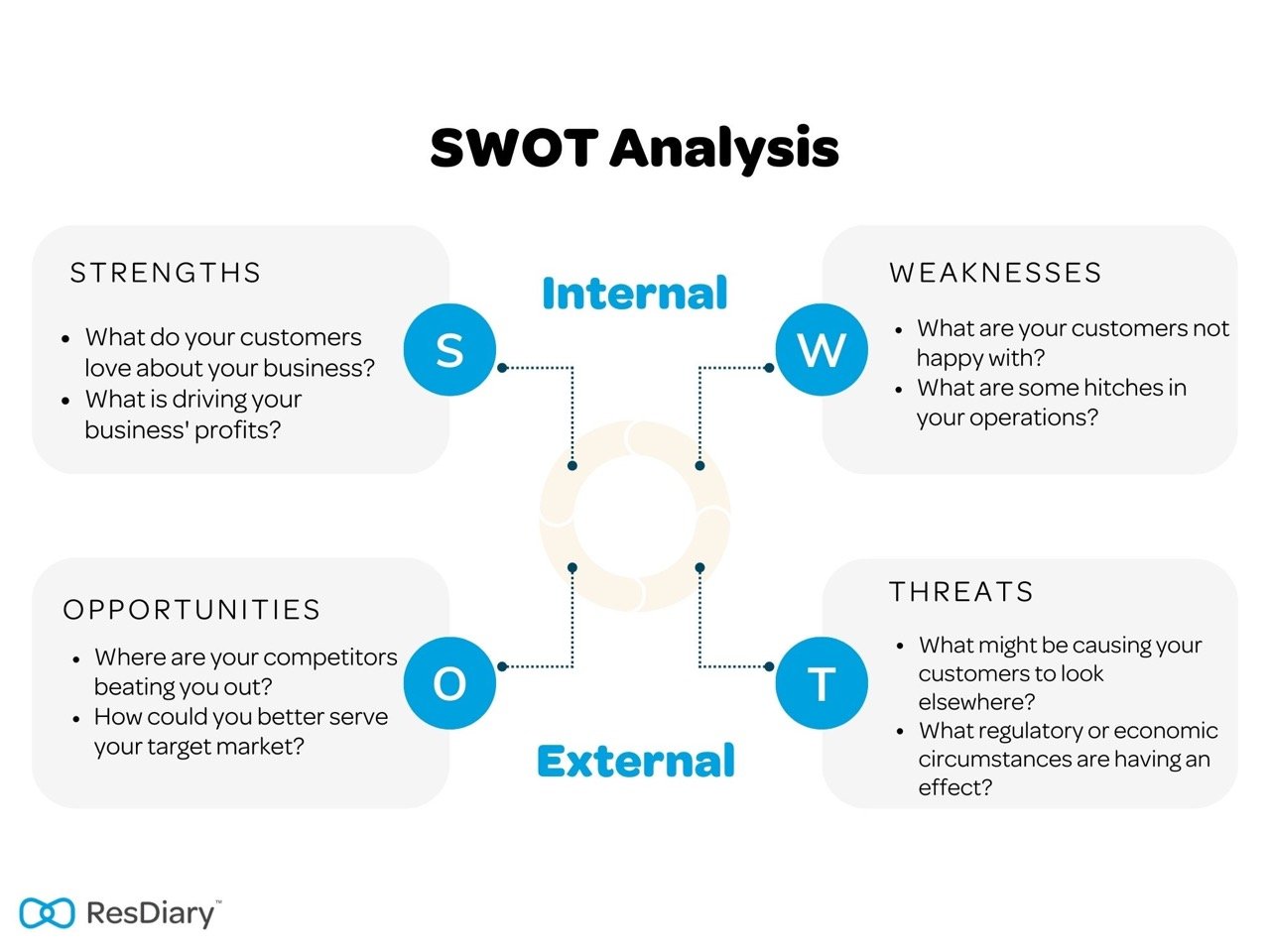 A SWOT analysis is a chance for you to step back and investigate the internal and external factors that are driving the performance of your business. By analysing the strengths, weaknesses, opportunities and threats relevant to your business, you will come away with a series of actionable steps you can take to improve the performance of your restaurant.
Strengths
Starting with internal factors, the strengths of your restaurant are the things you do best – the things that keep your customers coming back for more. It's very important that you have a strong understanding of your restaurant's strengths so you know which elements of your business to hone in on and improve even more.
If you're struggling to identify the specific strengths of your restaurant, look into channels of customer feedback, like online reviews. Side note: Beginning a SWOT analysis is the perfect time to improve your processes for soliciting customer feedback. Set up QR codes around your restaurant and contact loyal customers asking for their thoughts on your business.
Some examples of your restaurant's strengths could include:
Particular menu items your culinary team is great at cooking
Beautiful interior design
A well-priced and optimised menu
The ability to embrace and utilise innovative new technology to deliver a superior dining experience
Weaknesses
Once you've finished patting yourself on the back, it's time for some introspection. What could your restaurant be doing better?
Again, customer feedback is your best source of information when it comes to identifying the weaknesses of your restaurant.
Examples of common restaurant weaknesses include:
Customer service
Cleanliness
Lack of menu variety
Poor online presence
Opportunities
Strengths and weaknesses are the internal factors of a SWOT analysis. Opportunities and threats refer to external factors.
To begin analysing opportunities and threats, you'll need to start doing some market research on the broader restaurant industry. Are there any gaps in the market that you and your competitors are not seizing upon? How can your restaurant do a better job of standing out from the crowd?
Some opportunities you might come across when conducting a restaurant SWOT analysis are:
Catering to diets such as veganism or religious restrictions of faiths like Islam and Judaism
Residential development in the local area
A new food trend that has popped up on social media
Your restaurant business could begin to sell retail items like sauces or rubs
Threats
The final component of a SWOT analysis is threats. What external forces could pose an issue to your business' performance? Analysing threats your business faces can be daunting, but it's a crucial component of your SWOT analysis.
Here are a few examples of threats your restaurant business might be facing:
A new local restaurant has opened up nearby and is offering the same services as yours
Changing economic circumstances have caused your suppliers to drive up their prices
Changes in local council regulations affecting aspects of your restaurant like street seating
A trendy food delivery service has opened up in your area, reducing your number of sit-down diners
The difference between an opportunity and a threat is often a matter of perspective. Take the example of a new food delivery service becoming available in your local area. This might at first appear to be a threat to your business, but if your restaurant partnered with the service and began to deliver with them, it might instead be seen as an opportunity.
How to Conduct a Restaurant SWOT Analysis
Now that you understand what goes into a SWOT analysis, it's time to begin the process.
Here is a step-by-step guide to conducting a restaurant SWOT analysis.
Begin with internal research about your business. Go over online reviews and social media posts about your business. You can also take extra steps to solicit additional feedback if necessary – for example, put up QR codes around your restaurant encouraging customers to leave their feedback.
As you go about your day-to-day work, analyse and note down which aspects of your business are operating most smoothly and bringing smiles to your customer's faces.
Also, be sure to take some time to recognise what isn't going so well and could be improved.
Next, analyse the general market surrounding your business. What are your competitors doing differently to you? Is there any social media buzz you could capitalise on? What general developments are occurring in the local area?
Once you've accumulated a solid data set of customer feedback and general market research, you can begin to work with your team on a SWOT analysis. Assemble your brain's trust and divide a whiteboard into 4 separate quadrants.
Have an open and frank discussion as you work through the 4 quadrants, noting down all the specific strengths, weaknesses, opportunities and threats that are relevant to your business.
Synthesise the brainstorming session into an actionable business plan. How can your strengths be maximised? How can your weaknesses be improved? How can you take advantage of the opportunities you've identified? How can you protect your business from the threats, and can you turn any of them into opportunities?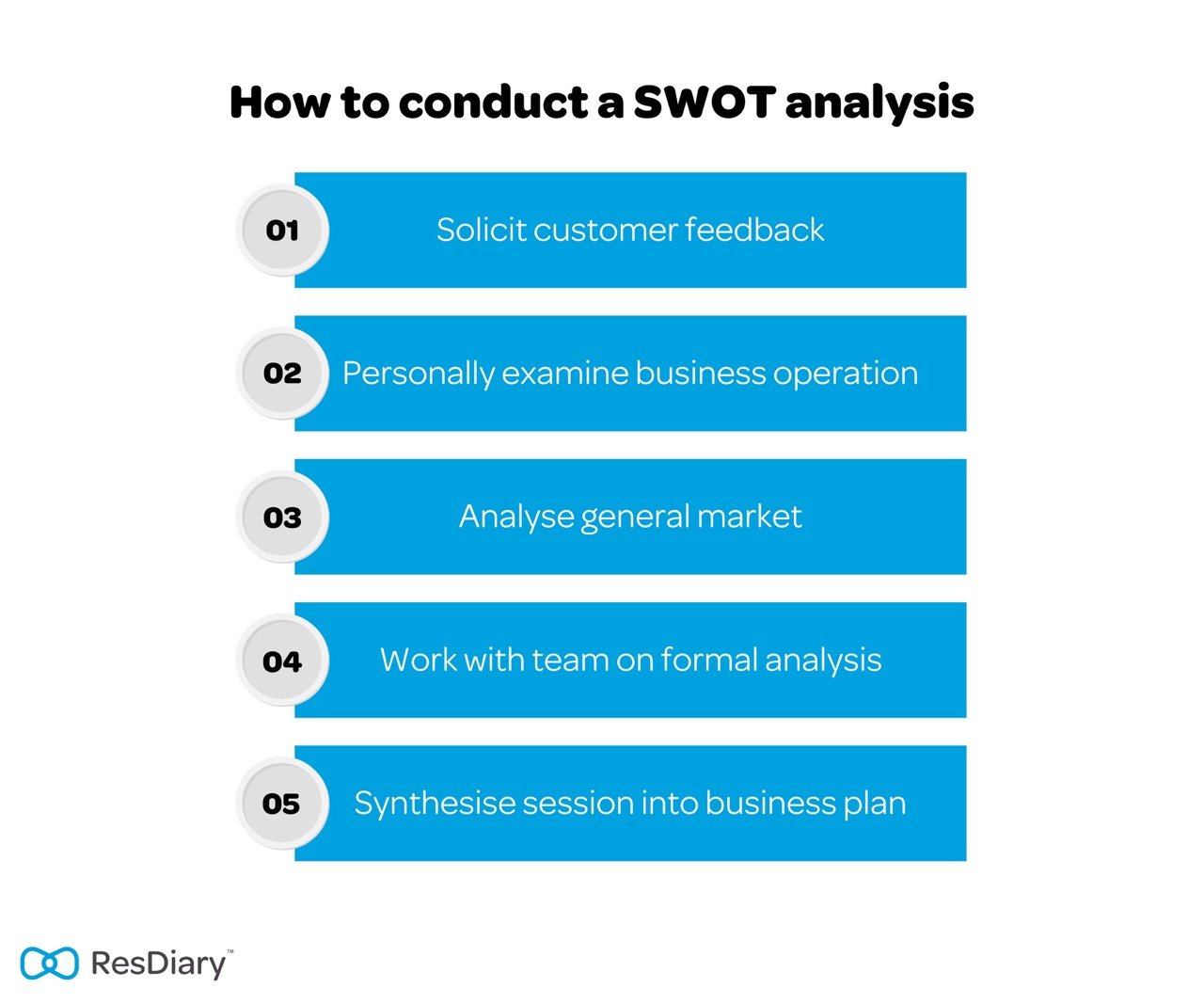 How to Conduct a Restaurant SWOT Analysis for a New Business
A restaurant SWOT analysis can be a good way to develop a business plan for a new venture. However, creating a SWOT analysis for a brand-new business is different in several ways.
Your analysis of strengths and weaknesses will be far more simple when dissecting a new business concept rather than an up-and-running business. You might only have a business name, a menu and some interior design concepts. However, it's still perfectly possible to conduct an analysis of these elements and discover the strengths and weaknesses of your new restaurant business as a result.
Analysing opportunities and threats can be conducted in much the same way as an established business. Even with only a business idea in hand, you can figure out which external factors will be relevant to your business.
Conducting a restaurant SWOT analysis for a new business is a great idea as you will be able to enact your insights from the very beginning of your operations.
When to Conduct a Restaurant SWOT Analysis for a New Business
A SWOT analysis should be among the first steps you take when creating your new business. A comprehensive analysis of the strengths and weaknesses of your business concept, as well as opportunities and threats presented by the broader market is a great way to kick off your new venture.
Your SWOT analysis should be followed up by the creation of a mission statement summarising the core goals of your business. Once your SWOT analysis and mission statement is in place, you can create your comprehensive business plan) to present to investors, building managers and prospective employees.
Restaurant SWOT Analysis Examples
To give an idea of how a restaurant SWOT analysis looks in action, here are examples of mock SWOT analyses for 3 different types of hospitality venues.
Pub
Strengths
Your business is situated in a great location in a metropolitan area, with easy access to public transport.
You have a well-trained team of chefs, great at creating pub classics.
Your interior design is distinct and pleasant.
Weaknesses
Your drinks are expensive.
Your pub is often unclean.
Your ambience is lacklustre.
Opportunities
You could hold themed special event nights, such as "Back to the 90s".
An influencer on social media is gaining significant traction by making videos with other local pubs.
A new residential development is being built nearby.
Threats
A nearby competitor has utilised cost-cutting strategies to offer cheaper drinks than your venue.
Your business lease is up for renewal and your rent will likely increase.
The local university is ceasing operations, affecting a large portion of your client base.
Café
Strengths
You have great connections with local suppliers, allowing you to get high-quality products at affordable prices.
Your baristas are known as some of the finest in the area. This has allowed you to target a niche of coffee connoisseurs.
Your business is one of the only cafés in the general area.
Weaknesses
Your social media campaign is not performing well.
Your general profit margins are low.
On weekdays, your business is very slow.
Opportunities
Your menu could be optimised to cater for diets such as veganism.
You could implement a

loyalty program

– for example, buy 10 coffees, get 1 free.
You could develop more seasonal menus.
Threats
The council has changed regulations regarding on-street seating which your café was making use of.
A fast food restaurant that also serves coffee has opened up nearby.
You have received a spate of negative reviews thanks to some diners receiving poor customer service.
Fine Dining Restaurant
Strengths
Your business is known for being extremely high-end and has received acclaim from culinary publications.
You have extremely well-trained and attentive waitstaff.
A unique menu that impresses and intrigues new customers.
Weaknesses
Your location is somewhat remote and customers complain you are difficult to find.
Your menu prices are extremely high and out of the price range of many locals.
You have a limited seating capacity.
Opportunities
You could appeal to eco-conscious customers with sustainable and locally-sourced ingredients.
You could introduce a small section of menu items with more affordable prices.
You could develop a strong online and social media presence.
Threats
The country has gone into a recession, impacting your operational costs and reducing the willingness of consumers to spend at higher-end venues.
Your premium ingredients are subject to severe price fluctuations.
Changes in local regulations have affected your venue's ability to serve alcohol.
How ResDiary Can Boost Your Restaurant
A SWOT analysis is all about finding the best path forward for your business. Once you've identified the steps you need to take to level up your restaurant, you'll need some help bringing it all together.
That's where ResDiary can help. ResDiary boasts features to help you conduct events, implement loyalty programs and simplify your ordering processes. That's not to mention over 60 integrations that can help your business operations in a whole host of ways.
Book a personalised demo today to find out how ResDiary can help you enact the steps you need to take to move your business forward.