By Alex Rogers
14 Aug, 2023
While almost 8 in 10 restaurants (79%) agree that they're busier during the festive season, the same proportion state they want to be busier.
Our research report, Festive Season Success Unwrapped, also found that a third (34%) of restaurants are never fully booked during the festive period, which almost halved to 18% when venues began their festive planning before August.
The case for early festive planning is reinforced in diner spending too. In what is considered the season for spending, more than two-thirds (69%) of restaurants take significantly more revenue during this period. This ramps up to 82% for those putting their plans in place before August.

What are the benefits of planning and promoting your festive offering ahead of time?
Almost a quarter (24%) of survey respondents putting plans in place before August said they were fully booked by September, providing them with more time to market their festive offering, reconfigure table plans, and implement other seasonal changes to their operations, long before their competitors.
Early planning also proved advantageous when recruiting seasonal staff, with ResDiary's research finding more than half of restaurants (57%) increasing their workforce to manage the festive season. Similarly, 54% increase their stock levels to meet the spike in demand at this time of year.
Colin Winning CEO of ResDiary said, "The festive season is a hotly anticipated and instrumental period in the hospitality calendar, so it's important restaurants have these ongoing insights in order to benchmark, evaluate their current position, and steady up their plans for the season ahead.
"Our findings demonstrate a clear correlation between those putting their festive plans in place before August, in higher booking numbers, and subsequently higher revenue generation. We are therefore encouraging all restaurants who haven't done so already to start promoting their festive offering for 2023, with our report also highlighting how restaurants should be adapting their operations and marketing strategies for a successful season."
What's in the full report?
Beyond the Booking: Festive Season Success Unwrapped is designed to illustrate the state of the restaurant sector and provide powerful insights to inform critical decisions. It offers restaurants an insight into how the sector is preparing for the winter holiday season, and more importantly, how you can best prepare your venue with this vital knowledge.

The report covers topics such as;
customer booking and spending habits
how and why forward planning is key to more bookings and revenue
how deposits can help you secure vital revenue at the busiest time of year
preparing to optimise your operations
curing the January blues of a post-Christmas lull
So don't wait another minute, start preparing your business for a busy festive season now! Read the full report.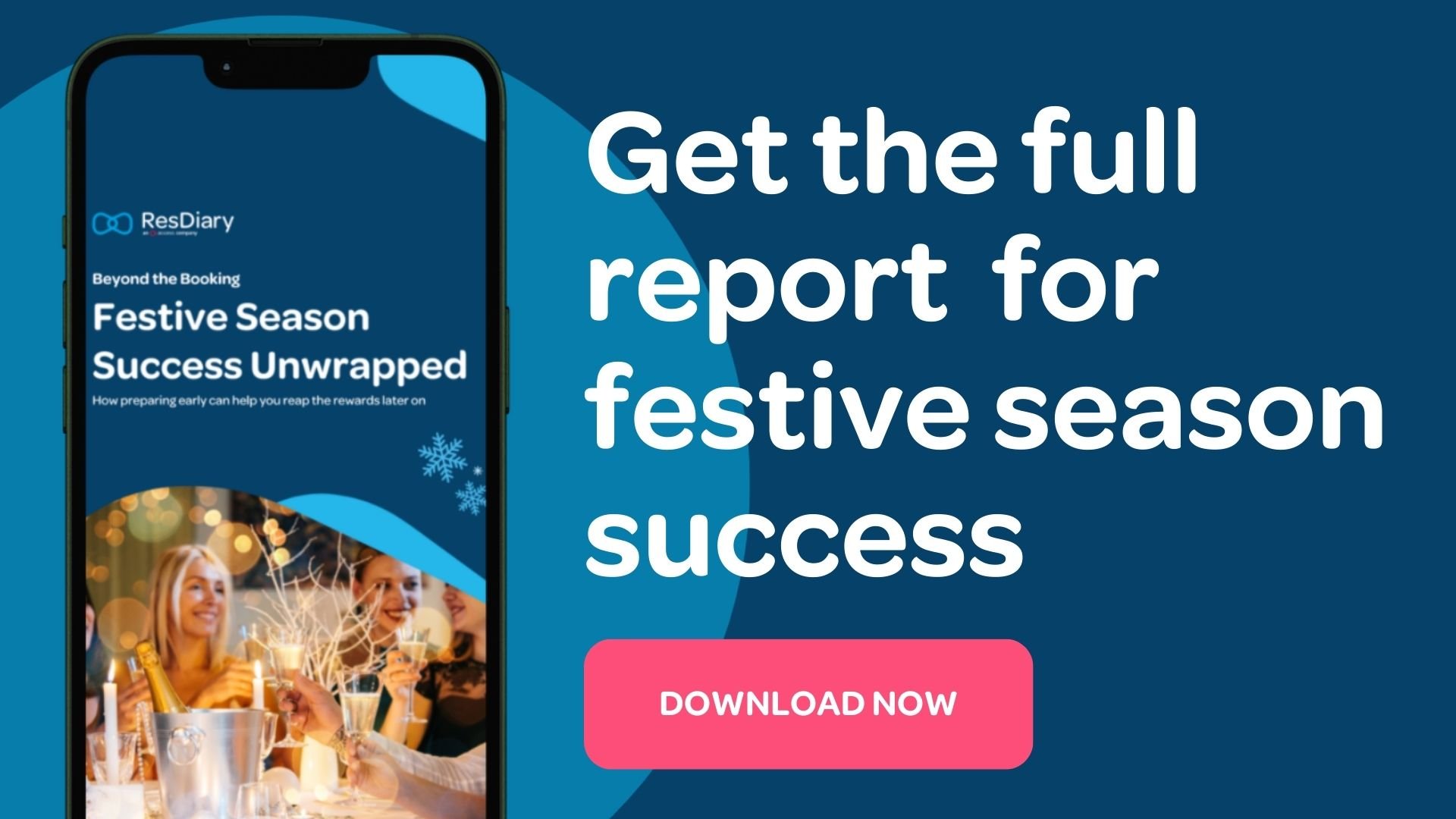 Also get our FREE festive season planning calendar!
Based on findings from our survey to restauranteurs in the UK and Ireland, we've mapped out this
handy guide to help you make the most of the busier festive period. Whether you're just getting
started in the industry or simply trying to achieve more, there's sure to be something here for you.