By Alex Rogers
18 Jul, 2023
Afternoon Tea Week takes place from 7th - 13th August 2023 in the UK. It may not be every venue's… well, cup of tea, but there may be massive value to be found in enticing more tea lovers to boost table bookings in your restaurant, bar, or hotel this summer.
In this article we're going to explain the origins of Afternoon Tea as a British custom and share inside tips on how to best set up your venue for success. That means more bookings and more revenue for your business.
We'll talk about setting up a special event and creating a highly effective campaign to promote it, made easier with the helping hand of a reliable restaurant booking system and third party websites. We'll also explain how you can upsell during the booking process to amplify your customers' enjoyment and boost the value of every Afternoon Tea booking.
Cucumber sandwiches and fine china at the ready, it's time to serve up an amazing Afternoon Tea experience!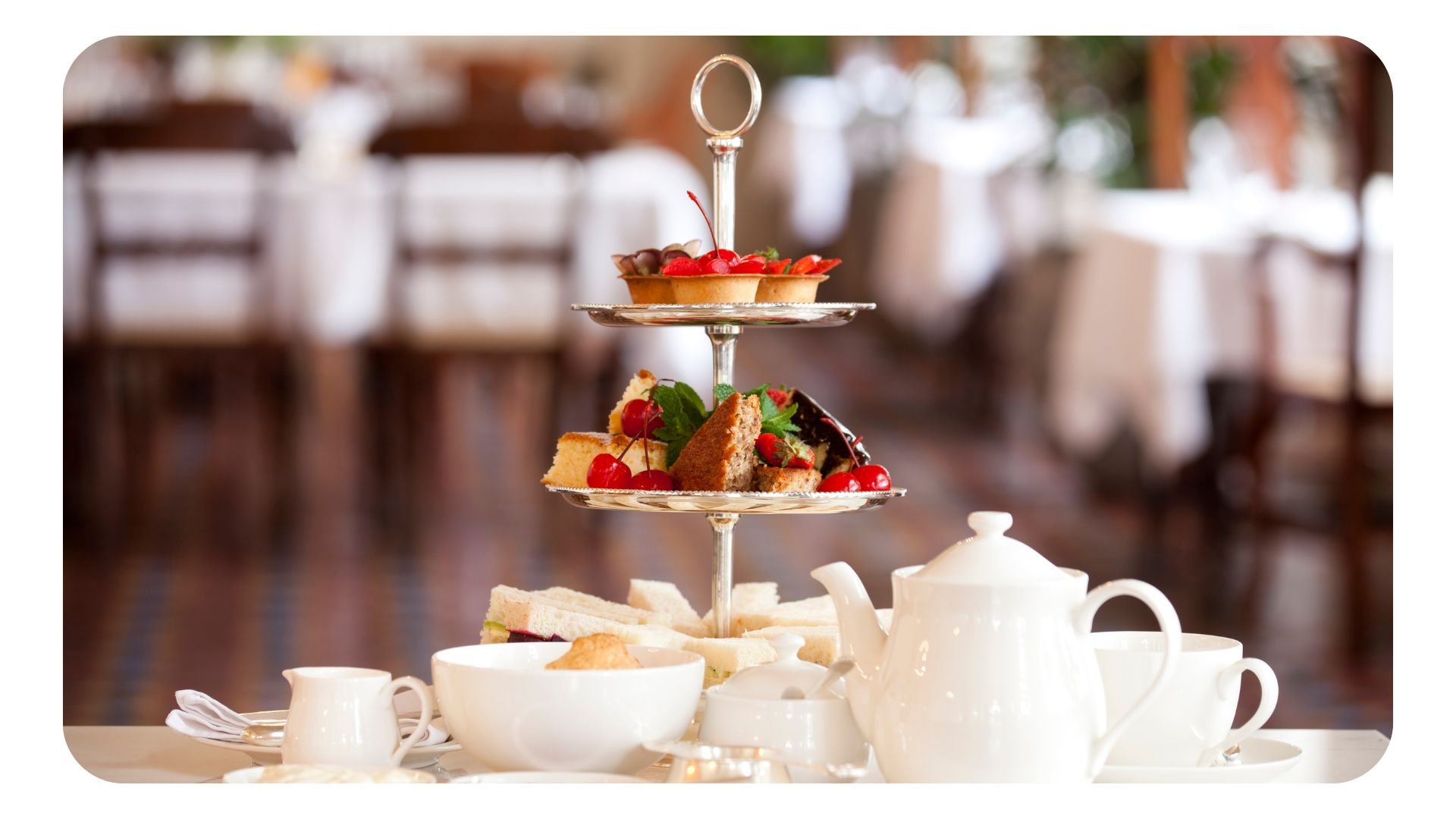 What is Afternoon Tea
Afternoon Tea is a dining experience often enjoyed in the late afternoon, but nowadays is consumed any time of day. It was popularised by Anna, the Duchess of Bedford, who was a close friend of Queen Victoria, and quickly became a ritual for high-class gatherings between lunch and dinner.
The meal generally includes an assortment of finger-sandwiches and delicate cakes, often beautifully presented on a stacked plate arrangement. Scones with clotted cream and jam were also introduced in the twentieth century, and you'll find them as a staple on most Afternoon Tea menus nowadays.
Then, of course, there's the tea. Traditional breakfast tea may be enjoyed, but you're also likely to find Assam, Darjeeling, Earl Grey, and Lapsang Souchong are also popular choices.
While it is celebrated in the summer, AfternoonTea.co.uk (a ResDiary partner) advises us that, "Afternoon Tea can be enjoyed as an occasional indulgence or to celebrate a special event, such as a birthday, a pre-wedding party, or baby shower with a group of friends."
So, if you try it in the summer and it works, you may wish to keep running it as a monthly, weekly, or even daily event.
You may be wondering if Afternoon Tea is the right sort of experience for your restaurant, bar, or hotel to offer. Many venues that aren't necessarily tea rooms currently offer Afternoon Tea, either as part of their everyday menus or as special events to be sold for weekend afternoons.
Even if you feel like your venue isn't suitable for it, do read on. You may discover how easy it could be to serve up an amazing, and even unique, Afternoon Tea experience, with the right planning and the right help.
What's on the Afternoon Tea menu? If you're wondering what flavour sandwiches to serve at your afternoon tea event, then here's a great guide from our friends at AfternoonTea.co.uk.
3 Key Steps to Afternoon Tea Success
We're ready to share some top tips for delighting your diners and setting your venue up for success with an amazing Afternoon Tea experience. We'll break our advice down into three clear sections to make it easier for you to process and work through the necessary steps for your own venue.
In the upcoming sections, we'll cover:
Creating a special event to entice Afternoon Tea lovers to your venue
Advertising and selling your Afternoon Tea, even in all the right places
Setting up your venue for an amazing Afternoon Tea experience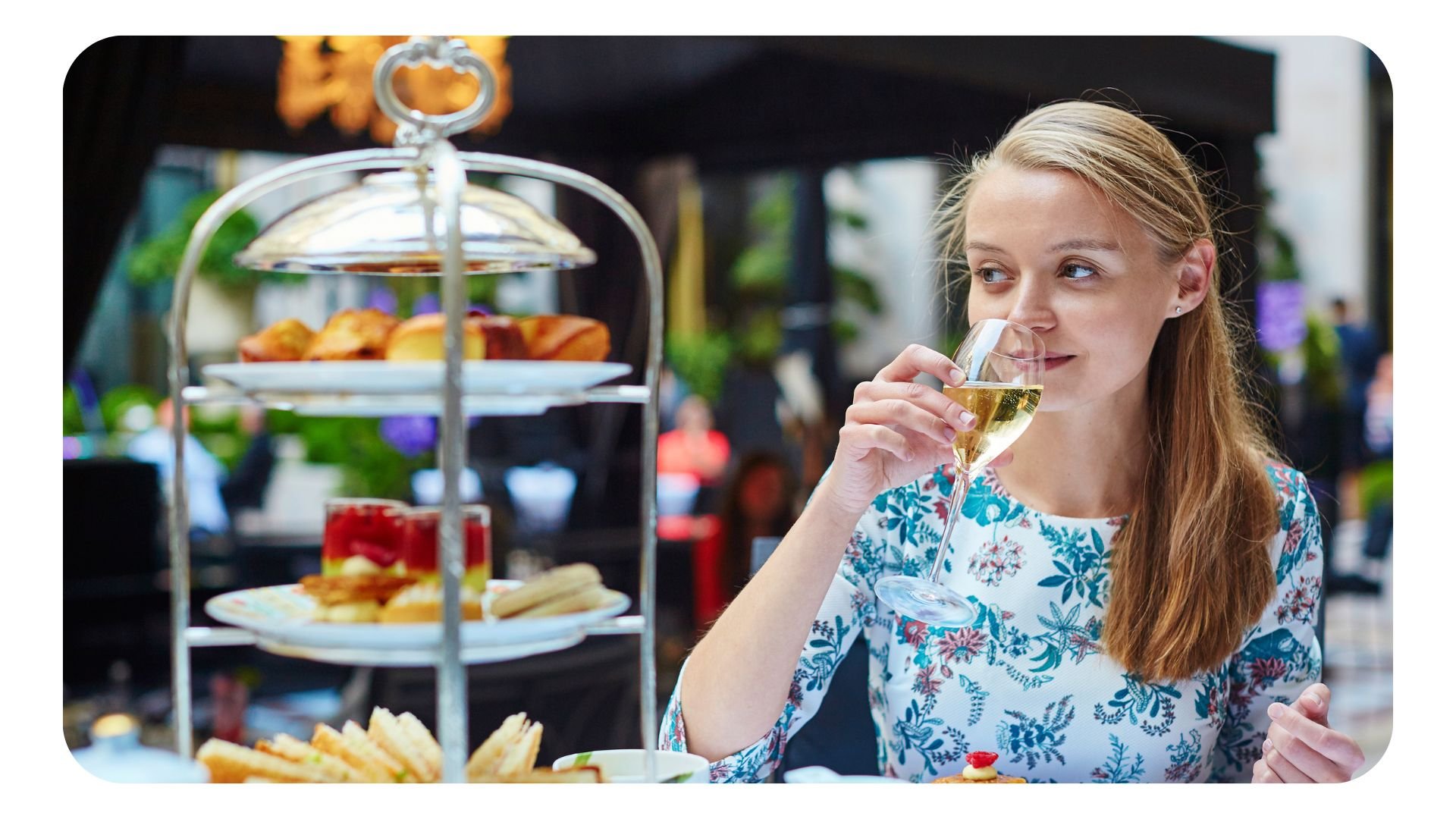 Creating a special event to entice Afternoon Tea lovers to your venue
We're a nation of tea lovers in the UK, drinking approximately 100 million cups daily! For many of us, tea can be something of an event or even a ritual, and that's certainly the case with Afternoon Tea. Hospitality businesses can capitalise on this adoration by offering unique Afternoon Tea experiences in their venues.
Unlike the normal lunch, dinner, or a-la-carte menu options they offer, many restaurants serve Afternoon Tea as an event to be experienced and enjoyed by friends and families, often celebrating special occasions.
With this in mind, it's important to understand that there is a difference between offering your normal dining experience and selling an event. Many venues offer their Afternoon Tea experiences as pre-paid events, which makes them ideal for special occasions and great gift ideas too.
There are two advantages to using this method when you create your own Afternoon Tea experience. Firstly, it's a great opportunity to offer something new to your existing customer base, and also attract potential new customers. Secondly, as Afternoon Tea tickets also make a terrific gift idea, it could expose more people who haven't dined with you before to your business, and create an opportunity for you to turn them into regulars.
When you're brainstorming ideas for your own Afternoon Tea experience, ask yourself "How can I make this event a unique experience that still aligns with my brand and appeals to my target audience?"
You could stick with something traditional or even throw out the rulebook and break from tradition altogether by switching the tea for something boozy, or picking a theme, like an Afternoon Tea that Dads would love with beer and steak sandwiches.
Next, you'll need to create a space on your website or a third party website (we'll discuss the latter in the next section), where potential customers can learn about, book, and pay in advance for their Afternoon Tea experience.
That may sound like a lot of work, but with ResDiary, you can create, sell, and manage Afternoon Tea event tickets all in one place. This will provide you and your customers with a seamless booking experience. We'll also share how you can squeeze more value from the booking process in the final section of this article.
First though, we need to look at how you can attract more table bookings with the right Afternoon Tea promotion.
Would you like to see how easy it is to create and sell events with ResDiary? Speak to our friendly team today.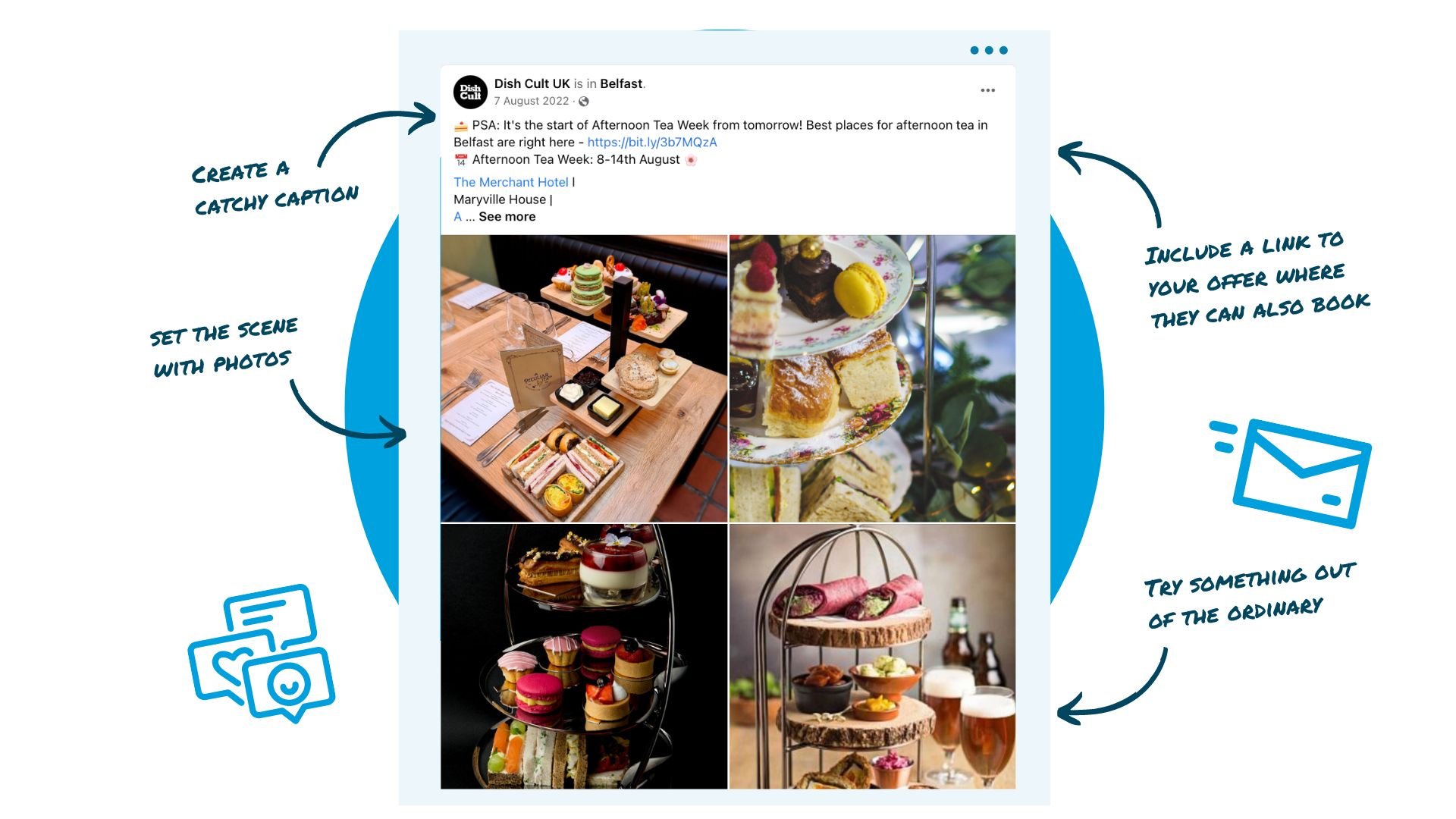 Promoting and selling your Afternoon Tea even in all the right places
You've set up your Afternoon Tea event, but what's next? Now's the time to entice those tea-loving customers to your venue.
Add your event to your website
Your website should be the first port of call for advertising your Afternoon Tea experience. In an ideal world, customers should be able to book and pay for their reservation online too, to make it as easy and convenient as possible (and stop them from looking elsewhere).
With ResDiary, you can add your event to your booking widget, which means you can advertise it to anybody looking to book at your venue. You'll also be able to take payments and sell any extras here too (we'll talk more on the benefits of those in the next section), keeping everything in one place and creating a smooth booking journey for your customers.
Share your experience with your database
If you use a restaurant booking system, it's likely you'll have a growing database of customers who have opted in to receive news about your latest offers - don't worry if you're not yet using a digital booking management system; it's never too late to start.
What you have there is a captive audience who have already experienced and, hopefully, enjoyed your venue in the past. These should probably be the first to hear about your Afternoon Tea experience, as they're likely to be the first ones to snap up your offer too.
You may even want to create a discount or voucher exclusively for them to make your offering even more enticing.
With ResDiary, your database can grow with every booking, so it only makes sense that you should be able to create and send targeted email and SMS campaigns from there too. It also enables you to create and manage discounts and vouchers, so you've got everything you need in one place to sell your Afternoon Tea experience.
Sell tickets on social media
It probably goes without saying that you should promote your Afternoon Tea event to your audiences on social media, and even expand on that with targeted paid advertising to new audiences.
But it may not have occurred to you that you could actually sell tickets directly on your social media channels too, with the help of your restaurant booking system. ResDiary offers simple integrations with Facebook and Instagram, which means your customers can make their reservations when they're reacting to your latest post, story, or social advert.
Promote your event on third party websites
Afternoon Tea experiences can really capture the attention of tea lovers or anyone who's looking to try something new. Plus, they can also make a great gift idea, as we've already mentioned. This is why it may be a great idea to promote your event on a third party website that specialises in selling to these audiences.
Take AfternoonTea.co.uk as a prime example. It's the UK's most popular website dedicated to promoting Afternoon Tea in Britain's finest hotels, restaurants, and tea rooms.
They attract over 3 million website visits per year and have a newsletter database of over 40,000 customers, which for you presents an opportunity to gain greater exposure and sales for your business.
You're also in luck if you're a ResDiary customer, as our simple integration means you can manage all bookings and sales through AfternoonTea.co.uk in your booking system.
You can learn more about ResDiary's integrated partners here.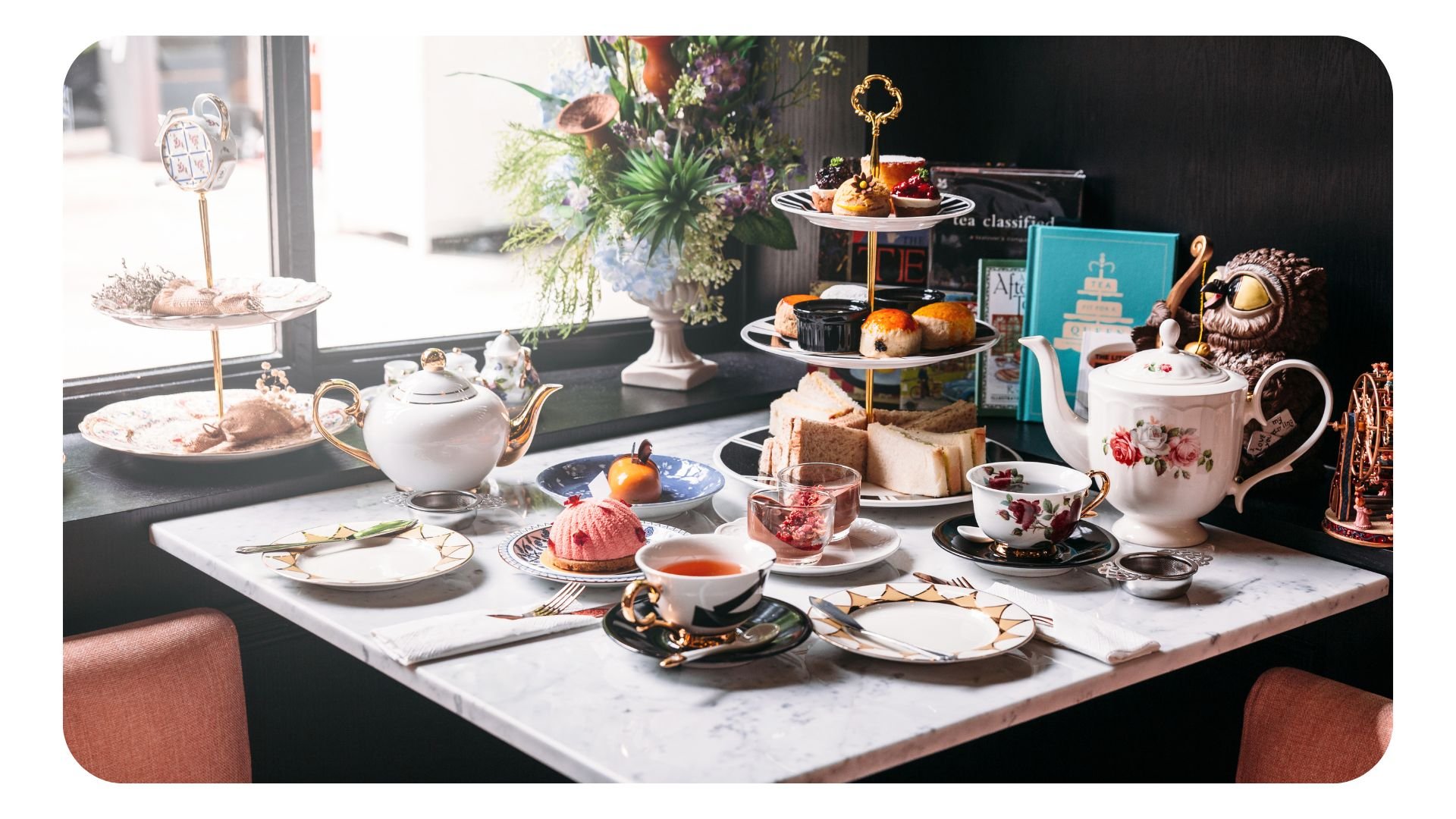 Setting up your venue for an amazing Afternoon Tea experience
By now you may have a good idea as to how you'll make your Afternoon Tea experience exciting and enticing to your online audiences (or indeed third party audiences), and capture as many table bookings as possible. This section offers some essential advice as to how you can best prepare to host a successful Afternoon Tea experience, perhaps repeatedly, by setting up your venue the right way and squeezing more value from every booking.
Upselling add-ons and alternative options during the booking
Let's start by going back to the booking phase, where we explained how a restaurant booking system like ResDiary can help you create a seamless experience where your customers can book and pay.
The good news is there's more you can do to squeeze even more value from your Afternoon Tea bookings by upselling add-ons and alternative options with their tickets. Upselling is essentially adding on options that the customer can choose to further enhance their experience. The great news is that if you're a ResDiary customer, you can offer these items directly through your booking system and incorporate them into the booking journey.
It makes sense to offer add-ons to customers at this stage. Think about the last time you ordered something online, like a child's toy, and the website offered you an add-on that complemented that item, like batteries. The chances are you probably didn't think twice about adding it to your basket!
Upselling is a great way to secure more revenue and drive up the value of each booking. But you may be wondering what sort of add-ons can you offer with an Afternoon Tea experience?
Think about the little touches that could make your dining experience all the more special. Many people who enjoy Afternoon Tea like to have a glass or even a bottle of Champagne or Prosecco on arrival, especially if they are celebrating. So why not offer that as an option? You could also offer a different choice of more premium sandwich or cake options too, or simply extra portions. If the Afternoon Tea is being booked as a birthday present, why not provide the cake and candles for an extra fee?
As you can see, there are many ways you can easily introduce and incorporate add-ons into your booking journey, and advance the potential success of your Afternoon Tea experience.
Setting up your venue
Setting up your venue for any sort of event that sits outside of your normal experience requires planning. We've already talked about how you can adjust your booking processes to entice new customers with your Afternoon Tea offering, including choosing their options and paying online. But what happens once the booking has been made?
Here's where you need to think about your everyday restaurant operations and how they might be affected by this event.
Start with your seating plan, will you apportion a set number of tables or a particular section to Afternoon Tea customers, or will the whole space be available to them? Will Afternoon Tea customers be given longer or maybe even less time than the usual 90-120 minutes for their sitting? Will the tables take longer to turnover and re-dress?
All of these things need to factored into your planning to help you ensure you're delivering an amazing dining experience to all of your customers. You could map all of this out in your notepad but this is where a table management system like ResDiary can do so much of the heavy lifting for you.
You see, with ResDiary, you can create multiple seating plans for different types of services and set rules for when and where your customers can book. This includes creating separate sections, which could be segmenting your existing space or you may also have a garden that's open during the summer.
You can then set the rules in the system and simply let it handle the bookings for you. The best bit is that once you've set those rules, they'll be saved and ready to use again the next time you host an event.
With this in mind, the one thing we would recommend above all else is to plan and prepare as early as possible. That's why advanced ticket sales can be so helpful, not just in bringing in revenue, but also helping you to better understand your requirements for staff, stock, and seating arrangements!
Are seating plans and spreading out bookings still giving you a headache? See how much easier and stress-free it could be.
Summary
Offering Afternoon Tea experiences can be a great opportunity to entice tea-lovers, families celebrating special occasions, and new customers to your venue. Selling an event is different from taking normal restaurant reservations. Thankfully, restaurant booking systems like ResDiary can enable you to create special events, then promote, sell, and manage them all from one place.
Early preparation is also key to give you a better understanding of how your experience will run and what the requirements will be in terms of staff, stock, and if any adjustments must be made to your seating plan. Again, a table management system can help you automate and manage this process, allowing your staff to focus on delivering an amazing experience.
Finally, if you're offering Afternoon Tea, don't forget to offer add-ons and alternative options as a way to enhance your customers' enjoyment and boost the value of every booking.