This article is brought to you in partnership with our friends at Ordermentum.
To help venues plan for 2024, ResDiary's Hospo Insights spoke to Aussie online ordering platform, Ordermentum, to understand current Australian ordering trends and forecasts.
Restaurants and cafes in 2024 can expect increased demand for 'healthy' coffee and hot drinks, 'natural' full-cream milk, greener packaging, healthy treats, and mushroom-based meats.
These are the forecasts from Ordermentum, an ordering and payments platform that connects over 40,000 Australian venues with 850 suppliers selling 340,000 products.
Will Deagan, Ordermentum's Head of Growth, regularly analyses the network's ordering data and says 2023 has seen the average consumer become increasingly conscious of health and sustainability.
With valuable intel on the supplier-venue relationship, Deagan can spot food and beverage trends as they emerge, and is confident the below five dining trends will continue into 2024.
1) Coffee Additions and Better Decaf
Deagan says that he has noticed an uptick in coffee additions and alternatives being added to venue carts in the past year.
"I've seen more venues ordering products like collagen, cacao, and turmeric - especially from distributors on the network."
He says it matches the consumer demand for wellness products that has been steadily increasing since 2020.
"A few years ago, we weren't seeing many venues with things like medicinal mushroom drinks and coffees on the the menu, but these are becoming much more common, specially in Sydney and Melbourne."
This desire for wellness extends to decaf coffee, because many consumers are becoming more conscious of their caffeine consumption.
"People want to have their coffee, and drink it more than once a day too. But, interestingly, our suppliers say there are more venue orders for decaf coffee at the start of every year, and then it starts to taper off as the year goes by."
2. Dairy Milk Still Reigns (but don't forget oat)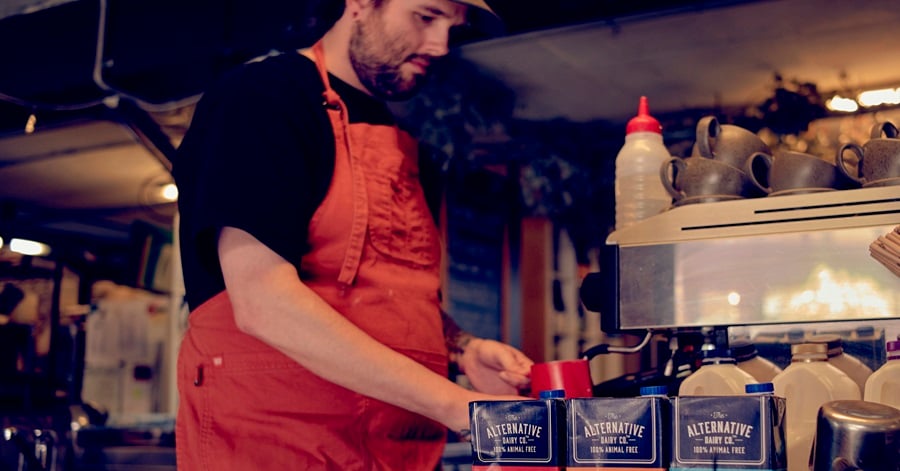 "Some of our cafes tell us they believe that oat has well and truly taken over soy as the preferred non-dairy alternative" says Deagan.
"It's true that soy milk volumes have fallen as almond and oat milk have taken over but our data shows that almond is the most ordered alternative milk. It will be interesting to see what happens over the next 12 months because oat - in contrast to almond - is more sustainable."
Anecdotally, many venues have also reported a swing back to dairy, but ordering volumes suggest there was never a drop in demand for full cream milk in the first place.
"Despite the plant milk buzz, orders for full-cream milk have remained steady over the past couple of years. What has changed is that some consumers have gone back to full-cream for coffee. That's because a lot of alternative milks have preservatives, which the wellness-oriented consumer is shying away from.
"It should also be noted that many consumers - and baristas alike - are becoming fussier about their dairy. They're honing in on high quality, single origin milks for coffee."
3. Packaging Goes Green

Each state and territory government has outlined their own approach and timelines to achieve the nationally-agreed 2025 waste and packaging targets, and as the deadline approaches, it's very clear that consumers have been demanding greener packaging for the past two years.
"Coming into 2022, sustainable options were being ordered in much higher volumes, but in 2023, we're seeing a push for more long-lasting, user-friendly alternatives to sustainable options."
This is an important distinction, because while sustainable options have been around for a while, many venues have experienced the pain of mushy straws and packaging that doesn't properly hold liquid.
"We've seen aqueous cups (cups that have a thin layer of waterproof coating to prevent leakage) rise in ordering volumes through the year, as well as sugarcane straws, and wooden cutlery that doesn't have that grainy feel. "
Deagan says that he is noticing a decline in plastic bags being ordered, and more paper bags.
4. Healthy Treats Are Low Cost and High Return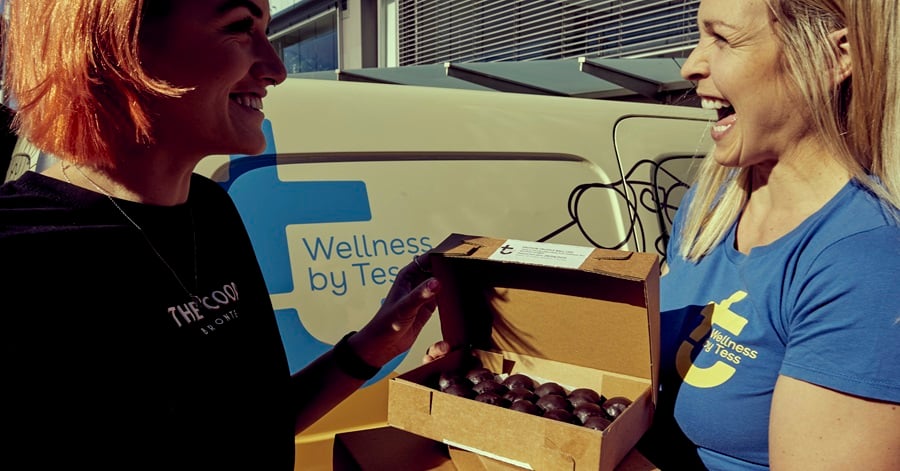 This year has been the biggest year on record for healthy treats, according to Ordermentum data.
Healthy treats encompass protein balls, bliss balls, bars and slices that are made from whole foods, like nuts, seeds, dried fruit, and coconut. They might also contain protein power, probiotics, cacao, peanut butter, and are usually free from refined sugars. Occasionally, they might include brain-boosting supplements, or superfoods like collagen or maca powder.
Ten years ago, healthy treats and protein balls were likely to be grainy and not quite as tasty, but with the rise in product quality and innovation in recent years - treats like this are sometimes the only sweet option venues offer.
Deagan says: "our ordering data shows that traditional baked goods like croissants, muffins, cakes, etc are holding strong, but the trend for alternatives reflects the fact that between 2015 and 2020, Australia's vegan food market was projected to be the third-fastest-growing vegan market in the world. Add to that, the fact that 11 percent of Australian adults follow a gluten-free diet."
He continues: "there's been sustained growth from venues ordering from suppliers providing treats for this market. And with the average protein ball costing $3- $6 dollars, there's almost no barrier for a hungry customer to add healthy treats to a morning coffee or an afternoon tea."
5. Plant-based Meat a Fast-growing Category
Plant-based meat is increasing in quality every year, and venues are including more and more vegetarian and vegan options on menus around the country, according to Deagan.
"This year, there was an exponential increase in mushroom based plant 'meat' - and venues aren't just trying these products out once, they're re-ordering over and over again. It's a fast-growing categories."
However, despite the uptick in faux meats, volumes for the real deal hold steady. "Each year there will be a bit of fluctuation in the types (rather than the quantities) of meat products venues order. For example, certain cuts of beef are more popular in certain years depending on food trends. But overall, consumers still love chicken, beef, and pork."
Deagan says that the increase in vegan products is simply venues addressing a market who enjoy eating out as much as anyone else.
"And while a consumer might not be fully vegan, they might like to mix up their meat intake for both ethical and sustainability reasons."
---
Please note that Ordermentum currently only services the Australian market