This on-demand webinar will address and highlight current and future technology applications for the hospitality industry in 2024. We aim to educate restaurant owners on using these tools to enhance their business efficiency, optimise revenue and drive growth.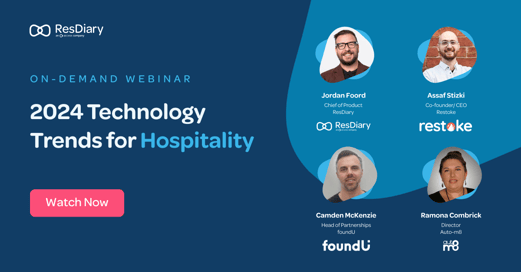 Our Panelist
Jordan Foord - Chief Product Officer, ResDiary

Assaf Stizki - Chief Executive Officer, Restoke

Camden Mckenzie - Head of Partnerships, foundU

Ramona Combrick - Director, Auto-m8
Don't miss out on this exciting opportunity to gain valuable insights and stay ahead of the curve in the ever-evolving world of hospitality. Register now and secure your spot at the forefront of industry innovation.