The chatbot that answers your venue's online enquiries so you don't have to.
What is Feebi?
Feebi is a chatbot designed to make your life as a hospitality expert easy. Powered by artificial intelligence and machine learning, Feebi swiftly handles customer enquiries and frees your time to focus on improving your guests' overall experience.
How does it work?
Feebi connects directly to your Facebook business page and instantly replies to your customers 24/7, freeing up your time to get on with your busiest services.


Table reservations
Links directly to your ResDiary allowing your guest to quickly book from within their chat windows.

Menus
Handles menu enquiries allowing your prospective customers to decide what they're having before they even reach the table.

Opening times
Responds with a list of your opening days or specific times when asked questions such as, "What time are you open tonight?".

Much more…
Automatically answers frequently asked questions like, "do you allow dogs?", and learns over time to answer even more.
Set up in less than 15 minutes
We've made it as easy as possible. Just fill in your restaurant's details and you're off.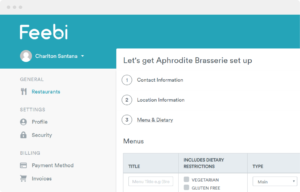 Want to see more?
Let the team show how you will benefit from Feebi and the time you will save.
Book a demo