Tinto is a rustic space in Hawthorn, Melbourne, which is reminiscent of the atmosphere and cuisine found in bars across Barcelona. Founded by the Triado family, they established the sophisticated hang-out after returning from Spain, where they ran a wine bar and restaurant.
For group bookings of between 10 and 20 guests, the venue provides two menu options for service in the dining room, while an exclusive kitchen/chef's table is available for groups of between four and eight guests. Tinto also offers different spaces – including entire venue hires – for private functions.
The Triado's say Tinto has been using ResDiary since their business opened in 2014: "Being able to offer event and group bookings through Resdiary is very handy. The close outs sections are fantastic, and the system is user friendly and intuitive.".
"Nothing is fixed at Tinto. The way our tables are presented depends on our bookings, so the flexible table management is what really appealed to us. Customers being able to make their own bookings, and put themselves on our standby list if a table isn't available is also great."
We've Used ResDiary to Move People Onto Our Website
According to the Triado family, about 80 percent of Tinto's bookings come through the customisable ResDiary widget that's set up on their website. Using the 'Book' widget, customers have the ability to pick which area of the restaurant they want to dine in – a feature that isn't offered by all restaurant booking systems. Patrons are also able to make special requests in the notes section of their booking, which the kitchen can often accommodate.
Tinto uses ResDiary's EPOS integration to hold credit card details for groups of more than ten, charge $50 if there is a no-show that they aren't able to fill, and will take deposits for private functions involving entire venue hire to ensure they are not making a loss if guests don't arrive.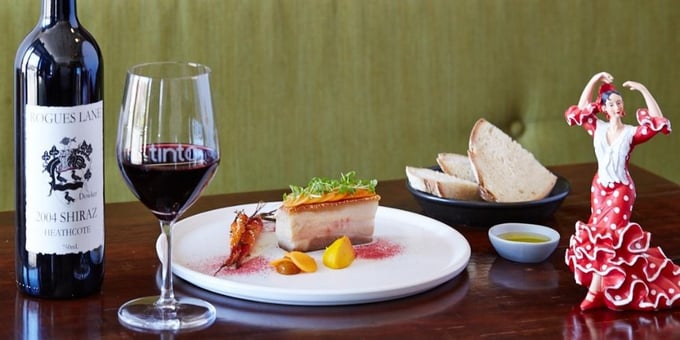 The venue has also used the channel management function for special events – including cheese and wine tastings, and special degustation menus – and have effectively promoted these events using their customer database.
"We have watched most of the promotional and instructional features, and are in touch with ResDiary's tech staff on a regular basis to ask how we can do this or that. The support team was very helpful, particularly when we first started," they say.
"The integrated payment option for deposits, group menus and events is another great bonus."
Dining Looks Different Every Night:
Tinto regularly uses ResDiary's close-out function to accommodate different booking configurations. The Triados say their close-outs depend on the number and type of bookings on any given day.
"If you go to our individual close-outs on ResDiary, we may have 20-30 sections on a particular day," they say, adding that colour codes for the progression of a dining experience – which changes depending on whether the customer is seated, if they've ordered, if they've paid and so on – is fantastic, and the automatic table joins for large bookings is another productive feature.
"We'd absolutely recommend ResDiary to others. We can clearly see what's going on in the restaurant. All of our staff use it in some capacity," they say.
"Every day looks different, so we rely on the complete flexibility that ResDiary offers."
Disclaimer: This guide is general in nature and does not take into account your individual circumstances. Before acting on any information, you should consider whether this is right for your business.
What to learn more about how ResDiary can assist your venue?